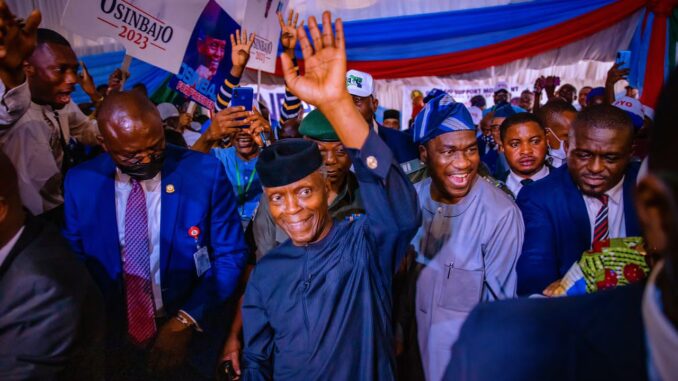 By Oluwafemi Popoola

Several thousand people, the Lagos supporters of the Vice President of Nigeria, Professor Yemi Osinbajo, SAN, on Wednesday, May 25, 2022, sent the entire city into wild jubilation and fanfare as the VP rounded off his nationwide tour of the 36 states of Nigeria, just a few days to the eagerly anticipated All Progressives Congress (APC) Convention.
Before the Vice President's visit to the state, there were tension and anxiety following some media reports insinuating that some unidentified persons were said to have concluded plans to disrupt the proceedings of the event.
Osinbajo, who was expected to arrive at Yard 158, Oregun, Ikeja, the Lagos venue for the programme scheduled to start around 3:00pm, had earlier visited Markurdi, Benue State, where he had a fruitful engagement with the delegates and critical stakeholders of the Benue APC chapter, later arrived Lagos State around 5:00pm, amidst thunderous cheers and shouts from excited thousands of Lagosians who had thronged the venue to behold their beloved Vice President.
Meanwhile, before Osinbajo's arrival, a surging jubilant crowd had besieged the venue in a festival of joy, love and admiration for Nigeria's amiable VP to the extent that the venue was already filled to the brim by thousands of people.
ALSO READ: 2023: You're our partner in progress, Sultan tells Osinbajo in Sokoto
On his arrival, Vice President Osinbajo, was ushered into the venue by his security team who was having a hard time controlling the exuberant crowd that had wanted to touch the VP out of love and excitement.
The home coming of VP Osinbajo to Lagos State, the home base of his rival, Asiwaju Bola Tinubu, also an APC presidential aspirant, was marred with an unbridled joy from many Lagosians who flooded the venue in solidarity to the VP and his presidential ambition.
The Lagos visit of Osinbajo rounds off his tour of all the 36 states of Nigeria and the Federal Capital Territory (FCT) as part of his consultations with all stakeholders of APC across Nigeria.