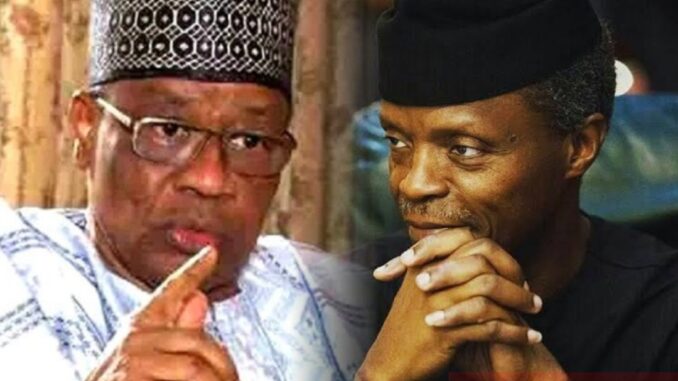 The call from Nigerians across the country's six geo-political zones for Vice President Yemi Osinbajo to contest for President come 2023 has received a boost with former military President, General Ibrahim Badamasi Babangida, wooing support for his leadership.

The former Nigerian leader, extolling Osinbajo's virtues while playing host to members of the Osinbajo Grassroots Movement (OGO), an independent political pressure group, who visited him in his country home in Minna, Niger State, described the Vice President as a good man, such a type needed to lead Nigeria 2023.
"I know the Vice-president very well. He is a good man. A man who has conviction about Nigeria; a man who can communicate with the country and inspire people. Such a man is a worthy person to work with. We need a good man to lead Nigeria. A man who has a passion for this country. Nigeria is a good country; the people of Nigeria are good. You must learn to understand people and constant discussion is key.
"I want to convey my best wishes to the Vice-president through you. And I want you to tell him to stay on the cause. I know it's not easy but he has the conviction. I wish him the best," Babangida said.
IBB told members of the group led by its national convener, Ojo Foluso, in his residence that he agreed to speak to OGO members because he saw in Vice President Osinbajo what it takes to be a good leader.
Foluso, expressing his joy over the General's statement, responding on behalf of the group said: "We came to consult the Oracle and the Oracle has spoken. General IBB is an oracle because he understands Nigeria," he added.
One of the group members, Emma Ejiofor, the Team Leader, also speaking said the group was ready to work with the advice of prominent Nigerians like IBB because of their sound knowledge and understanding of Nigeria, adding that, the country was in dire need of leaders with conviction and passion for her development.
OGO National Convener, Foluso, said the Vice President had not declared any intention to contest for the presidency in 2023, but added that "we will continue to mount pressure on Vice-President Yemi Osinbajo to pick interest in contesting for the presidency in 2023
Recalled, IBB had pioneered the discussion around who will emerge the Nigeria's next president in 2023 through an exclusive interview he had with Arise News Channel TV sometime last week, days before his 80th birthday.
During the interactive session, he gave a cryptic description of an ideal Nigerian president in 2023 and hinted at the qualities that Nigerians should consider in their choice for the next president.
According to the former head of state: "If you get a good leadership that links with the people and tries to talk with the people; not talking on top of the people, then we would be okay.
"I have started visualising a good Nigerian leader. That is, a person who travels across the country and has a friend virtually everywhere he travels to, and he knows at least one person that he can communicate with.
"That is a person, who is very versed in economics and is also a good politician, who should be able to talk to Nigerians and so on. I have seen one, or two or three of such persons already in his 60s. I believe so if we can get him."