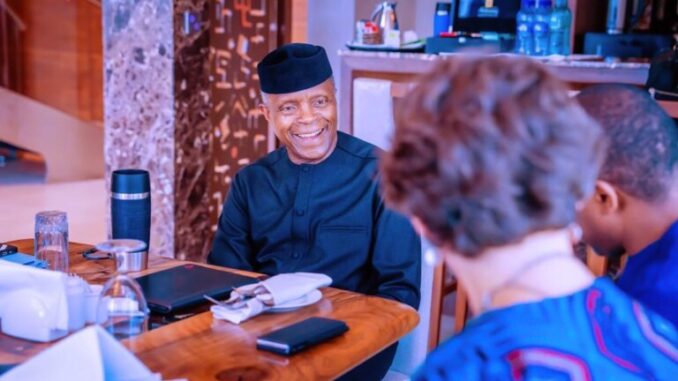 Nigeria's immediate past Vice President, Prof. Yemi Osinbajo, SAN, GCON, has been announced by the Climate Action Platform for Africa (CAP-A) as the new chairman of its board of directors.

The organisation announced in a statement on Tuesday, September 26, 2023, saying, it "warmly welcomes H.E. Prof Yemi Osinbajo SAN to the Board of Directors as Chair, with immediate effect."
CAP-A Founder James Mwangi, in the statement, said, "We are deeply honoured to have Prof Osinbajo join the CAP-A Board of Directors as Chair to assist with the next phase of our growth and our mission of unlocking Africa's potential as a global hub for climate action."
He noted that with "his vast experience and passion for transforming African countries' economies in harmony with climatic needs," Prof. Osinbajo "will be invaluable to CAP-A's mission, especially coming out of the inaugural Africa Climate Summit that made a strong push for accelerated climate action."
Prof. Osinbajo, who completed his two terms of eight years as Nigeria's Vice President on May 29, 2023, reacting to his new appointment was quoted by the organisation in its release as saying, "Since the recent founding of CAP-A, I have witnessed their work in shifting the global and continental narrative from Africa being a victim of the climate crisis to holding the key to accelerating global climate action.
ALSO READ: Osinbajo named global advisor by GEAPP with Rockefeller, Bezos, Ikea's backing
Hence, in acknowledging his appointment said, "I'm honoured to join the Board of Directors as Chair in support of CAP-A's teams and programmes across the continent, and in realizing Africa's economic development through Climate Positive Growth."
Recalled Prof. Osinbajo was instrumental in setting up Nigeria's energy transition plan as a VP, and in addition to serving eight years as Vice President of the Federal Republic of Nigeria, he previously served as Attorney General and Commissioner for Justice in Lagos State, where he instituted reforms and fought endemic corruption.
As an accomplished lawyer and one of Nigeria's leading legal experts, Prof. Osinbajo got to the peak of his career having attained the distinguished rank of Senior Advocate of Nigeria. Also as a reputable academic, he formerly served as a Professor and Head of the Department of Public Law at the University of Lagos.
A member of the International Bar Association and the British Institute of International and Comparative Law, Prof. Osinbajo had also served on the Nigerian Body of Benchers and the Council for Legal Education of Nigeria.
During his time in public service, Prof. Osinbajo was involved in various government initiatives and policies, including economic reforms, social intervention programmes and efforts to address access to justice and energy security in African states.
He chaired the Inter-Ministerial Energy Transition Group, overseeing the development and delivery of the Nigeria Energy Transition Plan in 2022.
Prof. Osinbajo also led the implementation of Nigeria's Economic Sustainability Plan (NESP) which featured the rollout of 5 million new off-grid solar connections to rural communities.
His dedication to this cause extends beyond his time in office as he continues to champion climate action initiatives, not only within Nigeria but also across the African continent and globally.
Prof. Osinbajo who esteems himself as a brilliant leader and administrator, in recognition of his role as a leading advocate for Just Energy Transitions in Africa including scaling up Africa's share of the global carbon market via the Africa Carbon Markets Initiative (ACMI), was recently appointed as a global advisor of Global Energy Alliance for People and Planet (GEAPP). He will support GEAPP's partnership with governments to enhance the enabling environment and delivery effectiveness to unlock faster and greater capital flows into the clean energy sector.