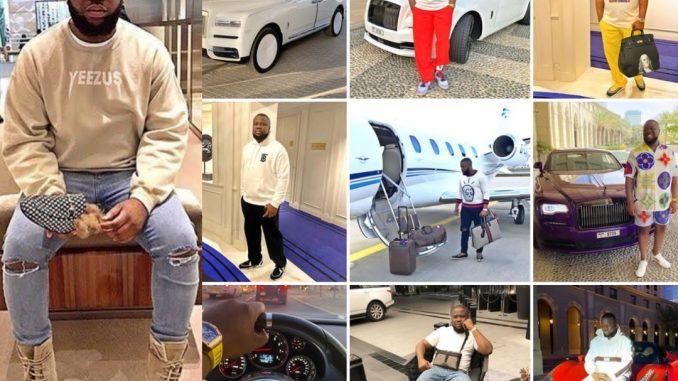 A Dubai-based Nigerian youth and rich celebrity, Hushpuppi, who displays a wealthy lifestyle on the social media, especially on Instagram, has been allegedly arrested by police in his United Arab Emirates(UAE) home.

He was reportedly arrested alongside his friend, Woodberry, by the Interpol arm of the United States Federal Bureau of Intelligence (FBI), on Tuesday.
Hushpuppi, who commands a huge fan base of Nigerians on his Instagram account with 2.2 million followers, where he showcases his expensive lifestyle, displaying posh cars, clothes, wrist watches, a private jet, is often celebrated by friends, as a young billionaire.
ALSO READ: PROFILE: Death tales told about Olu Jacob is fake news
He, had, at different times, posted pictures where he either stood in front or inside a private jet said to be his own via his social media accounts.
The alleged arrest of Hushpuppi and Woodberry was said to be on the account of money laundering after the FBI allegedly linked cases of fraud to them.
Reports said, Interpol arrested Hushpuppi for $35 million Covid-19 ventilator scam, an amount said to be part of the social security funds to native Americans being a relief package for the coronavirus pandemic.
Many of his fans had said Hushpuppi's phone when dialed was switched off, which further supported claims that he could have been taken to custody.
The FBI had, earlier at the beginning of the year 2020, raided homes of scores of Nigerians abroad, those believed to be involved in "Yahoo Yahoo" Internet bank fraud and cyber crimes, and lately, another Nigerian youth, Billionaire Mompha, was arrested for money laundering.
Consequent upon the latest arrest of the two Nigerian youths in Dubai, below are reactions from Twitter:
I'm happy that Hushpuppi has been caught.

Alot of young people wanted his levels OF questionable wealth, at least now they know there are consequences

Did you think his money was legit?

If you do, I have one cream to sell to you that enlarges your pinis with one single rub

— Aproko Doctor (@aproko_doctor) June 10, 2020
One of the most amusing things about this Hushpuppi saga are his IG captions & quotes talmbout;

"God shame those waiting for me to be shamed"
"E pain them"
"Thank you God for the many blessings"
"I wear people's mortgage"

Alaye ontop fraud? Ontop frauddd?

— UG (@UgwunnaEjikem) June 10, 2020
I only hope Interpol will catch up with Mompha the same way they already did with Hushpuppi, this is the kind of energy we need.

I've always told my friends, nothing illegal ever lasts, it might seem legit at first but it always ends up bad if you resist the urge to stop.

— Bayo (@mr_adebayo5) June 10, 2020
✰ Hushpuppi's snaps be like … pic.twitter.com/VcClQH1BZ1

— Ug (@JustinUg_) June 10, 2020
So Nigerian alleged billionaire Hushpuppi has been arrested by INTERPOL for scamming and money laundering of over $100million which was supposed to be given to Native Americans during the Corona Virus Pandemic. pic.twitter.com/RgRydWjOlA

— Baby Styno🕘 (@baby_styno) June 10, 2020
Interpol carry HushPuppi and Co, $100 iTunes card yahoo boys self kon dey Fear.
Bro!!calm down , it's not your set they're looking for now😂

— CHIEF, THE DADDY™🦁👳 (@Chief_umar) June 10, 2020
After hushpuppi denounced being a Nigeria citizen, I don't think it is right tagging him as a Nigerian anymore. Nigerians are neither partakers nor beneficiaries of his fraudulent act. @FBI please take note.

— Duke of Africa (@Allezamani) June 10, 2020
If Hushpuppi had these four attorneys to choose from. Who do you think will do a better job?

A. Mike Ross – Suits
B. Analise Keaton – HTGAWM
C. Harvey Specter – Suits
D. Oliver Pope – Scandal pic.twitter.com/9H1PCaKDha

— Valar Mørghulis 👁‍🗨 (@viccetti) June 10, 2020
Hushpuppi was arrested and $50 gift cards boys are shouting wakajeje.
Please play me kelegbe megbe by Adekunle Gold.

— Victor Babatunde (@vhic_tore) June 10, 2020
Don't rush into conclusions about things you don't know.
As hushpuppi is into real estate, maybe interpol just want to show him a room they want to Cell. pic.twitter.com/4dBb8M5wun

— LIL DREYLO. (@DREYLOfr) June 10, 2020
I've seen many ask why Nigerian youths glorify yahoo & Hushpuppi. Here is Orji Uzor Kalu returning to Senate as Chief whip after just 6mnths in prison for 7.2bn fraud. Nigeria glorifies fraud. Youths see Politics as elite version & yahoo as street version.pic.twitter.com/4MJrHm80rO

— Ayò Bánkólé (@AyoBankole) June 10, 2020
– Just few hours after Hushpuppi Alleged arrest in Dubai , Dr Dipo expresses his curiosity towards how people celebrate people with unexplained wealth. pic.twitter.com/rxBMWcTXXt

— Postsubman (@Postsubman) June 10, 2020
Hushpuppi: Mompha, Interpol don arrest me o. I need your help bro.

Mompha:pic.twitter.com/3OBQbThPJJ

— Omoniyi Israel (@__Omoissy) June 10, 2020
This man was seriously warning Hushpuppi about Interpol arrest in 2020 but hush didn't see this video. pic.twitter.com/sRVIOjjbai

— Biyi The Plug 🔌 (@BiyiThePlug) June 10, 2020
If you think @FBI @INTERPOL_HQ picked 'hushpuppi' cos of the ventilators scam, then you don't know how it works. He's been in their sights longer. He's not the only one, our copa know them but…keep splashing around money with no known source of income, everyday for the thief… pic.twitter.com/L07sstoSFU

— Chief Ojukwu (@ChiefOjukwu) June 10, 2020
Today is just one of those days that Nigerians will frown at fraud, ramble about how fraud is evil.

But deep down they've always wished to have Hushpuppi's money, they admire Diezani, Mompha and other fraudsters.

But let's act all saintly today and condemn fraud and corruption.

— Kelvin Odanz (@MrOdanz) June 10, 2020
I don't think anyone ever believed Hushpuppi money was legit.
The lavish lifestyle, show off and so many other things made it obvious.

— Tife🌚 (@Tife_fabunmi) June 10, 2020