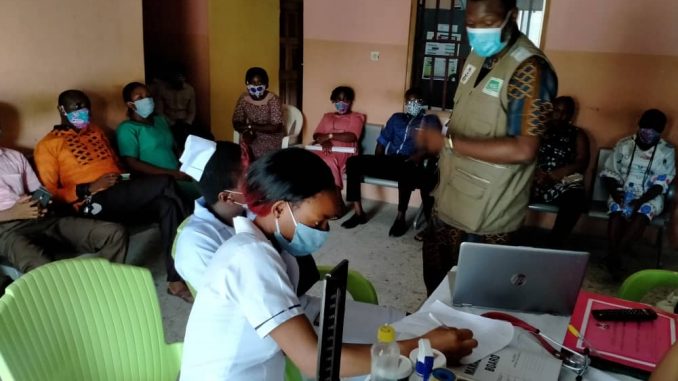 The COVID-19 cases in Nigeria has risen to 7,261 as announced by the Nigeria Centre for Disease control (NCDC) Friday night.

So far, 2,007 cases of those fully recovered from the infection have been discharged, while 221 deaths have been recorded in 34 states and Abuja, the Federal Capital.
According to NCDC, there are 245 new cases reported from 22 states, with Lagos still maintaining the highest from the newly reported cases, followed by Jigawa, Ogun and Borno states.
ALSO READ: Travellers arriving UK from June 8 to self-isolate for 14 days
The NCDC said: "On the 22nd of May 2020, 245 new confirmed cases and 10 deaths were recorded in Nigeria
"No new state has reported a case in the last 24 hours.
"Till date, 7,261 cases have been confirmed, 2,007 cases have been discharged and 221 deaths have been recorded in 34 states and Abuja, the Federal Capital Territory
"The 245 new cases are reported from 22 states- Lagos (131), Jigawa (16), Ogun (13), Borno (12), Kaduna (9), Oyo (9), Rivers (9), Ebonyi (9), Kano (8), Kwara (7), Katsina (5), Akwa Ibom (3), Sokoto (3), Bauchi (2), Yobe (2), Anambra (1), Gombe (1), Niger (1), Ondo (1), Plateau (1), FCT (1), Bayelsa(1)."
245 new cases of #COVID19;
131-Lagos
16-Jigawa
13-Ogun
12-Borno
9-Kaduna
9-Oyo
9-Rivers
9-Ebonyi
8-Kano
7-Kwara
5-Katsina
3-Akwa Ibom
3-Sokoto
2-Bauchi
2-Yobe
1-Anambra
1-Gombe
1-Niger
1-Ondo
1-Plateau
1-FCT
1-Bayelsa
7261 cases of #COVID19 in Nigeria
Discharged: 2007
Deaths: 221 pic.twitter.com/ITAGBMdXtB

— NCDC (@NCDCgov) May 22, 2020
Active case searching is being conducted by the #NCDCTeam in Baylesa State

"We are training health workers at General Hospital, Amasoma on identification & follow-up of patients with specific #COVID19 symptoms to be able to identify more cases for testing"

–@odia_Ehi_ pic.twitter.com/QwElmA2WvN

— NCDC (@NCDCgov) May 22, 2020