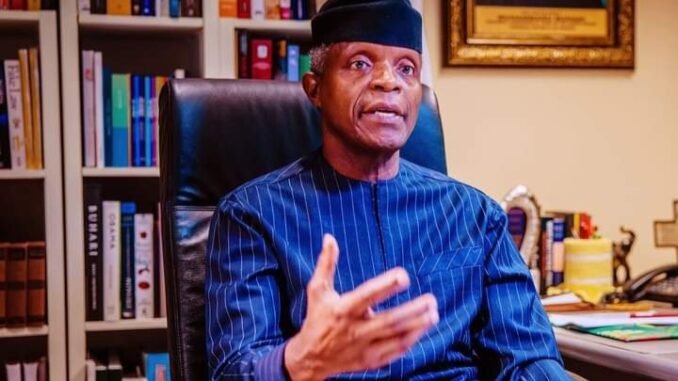 By Oluwafemi Popoola

Immediate past Nigeria's Vice President, Prof Yemi Osinbajo, alongside notable African leaders which include former Nigeria's President Goodluck Jonathan, South African President, Cyril Ramaphosa and Rwanda President, Paul Kagame and the Sultan of Sokoto, Mohammadu Abubakar, among several others were recently named peace icons in Africa by a renowned international peace-based organisation, Peace Ambassador Agency Worldwide.
These prominent African personalities were unveiled at a press conference on Friday, August 18, 2013, in Abuja as "100 Most Notable Peace Icons in Africa," where the Project Director of the group, Ambassador Kingsley Amafibe, said the peace icons were being recognized due to their dedication to promoting peace and calm in the continent.
He said the beneficiaries have laboured continuously to reduce conflicts, advance social bonds, and establish connections amidst diverse communities in Africa.
Dissecting the rich profiles of these African giants reveals their respective and profound contributions to the peace, stability and development of the African region. These strong individuals have sacrificed in their corners as political leaders, financial experts, religious leaders, and industrialists, amongst others, towards not only building a united and prosperous Africa but who have also embracing peaceful resolutions and stability in the continent.
But, for Prof Osinbajo, who is a law professor, former university lecturer, former attorney general of Lagos State and Vice President of Nigeria for eight years (2025-2023), it is a reward for his selfless service to the nation. During this period in public service, Prof Osinbajo is renowned as a prominent advocate for peaceful resolution and conflict management in Nigeria and across the African continent. Ditto for his commitment to fostering peace, unity and stability in the region.
The points below underscore the highlights of some of Osinbajo's intervening moments where he provided stability and leadership to keep Nigeria's many fractions from tearing one another apart. This, he was able to achieve by embracing peaceful resolutions, both domestically and outside the shores of Nigeria.
ALSO READ: UNESCO backs Osinbajo's new organisation to transform education through innovation
1. Promoting Dialogue and Mediation to Solve Niger Delta militants' uprising:
Prof. Osinbajo recognizes the power of dialogue and mediation in resolving conflicts. During his spell as VP, he consistently advocated for peaceful negotiations as a means to address grievances and bridge divides. A case study to buttress this point was the role he played in ensuring there was lasting peace in the Niger Delta region after years of unrest and chaos witnessed by previous governments.
Prof. Osinbajo, in 2017, embarked on a peace-keeping mission across the Niger Delta states, engaging in strategic meetings with stakeholders and people in the region to ensure that peace and stability are maintained. Osinbajo as Acting President interfaced with communities in the creeks of the oil-rich Niger Delta on how to stabilise the region, fix their infrastructure and ensure a hitch-free flow of crude to the international market. This ended the series of pipeline explosions, restored the maximum oil productivity, and helped terminate the recession at that time. The purported neglect of the region, being the country's economic power base was the major reason the militants put forward as the cause of their restiveness. By encouraging parties to engage in constructive dialogue, Prof. Osinbajo helped de-escalate tensions and prevent violence in numerous instances. His belief in the power of mediation also contributed to a more peaceful political climate in Nigeria.
2. Supporting Conflict Resolution Mechanisms:
During his tenure as Vice President, Prof. Osinbajo played a crucial role in supporting and strengthening conflict resolution mechanisms in Nigeria. He actively engaged with various local and international organizations, such as the Nigerian Institute of Conflict Resolution and Alternatives Dispute Resolution, to promote peaceful resolutions at both grassroots and national levels. By encouraging the use of alternative dispute resolution methods, he helped to reduce the burden on the judiciary system and fostered a culture of peaceful coexistence.
3. Addressing Ethno-Religious Tensions:
Ethno-religious conflicts had plagued Nigeria for many years, leading to violence and instability. Prof. Osinbajo has been consistent in emphasizing the importance of religious tolerance, unity, and understanding as essential components of a peaceful society. As Vice president, Osinbajo spent meaningful time engaging with religious leaders and communities to foster interfaith dialogue, promote mutual respect, and discourage the manipulation of faith for political gain.
The latest of Prof's persistent message of unity in the country came, just a few weeks before he left office. In Kuru Plateau State, the then-outgoing VP delivered a speech at the maiden Policy Making and Good Governance Lecture Series of the National Institute of Policy and Strategic Studies (NIPSS). At the event, he called for deliberate efforts to overcome ethnic and religious prejudices. Osinbajo warned that in the contest for power, leadership elites must not toy with prejudices that alienate or divide any section of the country. The law professor also condemned reported attempts in some parts of the country that denied some Nigerians their right to vote in the last general elections. He faulted the weaponisation of ethnic, and religious biases during polls. By addressing the root causes of ethnoreligious tensions, the law professor has contributed to a more harmonious and peaceful Nigeria.
4. Engaging in Diplomatic Efforts:
Beyond Nigeria's borders, Prof. Osinbajo has been involved in various diplomatic efforts aimed at resolving conflicts across the African continent. He has represented Nigeria in regional and international forums, advocating for peaceful resolutions to conflicts in countries such as South Sudan, Libya, and Somalia. His diplomatic engagements have helped establish Nigeria as a key player in African peacekeeping and conflict resolution initiatives.
For example, the former VP was part of the 100 conflict mediators, high-level decision-makers, experts and peace process actors from around the world who gathered in Oslo, the capital city of Norway sometime two months ago.
The Oslo Forum focused on conflict mediation and peace processes where the dignitaries met to exchange experiences of peace diplomacy and discussed some of the present world's most complex conflicts. The ongoing Russia vs Ukraine war that has lasted for over one year and three months, amongst other global conflicts was part of what was discussed at the forum.
5. Empowering Youth and Promoting Education:
Prof. Osinbajo recognizes that sustainable peace can only be achieved through the empowerment of youths and the provision of quality education. He has been a strong advocate for youth inclusion in governance and decision-making processes, acknowledging their role as agents of positive change. By investing in education and entrepreneurship programs, he has provided young Nigerians with opportunities to thrive and contribute to a more peaceful society.
Spanning over two decades of Prof Osinbajo's political career, his commitment to peaceful resolution in Africa has been evident. Through his relentless advocacy for dialogue, support for conflict resolution mechanisms, addressing ethnoreligious tensions, engaging in diplomatic efforts, and empowering the youth, he has played a vital role in fostering peace and stability.
Prof Yemi Osinbajo and his fellow peace icons must not be deterred in their shared devotion to ensuring the stability of the African region. Their actions should further inspire others to embrace peaceful resolutions by promoting peace and calm in the continent, paving the way for a brighter and more united future.
• Popoola is a political analyst, content analyser and news aggregator.