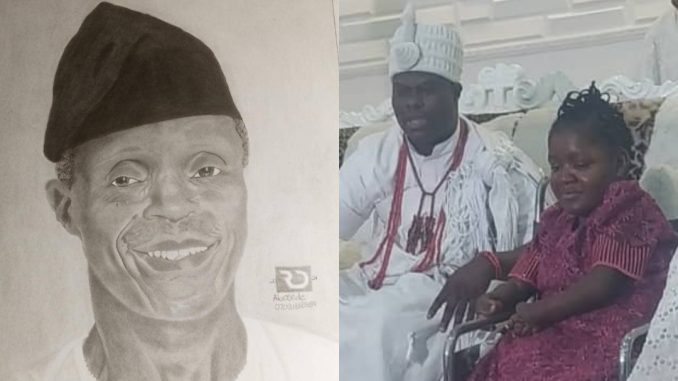 By Abimbola Olaniyan

Bose Okeowo is a talented artist who found ability in her disability.
Okeowo, an indigene of Otun Ekiti, Mobaland, in Ekiti State, had fallen ill when she was a baby, and it was the illness that resulted in her being physically-challenged.
But the talented lady wasn't deterred, rather, she it was in that same weakness she grew her strength.
Okeowo says she enjoys drawing dignitaries, especially those she knows can help her reach greater heights.
According to her, she started drawing when she realized there was nothing else she could do except to use her God-given talent which is drawing.
ALSO READ: Osinbajo is a man to follow, says Nigeria's VP's Spokesman Akande
Interestingly, Okeowo was never taught how to draw, but says "it is passion and talent," and with the help of God she developed her talent in drawing to her current stage of expertise.
She says she finds joy in being artistic, and if she has the opportunity to further improve on her drawing skills, she is certain she will improve some more.
Okeowo has advised other Nigerians with her type of physical challenge not to give up hope and that there is a reason for everything. "God gave everyone a talent to distinguish them from others," she said.
Her dad, Mr. Okeowo Oladeji, says her daughter, Bose, indeed went to a nursery school for one-and-a-half-year. She got promoted to Primary 1 and could only spend one-term before her ailment caused her to remain at home.
Oba Adekunle Adeagbo, the Oore of Otun Ekiti says he is glad Okeowo is from Otun Ekiti. "She has made Moba land popular," Oba Adeagbo said.
Okeowo dreams to have her own establishment where she can teach others how to draw and also help those who are physically-challenged, to give them hope and empower them.
• Olaniyan contributed this piece from OVP Media.