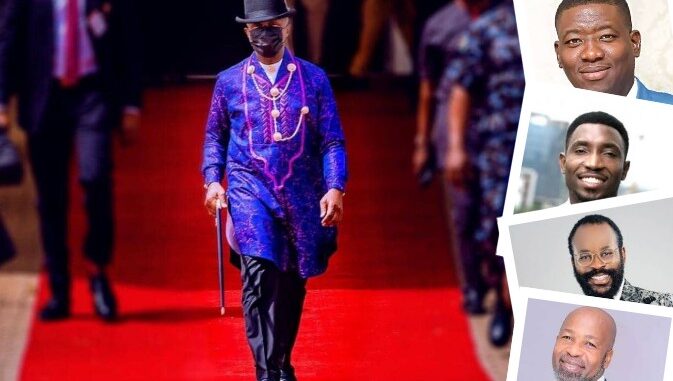 • As Leke Adeboye, Timi Dakolo, Efosa Iyamu, Yemi Solade, TY Bello, others join VP's teeming cheerleaders

By Kehinde Adeoye
One could not have thought that the elegant attire worn by Vice president Yemi Osinbajo would generate so much public interest and cause a buzz on social media attracting many Nigerians and celebrities alike.
As the picture continued to make the round in social media, catching the fancy of all, specifically now, among the class of an innumerable audience the Vice President wowed in his traditional attire were the celebrities, awesomely, those finicky fashionistas also got trilled with the Prof Osinbajo entering Bayelsa State in a la mode.
Those celebrities could not resist the loud ovation that greeted Prof Osinbajo's visit to Bayelsa, a South-South state, on Saturday, February 19, 2022, earlier projected in a photo put in the public eye by Tolani Alli, the official photographer of the Vice President, best known for her incredible storytelling ability through pictorial or visual pieces, with which she has scored a bull's eye, as Nigerians won't stop admiring the aesthetic that defines it.
ALSO READ: Glitterati: Osinbajo rocking Ijaw attire sets internet on fire
Below are some of the Nigerian top celebrities comments on VP Osinbajo's Instagram handle:
Timi Dakolo
Popular Nigerian singer, songwriter and music producer, Timi Dakolo was one of those who passed a comment under VP Osinbajo's Instagram post. His comment was short and witty. He said "Starboy🙌🙌🙌🙌"
Efosa Iyamu
The award winning presenter, comedian and model, Efosa Iyamu, also fancied Osinbajo's attire. He said: "This man sha… Every outfit fits him too much… STAR BOY 👑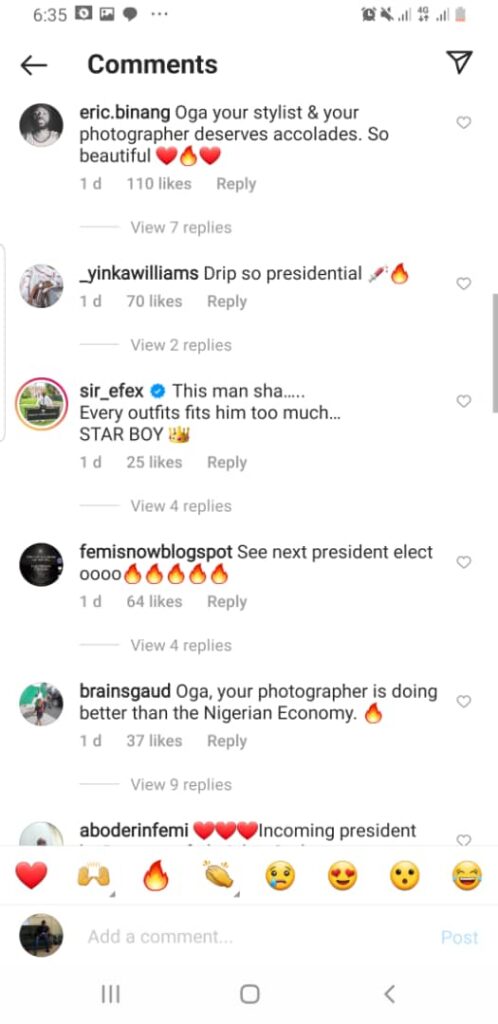 Aisha Augui
Aisha Augui did not miss out on this. The photographer and filmmaker dropped a fire 🔥 emoji under the comment section of the VP's Instagram page where the picture was uploaded.
Owen Gee
Another Actor and movie producer, Owen Gee also dropped fire and clap emojis.🔥👏
Maryam Bukar Hassan
Maryam Bukar Hassan, author, poet and orator in her words said: "Love the costume."
Yemi Solade
Nollywood legend, Yemi Solade, did not hide his wish as he clearly called Osinbajo: "MY PRESIDENT ❤" literally making his choice for 2023 public.
Kolawole Bekes
Gospel artist, Kolawole Bekes-The worshipper said "My next president."
TY Bello
Toyin Sokefun-Bello, popularly known as TY Bello, songwriter, singer, and photographer, also contributed dropped the raised hands and fire 🔥 emojis to light up the stunning outlook of the VP.
Leke Adeboye
Leke Adeboye, son of the General Overseer (GO) of the Redeemed Christian Church of God (RCCG) Pastor E.A. Adeboye did not only drop fire 🔥 symbols and love ❤️ emoji to appreciate the VP, he raised many hands and went further to tag Tolani Alli for the beautiful shot. He said "wow."
Besides the few mentioned here, numerous others applauded VP Osinbajo's elegant outlook during his Bayelsa State visit. As rightly observed, the daily turnout of events has shown that the interest of VP Osinbajo continues to grow in the heart of many Nigerians as 2023 approaches. Individuals, groups, government officials have continued to favour his candidacy ahead of others.