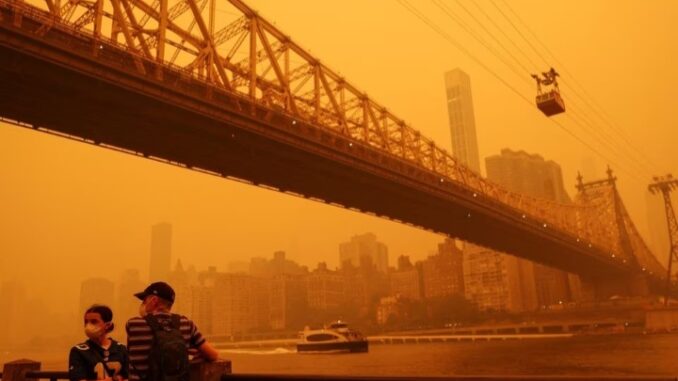 Forest fires continued to burn across Canada on Thursday as the country endured its worst-ever start to wildfire season, forcing thousands of people from their homes and sending a smoky haze billowing across U.S. cities.

About 3.8 million hectares (9.4 million acres) have already burned, roughly 15 times the 10-year average, according to federal Minister of Emergency Preparedness Bill Blair. Warm, dry conditions were expected to persist in the months ahead.
Although wildfires are common in Canada, it is unusual for blazes to be burning simultaneously in the east and west, stretching firefighting resources and forcing the Canadian government to send in the military to help. Hundreds of U.S. firefighters arrived in Canada to help and more were on their way.
Prime Minister Justin Trudeau blamed climate change. "These fires are affecting everyday routines, lives and livelihoods, and our air quality," Trudeau said on Twitter.
ALSO READ: Joe Biden fine after fall on stage in Colorado — White House 
Some of the worst fires have sprung up in the eastern province of Quebec, and more than 11,000 people had to evacuate their homes in Quebec.
Wildfire season started unseasonably early in Alberta last month and burned a record area, and Nova Scotia continues to battle its largest-ever blaze,
In parts of the Pacific province of British Columbia, which is facing the second-biggest wildfire on record, temperatures were forecast to hit 33 Celsius (91 Fahrenheit) on Thursday, before thunderstorms and heavy rains arrive on Friday.
Rob Schweitzer, executive director of BC Wildfire, said lightning strikes could spark more blazes in tinder-dry forests and the outcome would depend on how much precipitation comes with the storms.
"When you get 150 or 200 strikes in one day from lightning coming through the province, it's impossible to have enough resources to suppress them all," he said.
Wildfires have eased in Alberta, the centre of Canada's oil and gas industry, but more than 3,000 people remain under evacuation orders and heat warnings are in effect in the south of the province.
Reuters said smoke-forecasting website BlueSky Canada showed wildfire smoke spreading across much of the country on Thursday. The smoke is set to intensify in Ottawa, Toronto, Cleveland and Pittsburgh and remain thick in other cities along the east coast of the United States, including New York.