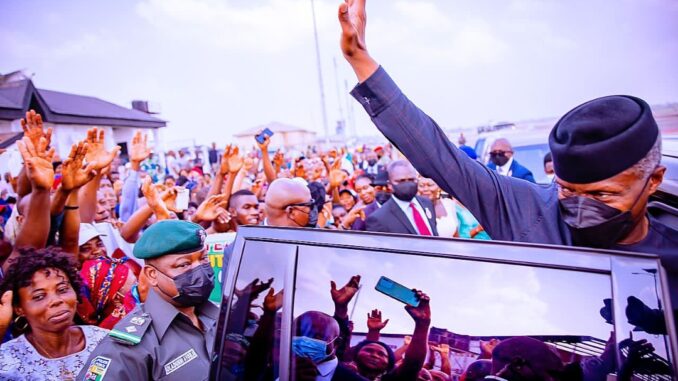 By Oluwafemi Popoola

Farooq Adamu Kperogi, a Nigerian, but now said to have American citizenship, lives in the United States. In essence, he is not presently domiciled in Nigeria, plus not having the natural feel of things, he only relies on third party considerations, yet, he likes to fire venomous shots home to trouble the fragile peace.
Though for his academic leaning drawn from both Nigeria and his base in the US, coupled with being a former reporter and news editor at different occasions with the Nigerian newspapers, before his foreign sojourn, he may claim to have "reliable" sources he still relates with, but as things stand, since the birds of same feather are said to flock together, what if those sources are as biased as Farooq?
I've followed his write ups in passing, especially on issues about Nigeria, and narrowing it down to the current President Muhammadu Buhari-led government, what pisses on off is the fact that they've all been negative submissions! Let's assume he has his right to his opinions, but as a critic, and even a former journalist, was he taught to stand biased every issue or to balance them? Is there anything good about this present Nigeria's government? Farooq has not seen one!
Now, his name and write ups further heightened my curiosity when he wrote an article entitled: ''Pantami is my friend, but he can't be defended" published in the Saturday Tribune of April 17, 2021. It was an article very critical of the Nigeria's Minister of Communications and Digital Economy, Ali Pantami, who he called his "friend." Farooq in the said article lambasted his "friend" for the incendiary utterances, statements and inciting religious rhetorics he made before he became a minister.
ALSO READ: 2023: Don't dash our hopes, hearing-impaired youth begs Osinbajo to contest for president
I was deeply engrossed while reading the article until I got to the point where he brought the name of the Vice President, Prof Osinbajo and willfully gave him a new personality. He was on one hand crucifying his "friend" due to the Minister's alleged past association with terrorist groups and on the other hand accusing the Vice President of an unsubstantiated "Christianisation agenda" while calling him a religious fundamentalist because of the formation and appointments of aides in his close circle.
He said most of the VP's staff are Yoruba and Christians, and most are members of the Redeemed Christian Church of God (RCCG).
That was when it became evidently clear to me that Farooq was on a special mission to put a tar brush on the Vice President. A mission to turn around Osinbajo's true character. It was objectionably and glaringly malicious and even laughable, unlikely to be believed by any discerning follower of the activities of the Vice President. His article was with the title ''Pantami is my friend, but he can't be defended," for a discerning mind, what has Osinbajo got to do with that, please?
It was later we got to know that amongst Osinbajo's personal staff, no less than 10 Yoruba Muslims were appointed to work for the Vice President including his next in command and the highest-ranking officer in the Vice President's office, the Deputy Chief of Staff to the President, Mr. AbdurRahman Adeola Ipaye. Where did Farooq get his facts from?
Other Yoruba Muslims who work, at various times, in the Office of the Vice President with Osinbajo include distinguished former Senator Babafemi Ojudu (Special Adviser on Political Matters); Dr Mariam Masha (Senior Special Assistant on Internally Displaced Persons); Ms Lanre Shasore (Senior Special Assistant on Planning and Coordination); Mrs. Olabisi Ogungbemi (Special Assistant on Political Matters); Yusuf Ali (Special Assistant on Power); Mr Mohammed Brimah (Special Assistant on Job Creation); Mr Mukhtar Tijani (Special Assistant on Power); Ms. Lolade Abiola; and Mr. Akanni Rahman.
ALSO READ: Osinbajo delivers Buhari's good will to Nigerian youths, says whatever the situation, 'we move'
Then, again, a memo of the Redeemed Christian Church Of God (RCCG) that was signed by the Assistant General Overseer (Admin/Personnel) Pastor J. F. Odesola had gone viral on the social media.
In the said memo, which was addressed to all regions, provinces, zones and other levels of the church, it hinted on a creation of an office of Directorate of Politics and Governance to help coordinate the affairs, engagements and activities of members interested to be involved in politics and as well as mobilize support for them when required ahead of 2023 general elections.
In setting the record straight, the latest decisive move by the Nigeria's most popular Pentecostal church ahead of the 2023 general elections is a sudden shift and a leap from the unhelpful lackadaisical approach of the Nigeria's Christian body to political participation in the country.
RCCG, as the largest Pentecostal denomination in Nigeria has long been setting up many units to help get people involved in Corporate Social Responsibility (CSR), Youth Empowerment, Capacity Building, and the likes. The decision to galvanize and mobilize their huge members for political participation is a step in the right direction and it will no doubt improve our democracy.
In "Saner" Societies like the one Farooq himself resides, religious organisations like the RCCG in Nigeria form the fulcrum of the political consciousness of that Society. Most times these religious organisations are the roots of the ideologies of these political parties. A good example is the Christian Democratic Union of Germany, Christian-democratic and liberal-conservative political party that sponsored and produced Angela Merkel as the Chancellor of Germany from 22 November 2005 to 8 December 2021, then the Republican Party of the United States in which the Christian Evangelicals constitutes a Major Bloc.
As democratically advanced the United States is, ex-President Donald Trump wouldn't have gathered much votes in the 2016 elections without the support of the Evangelicals who gave him a Bloc vote to defeat the first most popular female Presidential aspirant in America's history, Hillary Clinton of the Democrats.
RCCG is taking a huge step in revolutionizing our electoral system. And I believe every religious body, professional bodies, trade unions, student unions, communities should take a leaf.
Churches and Mosques can't continue to be "fentist," that is, staying aloof in the day and partisans at night. Nigeria needs political parties whose Ideologies are rooted in our core collective spiritual and psychological beliefs as a nation.
Back to Farooq's intemperate and sentimental view of the matter.
In reacting to the RCCG memo Farooq Kperogi wrote:
"This isn't really surprising, frankly, because Pentecostal Christians see Osinbajo as their representative in government and think he is the fulfilment of Pastor Enoch Adeboye's oft-quoted prediction that one of them would become Nigeria's president during his lifetime."
"(Osinbajo's rise to the vice presidency, for the record, was a consequence of Buhari's personal desire to blunt notions of his Islamic fanaticism by having a pastor as a running mate. It was the same reason that caused him to prefer Pastor Tunde Bakare, a Muslim convert, as his running mate)."
"Osinbajo himself defines his role in government in the narrow terms that his co-pentecostalists see it: as the materialization of a Pentecostal Christian theocratic dream. That's why his inner political circle is almost entirely made up of Yoruba RCCG members."
Farooq Kperogi never saw that memo as simple as it sounds. He has a cynic and different thought. The memo gave him a recipe to launch his attack on Osinbajo's undeclared 2023 presidential ambition. His obsession with the Nigeria's No 2 man shows how uncomfortable he has become because of Osinbajo's credentials which stand heads and shoulders over those who are in the 2023 race.
Well, I have always had issues with Farooq's thought process and political opinions which is usually shrouded in fallacies and illogicalities. It was most convenient for him to narrow the patriotic move of RCCG to just the personality of VP Osinbajo. Senator Remi Tinubu who is also a Pastor in RCCG, and whose husband has since declared his interest for the race never crossed Kperogi's mind. The target was Osinbajo. That king of thinking is for small minds.
ALSO READ: Osinbajo's integrity and the rest of them
Farooq goofed again by maliciously bringing a phantom corruption cases against the Vice President when he was handling the social investment programme of the government, citing it was the main reason the programme was withdrawn from him for a separate ministry.
He wrote, "When his multi-billion-naira corruption in the management of the Buhari regime's social investment programme was probed by members of the Aso Rock cabal (which caused it to be taken away from him and transformed into a separate ministry), it was discovered that the vast majority of people who benefited from the contracts he awarded were Yoruba members of the RCCG.
"Osinbajo is so smugly ensconced in his RCCG filter bubble that he doesn't even care to seek out the cultural counsel of his Federal Government-imposed Muslim aides when he travels to the Muslim North."
No where was any allegation of multi billion naira corruption was laid against the Vice President. I challenge Kperogi to give out further details of the corruption story. He needs to offer documentary evidence that proves his allegation. Making statements and assertions that can't be empirically validated or being evidenced-based is not professors style of modus operandi but Farooq has chosen to be an exception.
If his interest lies in the government's social intervention Programme, a simple survey would have helped a great deal in trying to find out the efficiency of the programme between when it was under the supervision of the Vice President and how it is faring presently. The beneficiaries would have fed him with tales of good old days as against what is obtainable presently under the new minister.
The VP's political career is far from being smooth. He has on many occasions been at the receiving end of malicious lie, fake news, constant barrage and attack by paid mercenaries and writers. The allegations of NEMA, FIRS and Jackson Ude's story have all been thrown into the dustbin and forgotten because they are baseless and unfounded.
Up till now even, Osinbajo's loudest traducers have not come up with a valid corruption case against him. This is something to be applauded because the VP represents a breath of fresh air in the murky waters of Nigeria's political landscape.
• Popoola is a political analyst, content analyser and news aggregator