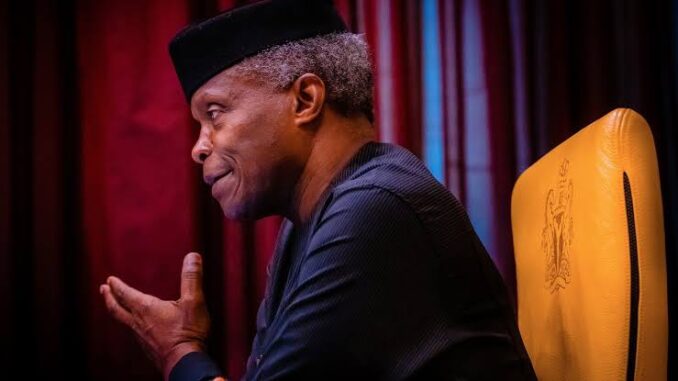 By Danladi Usman

It was feeble and though he meant it to hurt, Bello Adoke's recent vituperations against his perceived enemies including former Vice President, Prof. Yemi Osinbajo, SAN, GCON, was just another proof of his low-life existence lately.
In a recently circulated interview entitled "Untold Story," the former Attorney General of the Federation, threw a jab at his senior colleague, Osinbajo, reminiscing on the diatribes in his book, in which he had alleged that the former Vice President sent former acting chairman of the Economic and Financial Crimes Commission (EFCC), Ibrahim Magu, against him. But this was already a dead issue since 2019, as comatose as his name and reputation had become.
When asked in an interview with Adesua Giwa-Osagie, to "let's talk about your prosecution" to which he abruptly responded, "For me to have contemplated at a time to commit suicide…." Then, the question continued, "There are four people in your book who are common threads, one of them is former Vice President Yemi Osinbajo…" Adoke answering, snapped at the learned man, saying, "He is a shame, I don't want to talk about him…"
The interviewer was referring to claims made by Adoke in his memoirs, "Burden of Service: The Reminiscences of Nigeria's Former Attorney-General," published by Clink Street Publishers in London and New York and also put on sale in Nigeria, where he had alleged that Osinbajo, Senator Ali Ndume and Mohammed Abacha used the former EFCC chairman, Ibrahim Magu, to hoodwink him and implicate him in the OPL 245 bribery scandal.
But, in a strong-worded response issued on his behalf by Wilson Uwujaren, the then EFCC head of media and publicity, Magu had said he was alarmed at the "brazen attempt" by Adoke to "rewrite history and portray himself as a victim of persecution."
The statement read: "Specifically, he claimed in Chapter 8 of the book, that Magu was recruited by Prof. Osinbajo to hound and persecute him despite, as he claimed, his role in reinstating Magu to the EFCC from the police 'where he had been vegetating.' Adoke attributes his source of information on the alleged Osinbajo instruction to Magu against him to an unnamed governor from the North West, who according to him, claimed Magu told him that he had the instruction of Osinbajo to 'deal with Adoke.'"
ALSO READ: Osinbajo's integrity and the rest of them
Magu faulting Adoke, however, said his "claims are tissues of lies, contrived to entertain and attract underserved attention to himself," as he categorically stated that "at no time did the Vice President discuss, counsel, or direct him in any way on any issue concerning Mr. Adoke. It is wicked and evil to make such a false allegation against anybody especially where it is based on hearsay."
The EFCC had since 2019 trashed Adoke's faulty and unverified claims as published in his memoir, noting that, "The accounts in Chapters 8 and 9… are not only inaccurate but self-serving.
It said, "For the records and emphasis, Magu never received any instructions from the Vice President, neither had he communicated verbally or in writing to any governor from the North-West… about such a patently false purported instruction from Osinbajo to 'deal with Adoke.'"
While no one would be shocked that Adoke is already bereft of moral scruples, it is the attempt to reinvent himself as a credible figure in public affairs that is laughable.
Ordinarily, a character like Adoke, throwing invectives on national leaders, the like of former Vice President Osinbajo, who served creditably well with no established scandal, should not be walking freely on the streets in a sane clime.
Imagine the role he played in the OPL 245 scam, which involved an extraordinary series of events culminating in the release of US$1 billion said to have been held in an English escrow account to a company named Malabu, and as the Attorney General, Adoke, was equally said to have received a substantial portion of these funds personally.
In printed testimonies against him in a United States District Court, during the P&ID case which Adoke exposed Nigeria to over $10bn dollars liability, a witness said, "Despite the high stakes of the Arbitration, the Attorney General at the time, Mr Mohammed Bello Adoke ("Mr Adoke"), who in 2019 was charged with facilitating a $1 billion bribery and fraud oil license scheme (with Mr Adoke himself pocketing more than $800,000)…"
These are issues Adoke should face to clear his name and ask for forgiveness from God and Nigerians whom he misrepresented in the course of a series of shady deals that went under him as the country's AGF. He should rather resign into oblivion and keep his mouth shut forever and he lacks the credibility and integrity required of honourable men to dabble into issues of personal and national matters, especially as it concerns a highly and completely believable leader like Osinbajo whose fingers are not soiled like Adoke's.
• Usman, a social and political commentator writes from Abuja.