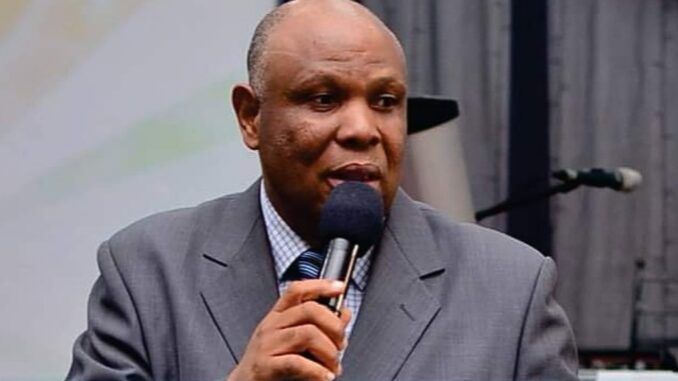 A Bible teacher and Minister of the Gospel Minister,  Pastor Tunde Jaiyebo, has affirmed that using faith in life pursuits works for every Christian who follows biblical standards and not for those who ignorantly act in foolishness or presumption.

The Senior Pastor and the Minister in Charge of Charis Family International Church, Pastor Jaiyebo, said this on Thursday, January 27, ministering at the opening session of the church's four-day programme tagged: "2022 Faith Seminar Series" with the theme: "Faith, Foolishness and Presumption."
Christians standing on their faith in life pursuits will enjoy divine providence for the needed results given that they do it right, the cleric said, in his ministration to members of Charis network of churches and other categories of participants who attended the Faith Seminar physically at the auditorium of the headquarters church located at Cultural Centre road, Mokola, Ibadan, and online via Charis Facebook page.
Quoting from the scriptures in the Book of Hebrews 6:22 (Message version), stating: "Don't drag your feet. Be like those who stay the course with committed faith and then get everything promised to them," as his main biblical text, Pastor Jaiyebo said, "God has anticipated and provided everything we need in life, but the problem is His children are not accessing them by faith.
"At times, we have no result because we think we are operating in faith not knowing it is by foolishness or presumption. Faith always works, else you are working in foolishness or presumption," the minister said.
According to him, "Christians need to understand" what he called the "Dynamics of Faith," six of which he said are vital to know for those working in faith.
He said, for any Christian to rightfully operate in faith, such must know that: "'You are a spirit;' 'God is spirit;' the 'Word of God is spirit;' 'Everything you need is Spiritual' according to Ephesians 1:3; 'Relationship with God is spiritual;' and 'We are led by the spirit.'"
Reminding the congregation that, in Christians recognising themselves as a spirit, "know that you live in spirit but your body is here on earth. We are domiciled in the flesh, but the spirit is not perceptible to the senses."
For this reason, he cautioned those thinking there are using faith and not realising they are rather acting on foolishness and presumption, to be watchful of the kind of result they get, as such may be a frustrating experience when they are not getting answers to their prayers.
ALSO READ: Why you need a 'model' to succeed — Pastor Tunde Jaiyebo
The minister listed six things that happen without faith, including:
1. You operate naturally. But it is subject to the devil stealing;
2. The things of God is mysterious;
3. It hinders relationship with God;
4. Your results will be natural — Mathew 9:16;
5. Your Christian life will be a frustrating experience; and
6. You have the same problems as everyone is having.
Pastor Jaiyebo warned that: "If you don't live by faith, your results will be handicapped," adding that, the positions of unbelief is equated to foolishness and presumption, while he said the position of faith practised with divine principles with Hebrews 6:12 (MSG), fetches God's provisions as answered prayers.
"If God says it, He means it. Prayer won't do you any good without faith. Foolishness is conjuring something that is not in the Bible and you want God to do it. Faith is acting on the word of God.
"If you are sick, and acting on faith, do what the healed people do. Stand up and get going with your normal activities and don't just sleep doing nothing. Search for the relevant scriptures in the Bible that deals with sicknesses, read it over and over again, meditate on it, and speak healing to yourself, get messages on healing and keep hearing them. Faith comes by hearing, and hearing by the, as written in Romans 10:17," Pastor Jaiyebo said.
The Bible teacher said foolishness is when a Christian is expecting problems to just disappear. He defined it to mean: "Foolishness is saying things and acting on what has no biblical basis," while defining presumption to be: "Presumption is confessing and acting on what you assumed the Bible says but not in the Bible."
According to him: "God says He will supply our needs. Presumption means manipulating the word of God to prove a point. Presumption always has a scriptural basis, but it is either wrongly used or quoted out of context."
He cited the instance of Jesus Christ encounter with Satan in the Book of Mathew 4:6, where His adversary was acting on presumption, quoting from the scriptures with no basis attempting to tempt the Lord, saying, "there is nothing to prove as a child of God. If you want to prove a challenge, you are working on the motivation of the devil."
The cleric said Psalm 91:11 was the devil's presumption in the Mathew 4:6 encounter, noting that, "doing certain things without taking responsibility is presumption. If there is no responsibility attached to your faith, it is called presumption."
Referring back to Romans 10:17, Pastor Jaiyebo said: "If you are standing on faith, at least, have one word of God you are standing on. At least, hear the scriptures you are standing on twice.
"There is a responsibility attached to faith. There is a responsibility attached to faith. Presumption is copying someone else's faith.
"Faith stands on scriptures. Faith doesn't believe in God. Faith has believed in God. You cannot have faith in the God you don't know. Presumption is when you take faith as a spare tire, that is presumption.
"God is good and He can do whatever He likes with His sovereignty. He can use that to sort things out for anyone He chooses to favour, but that is not His usual pattern. When you pray in line with the word of God, it is an available reality.
The cleric charged the congregation and Christians generally that, "you must know the God you prayed to has answered you. But in the process of waiting for the manifestation if the answer is not immediate, " you bind demonic forces, you keep thanking God.
"You don't necessarily need to pray about the request twice. But keep thanking God, believe it is done.
"Faith is absolute trust in God. If you pray in line with the word of God, it is a tangible reality.
"When something bad happens, what you say first determines the length of that trouble. Bible says count it all joy when you fall into diverse troubles.
"So, don't confess negatively whenever any untoward thing happens, rather, keep your positive confession, and believe God to answer your prayers. Faith works when you do it according to the biblical prescription and you believe in God to do it," Pastor Jaiyebo said.