By Seyi Gesinde

One word that characterises human life is 'building,' making us a massive building project, one that needs very important resources, without which there can be a building.
Hence, God has made available ceaseless resources, assets such as money, wisdom, people, materials, grace, favour, anointing, personnel and others which you can draw from to get the job done, Pastor Tunde Jaiyebo has said.
The Senior Pastor of Charis Family International Church, Pastor Jaiyebo, said this ministering at the opening session of the church's four-day special programme: "Plugging Into Ceaseless Flow" with the scriptural focus on Psalm 23. "The Lord is my shepherd; I shall not want."
At the programme which commenced on Thursday, November 17, 2022, at the church's headquarters auditorium along Cultural Centre road, Mokola, Ibadan, Pastor Jaiyebo said since God has made adequate provisions for believing Christians to build, inadequate resources may incapacitate those who do not know how to access divine provisions.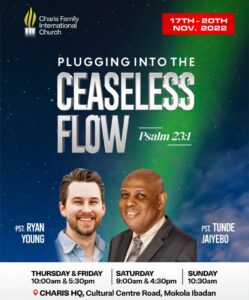 "It is from the assets you draw things needed to build, but inadequate resources create a handicap in any building project," the cleric said, explaining that, married couples can struggle in their marriage because they can't draw from the flow of love, and it leads to problems.
He said defeatists statements like "I planned to" or "I want to" the excuse some people give as the reason they could not meet up with certain expectations, are shreds of evidence that resources are not available for them to draw from.
But to reverse such situations and get the needed empowerment to plug into God's ceaseless flow, Pastor Jaiyebo informed the congregation that everything has been divinely made available for individuals to build.
Speaking on God's plan for everyone who plugs into the special programme as divinely arranged, Pastor Jaiyebo, "God wants to upgrade you and the quality of your resources. God wants us to enter the realm of more than enough," noting that, "the degree and intensity of your flow of resources determine your result."
"Your life is very important, it should be a reflection of ceaseless flow. The flow of resources can either be negative or positive. The negative has to be done away with," the minister said.
The minister highlighted the negative results which people must observe and do away with to be instances where they have been experiencing situations such as: "No flow at all; A clogged or blocked flow or Something obstructing the flow."
He said it could also be instances like: "Inconsistent or irregular flow; "Witnessing delay; "Inadequate flow; "It is not enough; where they have to regrettably speak words like: "If only…," which the cleric described as: "The language of regret."
He said some people's condition can also be: "Reducing flow; "You used to have, but it is now depreciating; or "Reduced flow. Pegged at a certain level; or "Selective flow," that is, "In one area you have, in another, you don't have."
ALSO READ: 10 basic principles to make your life count by Pastor Tunde Jaiyebo
The minister explained that someone may be "very intelligent but not doing well in certain areas. We can't get everything in life is evidence of selective flow; or "Just enough," that is, "All bills are paid, but waiting for another month's," that is, to be credited to have a headway.
Quoting from the scriptures in Isaiah 42:19-20 to substantiate why people suffer lack, Pastor Jaiyebo said, it could also be as a result of "carelessness and stupidity," saying "God can give you an idea to make money, it can also be to pursue particular business or relationships, and you make money. These are seeds God gives to his people, but some jeopardise such offers with ignorance, carelessness and stupidity.
"Making wrong speech like 'Nigeria is difficult,' demonic interference and operations are the causes for some. Sometimes it is because of people's stupidity, borrowing money to pay their debts. The way out is repentance from laziness, stupidity and carelessness," the cleric said.
Pastor Jaiyebo, thereby, charged the congregation, "We need resources to build. When you are struggling in an area, it is evidence that you lack resources.
He said, "When you have questions, the answer must come from the pool of wisdom from God. There is nothing as frustrating as giving an excuse, or when you think you should have achieved more than you have at present.
"There is a time for everything in life, it is a lack of flow that makes you have less than what you should have got. Don't stay where you are, what you want to build will demand you get educated.
"There is a lot of abundance from God's ceaseless flow. You are a massive building project. You are to build your marriage, build your finances, build your business and others.
To further substantiate his teaching, the cleric made reverence to the scriptures in 2 Corinthians 9:8, as quoted in the Amplified version: "And God is able to make all grace (every favor and earthly blessing) come to you in abundance, so that you may always and under all circumstances and whatever the need be self-sufficient [possessing enough to require no aid or support and furnished in abundance for every good work and charitable donation]."
Hence, he said, "Resources is a flow of assets. Every grace and earthly blessing. God's flow is in abundance. God is not a joker. He says what he means and means what he says. With God as your Shepherd, you have everything you need."
With the abundant provisions already made available, the cleric said people still don't have them because of: "Ignorance of what is available to us; How to access the provision; What to do when the provision comes; We are governed and controlled by the environment we find ourselves: and the scarcity mentality is affecting many people."
As a result, referencing Romans 12:2, he said people should have a change of mind from the negative to the positive, while admonishing them to understand the place of grace and faith and to stop making wrong confessions, which he said are "self-imposed curses," and are ensnaring them, citing Proverbs 6:2.
According to the minister, "laziness, not applying yourself the way you ought to" is another reason, saying, "Some people don't treat people right, they shut the door of their ceaseless flow.
Consequently, Pastor Jaiyebo charges his listeners to "honour people, and show courtesy. Don't raise your voice, if you shout you are losing influence. You can be firm and assertive without being rude.
"We don't walk out of people. Take permission before you walk out. Don't bang phones on people. Take permission before you leave. Negative news travels faster than good ones. When God gives you an idea but you didn't follow through, you are shutting the door of your ceaseless flow."
The programme concludes Sunday morning starting from 9:00 am with a guest minister, Pastor Ryan Young, ministering on the same theme: "Plugging Into The Ceaseless Flow."