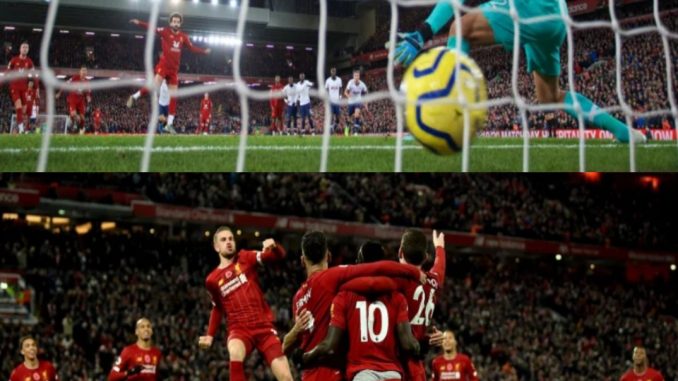 • Liverpool's 30 years of hurt are over

The Reds have ended a 30-year wait to claim the top-flight crown, securing the title with seven fixtures remaining in the campaign.
Manager Jürgen Klopp was overwhelmed by the emotion of the moment as Kop legends instantly branded his team 'The Immortals' for finally ending the three-decade crusade to re-establish their place at the top of English football.
The players partied into the night having gathered at a city centre location in the hope nearest challengers Manchester City would formally relinquish their crown.
After Liverpool's impressive 4-0 win over Crystal Palace on Wednesday, Manchester City needed to beat Chelsea at Stamford Bridge on Thursday to delay the coronation. But the defending champion's failure to claim three points, City was beaten 2-1 in London,  ended the wait. Pep Guardiola's team must now pass on the crown.
Liverpool, a team which had previously won 18 league titles but none since 1990, has now won the English Premier League for the first time, taking it to within one title of equaling Manchester United's record of 20 first division titles.
Confirmation of City's 2-1 defeat by Chelsea at Stamford Bridge had sparked jubilation across Merseyside, the night skies ablaze with fireworks and pyrotechnics from supporters, and roads reverberating to the sounds of car horns with fans under orders to stay off the streets.
Many supporters could not restrain themselves, with road blocks needed around Anfield to prevent thousands heading to the stadium, despite the pleas from Klopp and his players.
Heroes of the past and present delivered eulogies to the manager who has triumphed where seven predecessors have failed since 1990, and when Klopp was interviewed by broadcasters on Sky TV he had to break off as he wept tears of joy.
ALSO READ: WHO declares world's second-deadliest 10th Ebola outbreak over in Congo
"It is a big moment.  I am completely overwhelmed. I had no idea it would feel like this," he said. "We had to convince people and that is what we did together.
"For the fans, it is for you. It is incredible. I could not be more proud or what a lot of people in Liverpool did. It has been a very exciting ride since the first day. Now we can enjoy this moment. It is the best thing I can imagine. It is more than I can dream of.
"It was quite intense. But it was an incredible achievement of my players, what they did over the last two or three years is exceptional and a huge joy for me to coach them."
"It's relief because of the three-month interruption and nobody knew how it would go on and then we don't know 100 percent how we would come back."
Liverpool players gathered together to watch City's defeat but Klopp acknowledged the unusual circumstances of their triumph, The Telegraph said.
"We are in a bubble. I know it is difficult out there for a lot of people but these moments are unforgettable," said Klopp.
"We will create pictures in the parade for all of our supporters when we can celebrate in a proper manner. We had to write our own story. The atmosphere around the club means everyone lives football. We have a wonderful mix of players, all winners. It is so incredibly difficult in this competition but consistency drives us."
Look back on how Jürgen Klopp's side achieved the feat with the collection of Liverpool FC images below.
Jordan Henderson, who was also fighting back tears, will become the first Liverpool skipper since Alan Hansen in 1990 to lift the title, and the first since Graeme Souness in 1984 to lift the title and European Cup.
"I am so proud. This football club is so special to be a part of," said Henderson. "I didn't want to talk about it until this moment. It is amazing to finally get over line. I am so happy for all the boys, the fans, the whole club and the city.  It is an amazing feeling.
"When we won the Champions League on the pitch there was a lot of emotion. It was a different experience watching the game tonight, when the final whistle went, being able to be with everyone with staff and everyone together was amazing really. It is another moment in our lives we will never forget.
"It hasn't really sunk in. This would not be possible without the manager and what he has done inside and outside the club. It is incredible and a joy to be a part of. I hope we stay hungry. We want more."
Virgil van Dijk, whose signing in 2018 was the catalyst for the club to find new levels of consistency, added: "It is unbelievable to be part of this group of players. I am proud to be getting a Premier League medal with them."
For owners Fenway Sports Group, the Premier League fulfils a promise made 10 years ago to lead Liverpool back to the top of English football.
John W Henry put no timetable on that vow, but since 2010 the club has become unrecognisable to the one he purchased amid High Court rancour.
"This was a season for the ages and for the faithful of Liverpool Football Club," he tweeted.
"It has been an incredible year of magnificent achievement culminating tonight in capturing the Premier League title.
"This in addition to winning a European championship, a Super Cup and a world championship – the totality of this accomplishment has brought respite and joy to so many in a year filled with so much tragedy.
"LFC has made the beautiful game more beautiful than ever. A historic club making history once again."
The greatest of all Liverpool's servants, ex-player and manager Sir Kenny Dalglish, also looked like he had shed tears as he held aloft a glass of champagne.
"I remember Bob Paisley said once after winning the European Cup in Rome he never had a drink. He just wanted to get drunk on the feeling and remember the occasion. Bob I never took your advice I'm sorry," said Dalglish.
Elated former skipper Phil Thompson said the context of the title makes it distinctive from so many of those won before.
Thompson played under Shankly, and Paisley during the club's heyday in the 70s and 80s, was the reserve team manager when  Dalglish won the last title in 1990, and served as assistant to Gerard Houllier as the club tried to close the gap to Manchester United between 1998-2004.
He said the achievement of the 19th championship eclipses Klopp securing the club's sixth European Cup last May.
"I know people will say football has changed with the Champions League, but this is the one. This is the ultimate prize. That is what makes it such a special, phenomenal achievement," said Thompson.
"Rafa Benítez went close. Gerard Houllier went close. Brendan Rodgers went close. But close is not enough. Close is still a million miles away for Liverpool fans. For thirty years, I was thinking, 'we will win this league this year', and sometimes those dreams were dashed by October.
"Whether they win it again next year, which is a great possibility, I thank the players and the manager for what they have done. They will forever be regarded in the highest regard, because from where the club was 10 years ago it is miraculous. These lads may not not yet realise what they have achieved to be the first to do it in 30 years."