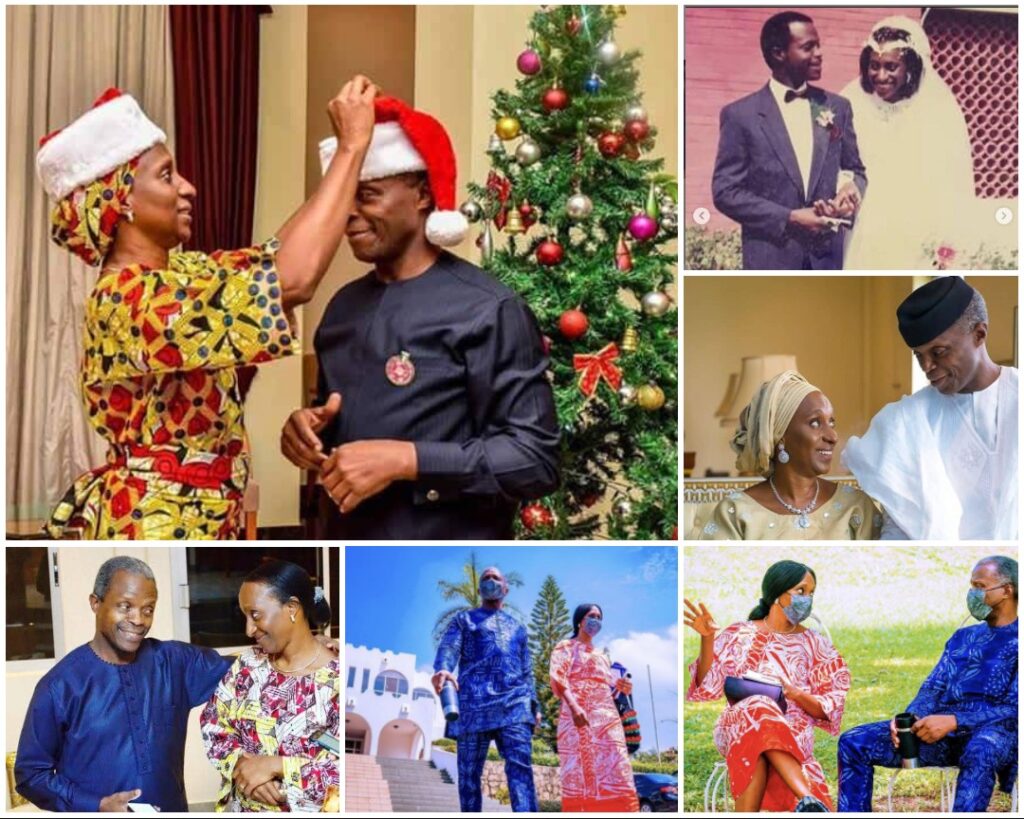 Vice President Yemi Osinbajo and his wife, Dolapo, got married this day November 25, 1989 and are being celebrated by Nigerians on their 32nd wedding anniversary.

Though the celebration is low-keyed unlike two years ago when they clocked 30 years in marriage, yet, the country's second family received torrents of congratulatory messages from Nigerians who celebrated them, especially on social media.
ALSO READ: Osinbajo's integrity and the rest of them
The couple had, two years ago during their 30th wedding anniversary took to their Instagram pages to celebrate the love and happiness they both shared together in three decades of conjugal bliss.
Then, the couple posted photos from their wedding, showing the how they've held each other's hands from day 1 to the year 30th year.
Mrs Osinbajo in her post then said: "Hand in hand on the 25th November 1989. It's our 30th wedding anniversary to the glory of God.
#WeddingAnniversary #ByGodsGrace."
Nigerians today, also took to the social media to post inspiring messages in celebration of the Vice President and his wife, as shared below:
"@eniolaofLagos: PHOTO: Happy 32nd Wedding anniversary to HEVP Prof Yemi Osinbajo & Dolapo Osinbajo.@Gidi_Traffic pic.twitter.com/xS8K7cEPyN

— GIDITRAFFIC (@Gidi_Traffic) November 25, 2021
32nd Wedding anniversary….
Prof Yemi & Dolapo Osinbajo deserve to be celebrated every time…🙌🙌🙌👌👌👌 pic.twitter.com/OUxrigong4

— Taiwo_Ajakaye (@dmightyangel) November 25, 2021
Happy 32nd Wedding anniversary to Prof Yemi& Dolapo Osinbajo. Congratulations. Any advice from singles on how to improve their marriage as per Nigeria Twitter standard pic.twitter.com/ZS1bTdAhnn

— Woye (@woye1) November 25, 2021
32 years of love, togetherness, understanding and companionship. Happy wedding anniversary to our amiable vice president Osinbajo and his wife Dolapo Osinbajo. Keep the bond stronger! pic.twitter.com/N3CwPc0cQ4

— Adewumi Collins (@AdewumiCollins) November 25, 2021
Happy 32nd wedding anniversary to VP Yemi and Mrs. Dolapo Osinbajo ❤ 💍 pic.twitter.com/VAqq1r2s7W

— Adeniyi Sunday (@Adeniyi_sunny20) November 25, 2021
Love is sweet when you are with the right person. Happy 32nd wedding anniversary to VP Yemi and Mrs Dolapo Osinbajo 💍 pic.twitter.com/alDQavXUeV

— Miss Joy Love ❄ (@falomojoy) November 25, 2021
Happy 37th Wedding Anniversary To The Second Couple Of The Federal Republic Of Nigeria, Professor Yemi Osinbajo.

Congratulations To Our Star Boy And His Lovely Wife.👏👏👏 pic.twitter.com/qUkOSHA4K5

— QUEENNIERE (@queenniere) November 25, 2021
Happy 37th Wedding Anniversary To The Second Couple Of The Federal Republic Of Nigeria, Professor Yemi Osinbajo.

Congratulations To Our Star Boy And His Lovely Wife.👏👏👏 pic.twitter.com/jnyTuOMW9F

— SouthernLightz 🇳🇬 (@MAESTER76) November 25, 2021
Happy 32nd Wedding anniversary to HEVP Prof Yemi Osinbajo & Dolapo Osinbajo. Congratulations.

This love sweet oooo ❤️❤️❤️❤️❤️❤️❤️🎊🎊🎊🎊🎊🎊🎊 pic.twitter.com/uhBdZM5TmE

— David Yakubu (@Yakubu_Prince1) November 25, 2021
PHOTOS: Happy 32nd Wedding anniversary to HEVP Prof Yemi Osinbajo & Dolapo Osinbajo.@Gidi_Traffic pic.twitter.com/8n94IzkiLb

— Eniola (@eniolaofLagos) November 25, 2021
37th wedding anniversary for Oluyemi and Dolapo Osinbajo. Happy wedding anniversary to the second family. pic.twitter.com/Gc0M9PCCGp

— Olayemi 🇳🇬 (@olayemi_123) November 25, 2021