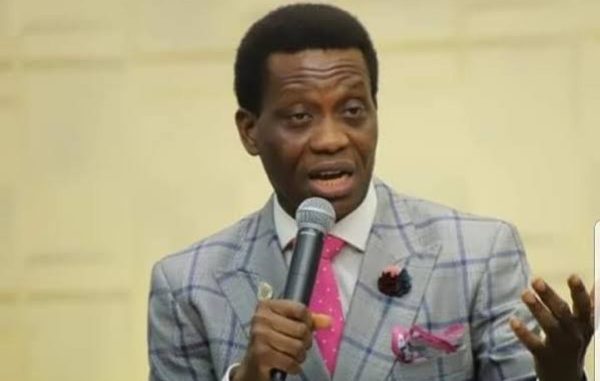 Pastor Dare Adeboye, the son of the General Overseer of the Redeemed Christian Church of God Worldwide, Pastor Enoch Adeboye, is dead.

The 42-year-old third surviving child of the popular cleric, as gathered, died in his sleep on Wednesday in Eket, Akwa Ibom State, where he was based with his family.
Until his death, he was the Assistant Pastor in charge of Region (Youth) 35, and was said to have ministered the previous day.
The young Pastor Adeboye, was said to have retired to his bed and did not wake up, and upon noticing this ugly development, his wife, Temiloluwa, was said to have raised the alarm.
As reportedly gathered, "He was not sick and did not complain of anything before the incident. Pastors in the church were summoned to pray for him, all to no avail."
Pastor Adeboye, would have been 43 years old next month, June, was happily married with children.
ALSO READ: RCCG: Pastor Adeboye declares 30-day fasting, prayer for Nigeria
He said, "It is true. The incident happened in Eket where he was based. I don't have the details for now. Maybe before the end of today, we will issue a statement."
Consequent upon the sad development, many Nigerians, who have shown empathy to the family of the revered man of God, Pastor E.A Adeboye, have also expressed grief over the untoward happening.
They have taken to the social media to post comments, some of which are reproduced below:
Lord we ask for courage and fortitude for the family of Pastor Adeboye at this time.
Strengthen them strengthen the wife and wife of our late brother as you preserve your church.
Amen

— AKINSANMI ATOLAGBE (@akinsanmi001) May 6, 2021
Putting Pastor Adeboye and the entire RCCG family in prayers in this tough time. It is well. 🙏🏼

— Wale Adetona (@iSlimfit) May 6, 2021
May God be with Pastor Adeboye. This is so sad.

— ᴏᴍᴏᴋᴇʜɪɴᴅᴇ (@omokehinde___) May 6, 2021
This was the topic for Open Heaven on Tuesday. And on the same day, Pastor Adeboye lost his son. This is very depressing. May God console his family. This is too painful. pic.twitter.com/0UPt9kRits

— Eniola Akinkuotu (@ENIBOY) May 6, 2021
Pastor Adeboye son????🥺😢
Abasiiiiii….Always saying GOD BLESS YOU!!!
May his gentle soul Rest In Peace
A painful exit😫😭 pic.twitter.com/ovTVCNyDoL

— Sanctusgabbie (@Sanctus_gabbie) May 6, 2021
May God give Pastor Adeboye and his family the fortitude to bear this painful loss…it is well.

"If we live, we live for the Lord, and if we die, we die for the Lord. Therefore, whether we live or die, we belong to God." — Romans 14:8 pic.twitter.com/e76ExeDdLc

— Gbemi Matti (@gbemimatti) May 6, 2021
May God grant Pastor Adeboye the fortitude to bear the loss. The loss of a child is the greatest loss. A o ni fi iru e san funra wa o 🙏

— Lola Okunrin (@lollypeezle) May 6, 2021
My prayer is with Pastor Adeboye family may God comfort your family over your son death
Pastor Dare rest in peace 😭😭💔💔💔 pic.twitter.com/3TaGJ6Y2xi

— grace found me (@Oyenike82620995) May 6, 2021
Putting Pastor Adeboye in my prayers 🙏
No one deserves that. 😔

— Wigwoman✨ (@_Matriach) May 6, 2021
May the good Lord comfort Pastor Adeboye and the entire family. God knows why pic.twitter.com/SlQUAjiXAQ

— ……. (@Ekiti2theworld) May 6, 2021
My heart goes out to Daddy GO Pastor Adeboye and his entire family we love you. pic.twitter.com/m3j5T618zb

— MÈKA (@Meka_music_offi) May 6, 2021
Pastor Dare, God 💔💔💔😢😢😢. He has been a father, uncle, teacher to me and some of us. This is so painful God 💔. My prayer is with Pastor Adeboye family may God comfort your family over his death.
Pastor Dare rest in peace 😭😭💔💔💔 pic.twitter.com/nO2b0aiIeE

— WHITE COLLAR TAILOR ✂️✂️✂️ (@SeyikingCouture) May 6, 2021
I sympathise with Pastor Adeboye and the entire members of RCCG on the demise of his son.

May the soul of the departed rest in peace

— Olúyẹmí Fásípè (@YemieFASH) May 6, 2021
Rest In Peace to Pastor Adeboye's son 🥲

He passed away at the age of 42 years,

His son Dare is the third child, sending love ❤️ and light 💡 to the family 💔 pic.twitter.com/fMKsG9k5KA

— Afrokonnect (@AfrokonnectNG) May 6, 2021
The greatest tragedy for a man is to bury any of his children. My prayers go to Pastor Adeboye and the family. pic.twitter.com/Ye2ql9NBFb

— phemmy (@PhemmyTosin) May 6, 2021