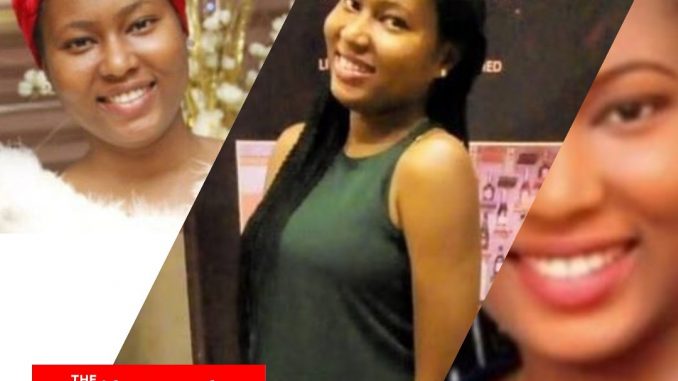 The despicable act of yet to be identified men who raped an undergraduate of the University of Benin (UNIBEN) inside a church and her eventual death sparked off outrage on the social media on Sunday.

The wicked and morally reprehensive incident which happened at a parish of the Redeemed Christian Church of God (RCCG) caused many Nigerians to demand justice for the innocent lady identified as Uwaila Omozuwa, in a Twitter protest trending with the hashtag #JusticeforUWA.
It all happened on Wednesday, May 27, 2020, after the victim, Omozuwa, said to have visited the RCCG, Edo Province 10, Ikpoba Hill, Benin, to read, but unknowing to her, she had been trailed by her assailants to the location.
ALSO READ: Nigeria records 553 coronavirus cases, highest daily infections so far, total now 9,855
As gathered, the rapists who launched into the church auditorium, hit Omozuwa on the head with a fire extinguisher, took turn to rape her and left her unconscious inside the church.
It was the church security guard who was said to have found Omozuwa soaked in her own blood that alerted his colleagues to the crime, after which the 22-year-old lady, already unconscious, was rushed to the University of Benin Teaching Hospital (UBTH).
There at the hospital, Omozuwa was revived, and it was in her pain she narrated her ordeal to the health workers, but unfortunately, she had been badly injured to the extent that while under medication, she gave up the ghost on the third day at UBTH.
But while in the hospital, the case had been reported at the Oregbeni Police Station, Benin, the capital city of Edo State.
As gathered, Omozuwa was a fresh student of UNIBEN, who only just got admitted into 100 Level and had not even been matriculated as of the time she died May 30, 2020.
Consequent upon this needless killing of Omozuwa by the rapists, Nigerians took to Twitter to challenge authorities to fish out her killers while their action was also outright condemned.
Below are some of the tweets:
Amnesty International condemns the rape and brutal murder of Vera Uwaila Omozuwa; a 22-year-old 100-level student of the University of Benin, Edo State. Vera Uwaila was raped and killed inside a Redeemed Christian Church of God in Benin city. #JusticeForUwa #RapeIsACrime pic.twitter.com/TGm4prCVxp

— Amnesty Int. Nigeria (@AmnestyNigeria) May 31, 2020
i know you're active.. rt and reply with #JusticeForUwa she was a young 22 year old who was raped and brutalized and eventually killed while she was reading in CHURCH #JusticeForUwa pic.twitter.com/JPwCmDvYzs

— ᴸⁱⁿᵈˢᵃʸ⁷⁷🌱 #BlackLivesMatter (@gochild0) May 31, 2020

@https://twitter.com/Rene_noire/status/1267190034815430656?s=19
WE ARE TIRED OF NOT FEELING SAFE ! IN CHURCH, IN SCHOOL, AT WORK ! WOMEN ARE TIRED #JusticeForUwa

— Z. (@LadyDonli) May 31, 2020
Everyday, another child murdered.
How many more must die. If you let fear control you, you will remain a spectator.
The day of Justice and Judgment is coming.#JusticeForTina #JusticeForUwa #JusticeforNigeria

— TEMS (@temsbaby) May 31, 2020
Rape is a completely despicable act without any tenable excuse. It injures not just the body of the survivor but their soul & many times may break their Spirit. We must strive for a society that makes it safe for women in all spaces and raises better meN
#JusticeForUwa

— M I C A S A 🎶 (@koredebello) May 31, 2020
DON'T DEHUMANIZE OTHERS FOR YOUR OWN SEXUAL URGE AND SATISFACTION .

DON'T DEHUMANIZE OTHERS FOR YOUR OWN SEXUAL URGE AND SATISFACTION .

DON'T DEHUMANIZE OTHERS FOR YOUR OWN SEXUAL URGE AND SATISFACTION .#JusticeForUwa

— Bossmann™ (@RealBossmann) May 31, 2020
Two protest Tomorrow for #JusticeForUwa

OOPL Abeokuta 9am.

Ring Road Benin City 9am.

Please Retweet this!

— Oyiga Micheal (@Nsukka_okpa) May 31, 2020
Every single time we hear an act of assault on young girls, makes it feel like it's a crime to be a female and its totally unfair.

We have sisters, mothers, nieces. Nobody deserves to be raped and killed! 💔#SayNoToRape #JusticeForUwa #justiceforjennifer

— DANNY 👑 (@Danny_Walterr) May 31, 2020
#WeAreTIRED. God knows I want to do more than pray, more than post, more than attend a protest, but it's a START. Tomorrow we'll be praying about the injustices on my IG live from 7:30am. Join if you can. Black Lives DO Matter. #GeorgeFloydProtests #JusticeForUwa #JusticeForTina pic.twitter.com/EN2Dx6IFHD

— ACupOfKhafi ☕️💛 (@KhafiKareem) May 31, 2020
All I can do at this time is to pray for the family of Omozuwa and do everything possible working with relevant authorities to bring the perpetrators to book. I and members of my Family condemn this act strongly and urge everyone to stay calm as we are already looking into the… pic.twitter.com/yTKGRXK3DT

— Pastor Adeboye (@PastorEAAdeboye) May 31, 2020
End Rape against women
End Rope against women
End Rape against women
End Rape against women
End Rape against women
End Rape against women
End Rape against women
End Rape against women

Enough is enough
Please Retweet#JusticeForUwa #WeAreTired

— UZOAMAKA (@jennygodswill) May 31, 2020
I don't know how possible it is for @DrCOmole to help us with a write-up or video guide on "How to Organise a Peaceful Protest in Nigeria as Citizens without being Arrested, Shot or Brutalized by Nigeria Police Force".

Sincerely #WeAreTired.#JusticeForTina #JusticeForUwa. pic.twitter.com/pEHLUPCEnO

— AyeMojubar (@ayemojubar) May 31, 2020
#WeAreTired aren't we?
We want #JusticeForUwa don't we?
Do you want to do more than tweet and trend hashtags?

Then be there tomorrow, 9am
Ringroad in all Black for a peaceful protest against the rape and murder of dear Uwa#Letstakeittothestreets pic.twitter.com/QWIJdss7Q6

— A STAR | OMO OLOGO 📸 (@Judeokhuelegbe) May 31, 2020
Just look at this man exposing himself!

He needs to be investigated. Lets get one rapist out of the streets.

RT! #justiceforjennifer #JusticeForUwa #WeAreTired Genevieve

Cc: @PEzidiukwu https://t.co/wBeKZtuNgO pic.twitter.com/h3kBEPB5qr

— Isaac Somto (@iamisaacsomto) May 31, 2020
This is really sad. #JusticeForUwa

— ICEBLAZE (@X_Iceblaze) May 31, 2020