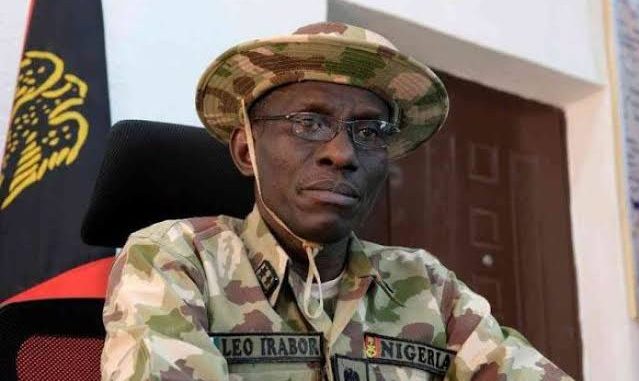 The Chief of Defence Staff, Gen. Lucky Irabor, on Thursday in Enugu ordered soldiers and airmen to redouble efforts at ending violence and criminality in the southeast.

He gave the order while addressing a joint parade of soldiers of the 82 Division of the Nigerian Army and airmen of the Ground Training Command of the Nigerian Air Force.
Irabor said the order followed a directive by President Muhammadu Buhari that all security agencies must ensure the return of peace and security to all parts of the country.
Irabor said that President Muhammadu Buhari had given a marching order for all security personnel, including the police to ensure that peace and security returned to all parts of the country.
He thanked the officers and men for their sacrifices to keep insecurity low in the southeast, noting that without such efforts, the situation would have been worse.
"You have tried to meet up with the insecurity and violence challenges. We expect you to do more.
"Mr President has mandated security forces and other paramilitary agencies to do everything possible to ensure that the spate of violence in the country is reduced.
ALSO READ: Ethiopian diplomat quits US post over atrocities in Tigray
"We have received extensive briefing from the General Officer Commanding the 82 Division and from the Air Officer Commanding regarding what the issues are and what you are doing about it.
"We are satisfied and we have equally directed that you heighten the level of your operational engagement.
"We have also been directed to work closely and to ensure that the armed forces work as a team and this is the reason why at this visit, I am accompanied by all the Service Chiefs.
"This is the kind of example we have come to show and we expect you to translate same to all officers and rank and file of the armed forces,'' he said.
Irabor also lauded the soldiers and airmen for overall operational and duty discipline, stressing: "we are satisfied with the high level of discipline among you all,''
"We urge you to keep up the spirit and continue to be vibrant and dutiful,'' he said.
Irabor was accompanied on the visit by the Chief of Army Staff, Lt.-Gen. Ibrahim Attahiru, the Chief of Air Staff, Air Marshal Isiaka Amao and the Chief of Naval Staff, Vice Adm. Zubeiru Gambo.