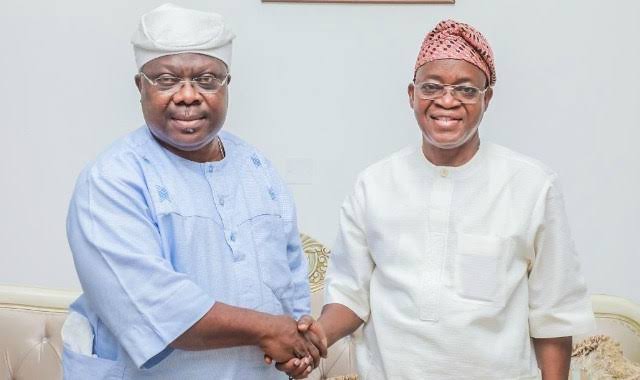 Governor Gboyega Oyetola has acknowledged the contributions of Senator Iyiola Omisore to the progress being made by the Osun State government.
Oyetola described Omisore as an "excellent person" in a recent public statement he made while resolving issues which came as a fallout of the last Local Government party Congress between members of All Progressives Congress (APC) in Obokun Local Government area of Osun State.
The governor had told selected leaders and some observers from the Local Government to give peace a chance and be focused on how to win more membership and supporters for the party in the coming elections.
He advocated for unity, saying, there should not be any form of division within the party now .
"There shouldn't be any faction in our party we are all APC members and we have equal rights. Senator Iyiola Omisore is doing well and helping this administration in his own way. I appreciate him and acknowledge his roles," Oyetola said.
ALSO READ: APC: Omisore and the shape of things to come
"We will look into all complaints and see how to resolve them, those who feel aggrieved now will be compensated with other positions," Oyetola said.
Similarly, the governor stated that he was happy with the developments in the state, especially the regular payment of salaries of civil servants.
"I am happy that civil servants are receiving their salaries on time, one of my promises is not to owe salaries and to see that civil servants are happy.
"I have vowed that my administration will be civil servants-friendly and will not in any way see tears in their eyes but only smiling faces, and God is helping me to achieve that, therefore, I am happy," Oyetola said.
Besides, the governor had reiterated his promise in seeing that all sectors in the state work very well and would ensure that the lives become more meaningful and comfortable for the people of Osun State.