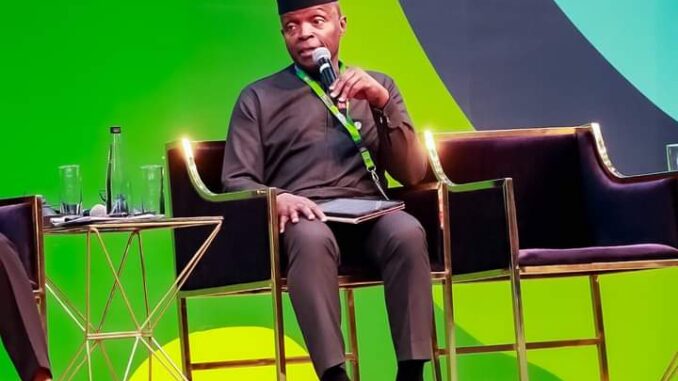 By Oluwafemi Popoola

Immediate Nigeria's Vice President, Prof. Yemi Osinbajo, SAN, GCON has explained how the private sector was used as a viable instrument that helped Nigeria to embark on its climate change obligations.
Prof. Osinbajo, who is a Global Advisor for the Global Energy Alliance for People and Planet (GEAPP), disclosed that the previous administration energized the private sector by decommissioning several diesel generators and replacing them with solar panels.
The former VP gave the revelation on Tuesday, September 19, 2023, during an interview he granted New African Magazine, coming at the backdrop of the maiden Africa Climate Summit recently held in Nairobi, Kenya between September 4 to 6, 2023, where Prof. Osinbajo took an active part in deliberation and as a keynote speaker.
The Nairobi conference brought together leaders, policymakers and experts from across the continent intending to deliver green growth and climate finance solutions for Africa and also forge a united front for the upcoming United Nations Climate Change Conference (COP28) scheduled for November 2023 in Dubai.
Among the influential figures in attendance were Prof. Yemi Osinbajo, UN Secretary-General Antonio Guterres, US Climate Envoy John Kerry, COP28 Director-General Majid Al Suwaidi, COP28 President Sultan Al Jaber, among other high-profile dignitaries, African leaders, cabinet ministers and business executives from across the continent.
In the New African Magazine interview that also featured the United Nations Assistant Secretary General and Director General of African Risk Capacity (ARC) Group, Ibrahima Cheikh Diong, Osinbajo hinted at the approach adopted by Nigeria in dealing with climate change adaptation amidst stringent budgets.
"The approach that we adopted was more about energising the private sector and in some of the projects we developed, especially in renewable energy, we depended a great deal on enabling the private sector," the former VP recalled.
Mentioning some of the projects that were launched by the Buhari/Osinbajo-led Federal
Government through the solar power initiative, Prof Osinbajo said, "An example that comes to mind is in Kano, the Sabon Gari Market, where we decommissioned several diesel generators and replaced them with solar panels. We did the same in Ariaria market in Aba and a very similar thing has been done by GEAPP in Lagos State. This was entirely private sector funded."
ALSO READ: What to expect as world leaders attend 78th UN General Assembly
When asked if his thinking has changed regarding Africa's climate change duties and how to go about it, Prof Osinbajo expressed his confidence in Africa's ability to fight the climate emergency.
He said, "As a matter of fact, I strongly believe that a just transition must first take into account issues of poverty and energy access. I think that in many ways this fits with the vision of GEAPP as well, where the aspect of justice is important.
"So for me, justice is critical. Energy access is critical. It makes no sense whatsoever to talk about energy transition without taking into account the existential issue of poverty that is caused by the lack of access to energy"
Commenting on the pledges made by private organisations and developed countries to invest in Africa to achieve Net Zero 2050 but which are yet to materialise, the former VP said, "Countries of the world will always look after their own interests and they are not as forthcoming when it comes to donations to others, which is one of the key reasons why I think this conference is important."
Continuing, he said, "Africa is the solution ultimately to reach Net Zero by 2050 and ignoring Africa or not investing in the renewable resources in Africa and allowing Africa along the same carbon-intensive industrial trajectory that the global North has done, will mean that no one will achieve Net Zero. So, there is a global need, today, to invest in Africa and make Africa possibly the only truly green civilisation. The investment must come not as a handout, but because we can be the answer to Net Zero.