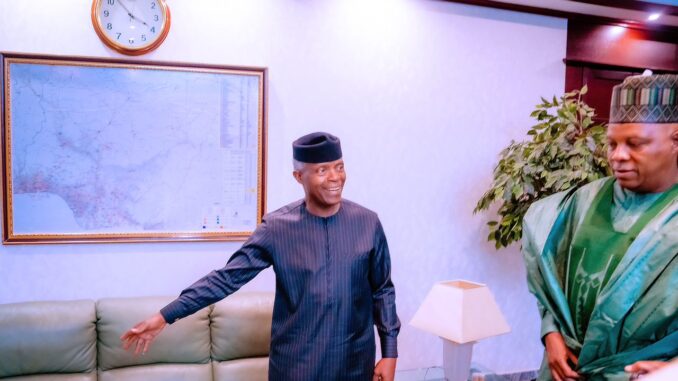 By Marvellous Nyang

Vice President Yemi Osinbajo, SAN, has taken the incoming Vice President, Senator Kashim Shettima, on a tour of the Vice Presidential Wing at the Presidential Villa in Abuja, just a few days before the May 29 inauguration.
The photographs of the outgoing and incoming Vice President went viral on social media Thursday evening, May 25, 2023, and were also shared on Prof. Osinbajo's Twitter handle, showcasing both leaders going on the familiarisation tour of the statehouse.
VP Osinbajo, who expressed his pleasure to have Shettima around, wrote on his Twitter handle, "It was my pleasure to receive VP-Elect Sen. Kashim Shettima and take him on a tour of the Vice Presidential Wing of the Aso Rock Presidential Villa."
Also, Shettima, speaking to the media after his visit, lauded Osinbajo for his kind gesture, adding that the sole purpose of his visitation was to exchange ideas with Osinbajo on how to move the nation forward.
ALSO READ: Buhari confers Nigeria's highest honours GCFR, GCON on Tinubu, Shettima
"On the instance of Vice President, who is a friend and a contemporary, I came here just to exchange ideas on how to move the nation forward," he said.
"He took me round the offices out of courtesy and I want to commend him, I want to thank him for extending that courtesy to me."
He informed that as they are taking over government from the Buhari administration, the President-elect, Asiwaju Bola Tinubu, would "hit the ground running" immediately after the inauguration on May 29.
"He does not have the luxury of time. I will be the Vice President. I don't want to be presumptuous or make a loud proclamation, but, my interaction with him (Tinubu) has shown that we will hit the ground running from day one.
"I believe it is a humbling experience. It is a call to national duty and by God's grace, we need the support of all of you, especially the media to succeed.
"So, I wish to employ all of you to join us in building a new Nigeria," Shettima said.