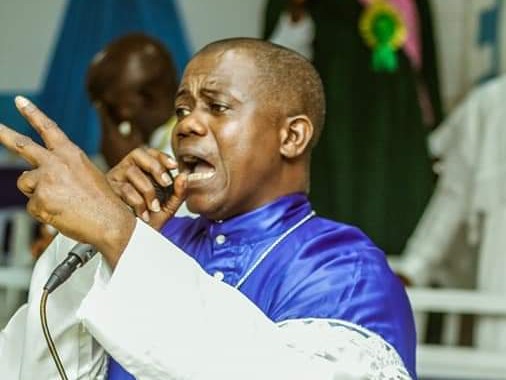 Nigerians have been warned to be prepared ahead of time in prayers and applications to God to avert resurgence of another pandemic that is greater than coronavirus.

The admonition was made by shepherd-in-charge of the Celestial Church of Christ, Okiki Imoleayo Cathedral, Ikorodu, Lagos State, Prophet Olusoji Fabiyi, who said it has once again to revealed to him propetically, that, something "greater than coronavirus pandemic looming and very soon."
He said, besides this, it has also been revealed to him about 42 other great happenings that will shake the human race.
According to Prophet Fabiyi, highlights of his prophesies include: "The government should be watchful over foods, some foods will be imported into the country that will claim lives of people.
"Those using policemen, soldiers and other Armed Forces uniform to steal, kidnap and take lives of innocent people will be of increase, but they shall be exposed, we should be mindful of our movement this year, we shall not fall into their hands."
ALSO READ: Declare 3-day lockdown to fast and pray against COVID-19, Lagos PMAN boss tells FG
In northern Nigeria, he said, "as some terrorists are being exposed, another terrorist group will emerge claiming more lives. There will be series of fire outbreak, but we should be very prayerful and be cautious of fire or electricity surge, so we can conquer."
Prophet Fabiyi, also warned that prestigious men of God should be very prayerful this year, "so that your lives won't be taken suddenly, because there will be death of two ministers of God which will shake the nation, for it is not a natural death," while, also warning that people should be mindful of downfall through women. "I see evil spirit using women to bring them down," he said.
Speaking further, Prophet Fabiyi said: "We should be in spirit this year, as people will be killing themselves due to debts they are owing. Let's pray for this government to complete this four years tenure successfully."
He warned that many Nigerians will be deported from various countries in the world without anything to show for their sojourn abroad. "Two plane crash, one in Nigeria and another abroad is coming," the prophet said.
"War which we've heard of for a long time will erupt in three countries, I see fire disaster, cries, fight and agonies in those countries. Lot of people will die, let us pray so that the crisis will not snowball into unending war.
"Epidemic which has gone into extinction will evoke again in a more deadlier dimension," he said.
He revealed that the secret and source of power and wealth of many great men of God will be exposed.
"The secret of some ministers of God that lied to acquire wealth and riches, including those with fake miracles will be exposed," he said.
On the genuineness and sincerity of his prophecies, the prophet said, this is not the first time of his predictions and prophecies, and all came to pass.
He said he was the first person to reveal the coronavirus that is ravaging the world today, but many didn't take him serious. He said he saw it coming and revealed it to people accordingly.
However, Prophet Fabiyi said, he believed that with prayers and obedience to the words of God, the crisis can be averted.
"We need to pray hard to God for the forgiveness of our sins for God to heal our land," he said.