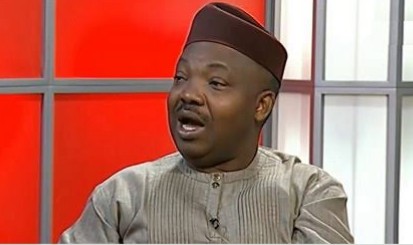 The spokesperson of Afenifere, the Pan-Yoruba sociocultural group, Yinka Odumakin, is dead.
Odumakin, a human rights activist died Saturday morning, while battling respiratory issues after recovering from COVID-19.
He was being managed at the Intensive Care Unit of the Lagos State University Teaching Hospital (LASUTH), where he has been for a week.
The deceased was said to have been moved to LASUTH from the Infectious Disease Hospital in Yaba, Lagos, when his condition deteriorated.
As an activist, it will be recalled that Odumakin played a key role in the National Democratic Coalition (NADECO) that fought the regime of General Sani Abacha after the annulment of the June 12, 1993 election.
He, at a time, also worked as one of the spokespersons of the Southern and Middle Belt Leaders' Forum (SMBLF), the body that represented the ethnic nationalities in the South-West, South-South, South-East and the Middle Belt.
Married to also an activist, Dr. Joe Odumakin, he had been one of the strongest critics of the present Muhammadu Buhari government.
Odumakin, as the spokesperson of Afenifere, had consistently criticised the Buhari-led All Progressives Congress (APC) Federal Government, especially over the herdsmen crisis and increasing kidnapping cases in the county.
ALSO READ: Police officer killed in vehicle attack on US Capitol
The government had also been criticised by Odumakin's Afenifere for alleged impartiality and favouritism in appointment into various offices.
His voice was also very loud in condemning the activities of some killers in Yorubaland.
However, Odumakin had served as the spokesman of President Muhammadu Buhari in the days of the defunct Congress for Progressive Change (CPC), the party under which Buhari contested but lost the 2011 election.
Nigerians have taken to the micro-blogging site, Twitter to mourn the deceased. Some comments are posted below:
Yinka Odumakin
The world is a stage
You played your part
It was eventful
We shall miss your role.
@AriyoAristotle
Death is a necessary end! Sad to announce this passing of a friend and fighter, Yinka Odumakin. Rest in Power, Senior Comrade! pic.twitter.com/ubasBReDuP

— Omoyele Sowore (@YeleSowore) April 3, 2021
Just confirmed from JK Agbaje that we've lost Egbon Yinka Odumakin – a sad loss not just for the Yorubas but also the Nigerian polity.

Egbon exemplified the truth of being a good ethnic person in order to be a great National figure in the context of Nigeria's configuration.

— Demola Olarewaju (@DemolaRewaju) April 3, 2021
Rest In Peace Uncle Yinka Odumakin pic.twitter.com/wIcn15S271

— Dr PamPam | Omo Iya Ologi (@UnclePamilerin) April 3, 2021
Yinka Odumakin was part of the earliest people who saw Tinubu for the scam that he is and he was resolute till the end. A fine man with high level of discipline, Yinka Odumakin could have become a Billionaire by worshipping Tinubu. He refused to!

— Tosin #ENDSARS (@Donteewrites) April 3, 2021
REST IN PEACE YINKA ODUMAKIN. WE WILL CONTINUE THE FIGHT, FULANIS WILL NOT CONQUER YORUBALAND. pic.twitter.com/Osu1KfYQhC

— Yoruba Nation (@OdudwaRepublic) April 3, 2021
I slept about 5.30am this morning and had to switch off my phones, something I rarely do… Unknown to me TOKUNBO AFIKUYOMI, a mutual friend of YINKA ODUMAKIN and I was trying frantically to reach me… Then I woke up and my first phone froze bec of endless messages…. pic.twitter.com/lEbYKVCtfH

— Dele Momodu Ovation (@DeleMomodu) April 3, 2021
Just confirmed from JK Agbaje that we've lost Egbon Yinka Odumakin – a sad loss not just for the Yorubas but also the Nigerian polity.

Egbon exemplified the truth of being a good ethnic person in order to be a great National figure in the context of Nigeria's configuration.

— Demola Olarewaju (@DemolaRewaju) April 3, 2021
The death of Mr. Yinka Odumakin,Afenifere Spokesperson, is so tragic. May God accept his heroic soul in his bosom. pic.twitter.com/wOHll8M3mW

— Amaka Ike (@Real_AmakaIke) April 3, 2021
Rest in Peace and Power.

Comrade Yinka Odumakin !!!

An Afenifere Indeed!

May your resounding voice echo in our political chamber forever! pic.twitter.com/ERFqkYm7ku

— BallotIntel Naija (@BallotintelN) April 3, 2021
I got the distressing news just now that my Egbon, Mr. Yinka Odumakin, a human rights advocate & a powerful Yoruba voice, passed on early this morning.

My heart goes out to his humanist wife, Mrs. Joy Okei-Odumakin.

May his soul find eternal rest in the bosom of the Lord. pic.twitter.com/VMzirRy7hK

— Babatunde Olalere Gbadamosi (@BOGbadamosi) April 3, 2021
Yinka Odumakin
The world is a stage
You played your part
It was eventful
We shall miss your role.

— Sir. Ariyo-Dare Atoye (@AriyoAristotle) April 3, 2021
Yinka Odumakin! A great democrat is gone. This death is too painful and unbearable. An irreplaceable loss to the nation. May his soul rest well. pic.twitter.com/xLkkPlfrfk

— FESTUS OGUN (@mrfestusogun) April 3, 2021
Rest in peace Comrade Yinka Odumakin. You followed the path you believed with courage and tenacity. As an activist, you were never afraid of speaking truth to power. Your role as the spokesman of Afenefere will not be forgotten.

My heartfelt condolences to Dr. Joe Okei-Odumakin. pic.twitter.com/dFygl07GsZ

— Inibehe Effiong (@InibeheEffiong) April 3, 2021
I am deeply saddened that we have lost Comrade Yinka Odumakin, one of our brightest & best. He was a great warrior who feared nothing and who stood for truth and justice right to the end. The South West and indeed Nigeria has lost one of its greatest sons and brightest stars. 1/ pic.twitter.com/DHzioa4awn

— Femi Fani-Kayode (@realFFK) April 3, 2021
Human experiences like love, achievements, social status can bring an individual much fulfilment, but death is the biggest event of our lives. It defines our mortality. It is arbitrary and tragic, because it marks the end of everything.

RIP Yinka Odumakin pic.twitter.com/swVOatJk80

— Adewumi Collins (@AdewumiCollins) April 3, 2021
We will reference his works, his thoughts will forever be with us in form of his writings.

He spoke the truth to power when it mattered.

Rest in power ẹgbọn Yinka Odumakin. pic.twitter.com/qCn5GN6FlR

— Ìgbómìnà (@_igbomina) April 3, 2021
Just got off the phone moments ago with Dr Joe Odumakin and she confirmed to me the death of her husband Yinka Odumakin. He died of lungs related ailment at LASU this morning.
A big loss to Nigeria! Rest in peace Yinka Odumakin.

— Okey (@Okeydegeneral) April 3, 2021