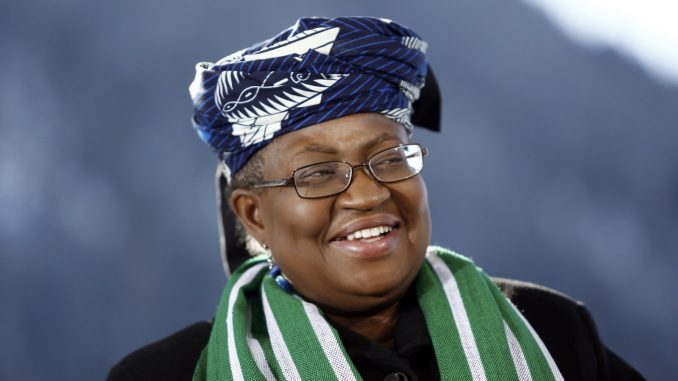 The Economic Community of West African States (ECOWAS), endorsement of Ngozi Okonjo-Iweala, Nigeria's former Finance Minister, for the vacant position of Director-General of the World Trade Organisation (WTO), has been applauded by Nigerians.

This is contained in a document signed by Mahamadou Issoufou, ECOWAS president, on Friday.
Roberto Azevêdo became the sixth Director-General of the WTO on September 1, 2013, serving a four-year term which he completed in 2017.
But at a meeting of the General Council in February 2017, WTO members agreed by consensus to appoint Roberto Azevêdo as Director-General for a second four-year term, which started  on September 1, 2017.
ALSO READ: ISSUES: Nigerians react to Osinbajo's call for national debate on expensive govt
Assuming office for the second term, DG Azevêdo made a detailed presentation to the February General Council outlining the successes that the membership achieved since 2013 and his vision for the next four years he is rapping up by September 1, 2020.
His presentation is available here
Earlier on Thursday, June 4, Nigeria's President Muhammadu Buhari, had approved the nomination of Okonjo-Iweala, former coordinating minister for the economy, for the top WTO job.
Furtherance to its endorsement of Okonjo-Iweala, who who Issoufou referred to as a "fearless reformer," ECOWAS has called on other African countries to back her to the WTO job.
Nigerians have also taken to Twitter to express pass comments on the latest endorsement of Okonjo-Iweala by ECOWAS. Below are their posts:
Every patriotic Nigerian should be proud of Ngozi Okonjo-Iweala pic.twitter.com/UlHxY8NXlk

— Obinna Nwosu (@obi_Nwosu) June 22, 2020
Unpopular opinion:
Mrs okonjo iweala has been a source of motivation to most men than women. ✌️ pic.twitter.com/vhn3p4uRY8

— ™Ken MacDonald🇺🇸🇳🇬♡™ (@placidmacdon) June 22, 2020
ECOWAS endorses Dr Ngozi Okonjo Iweala for the position of Director- General of the World Trade Organization. pic.twitter.com/XDuw2QNXxL

— Share Nigeria (@ShareNigeria) June 22, 2020
Ngozi Okonjo-Iweala, Nigeria's Minister of Finance & Coordinating Minister under President Jonathan, stands head & shoulder above all candidates for the job of DG of WTO. She represents, the best in Africa & the typical Nigerian silent majority, as opposed to some fraudulent few

— Sonny Iroche (@IrocheSonny) June 22, 2020
Dr. Ngozi Okonjo-Iweala is a living proof that as a woman opportunities abound for you but you can only EARN it when you have developed yourself beyond having boobs and ass. Your value should revolve more around the content in your brain.

— TheIgboAngelGabriel😇 🐦 (@ThatEnuguDude) June 22, 2020
Mrs Okonjo-Iweala is the prefect embodiment of what it means to be a feminist in this era. Breaking through all odds & acquiring different political & financial positions than most men of her age bracket. But ironically, she seems to a motivational figure to most men than women..

— Chidozie (@Emmytrend_) June 22, 2020
Love how Ngozi Okonjo-Iweala has so much distinguished herself with her achievements that she's always among the first to be considered wrt international appointments. The woman stays winning.

— Baldilocks (@Baldilocks__) June 22, 2020
MINISTRY OF FOREIGN AFFAIRS

PRESS RELEASE

ECOWAS ENDORSE DR. NGOZI OKONJO-IWEALA FOR THE POSITION OF DIRECTOR GENERAL OF THE WORLD TRADE ORGANISATION pic.twitter.com/c2VzUyJd1k

— Ministry of Foreign Affairs, Nigeria 🇳🇬 (@NigeriaMFA) June 22, 2020
Okonjo Iweala is one of Africa most Respected Women in the World and she is an Igbo woman. pic.twitter.com/md2oPZ84EM

— Urban Voice (@Urbanvoiceng) June 21, 2020
My world Class Ecomonist Giant, our pride, the voice of Nigeria & Africa, my next DG of WTO, today I declared fasting & prayers for this ambition. Ma our hearts our prayers our voices and Good wishes are with you, we can't be proud of you Enough. God bless N. OKONJO IWEALA.

— Magg34 (@Magg342) June 22, 2020
Dr. Ngozi Okonjo-Iweala keeps making me believe my big hairy audacious goals are attainable. She's THE standard 💯💯💯 pic.twitter.com/iJjdrQ5ceX

— Christine Sarima 💙 (@christinesarima) June 22, 2020
DR NGOZI OKONJO IWEALA as the next DIRECTOR GENERAL of the WORLD TRADE ORGARNIZATION, today I pledge my unalloyed support and and will remain in fasting and prayers till she is announced the DG of WTO. vote N. OKONJO IWEALA.

— Magg34 (@Magg342) June 22, 2020
Mrs Okonjo- Iweala nomination has started gathering momentum, thanks to President Buhari. I will suggest she meet with Obj, Dangote, Prof Soyinka and SA President, Cyril Ramaphosa to push for their individual support in reaching out to international community.

— Rich_Akin. (@Rich_Akint) June 22, 2020