• As 2021 Charis Nigeria Convention kicks off
Even, as Nigerians currently battle myriad of security challenges, a clergy has said that there is no challenge that can't be brought down with the shout of grace, especially when such is inspired by faith in God.
Pastor Tunde Jaiyebo gave the assurance, while ministering at the 2021 Charis Nigeria Convention, which he, as the Senior Pastor of Charis Family International Church declared open on Thursday, at the ministry's headquarters in Mokola, Ibadan, the Oyo State capital.
In his ministration built on the theme of the four-day convention, which is: "The Shout of Grace," Pastor Jaiyebo, quoting from the scriptures in the Book of Zachariah 4:6-10, with emphasis in Verse 7, said, it was the shout of "grace," that levelled the mountain before Zerubbabel.
As he read the verse: "Who art thou, O great mountain? before Zerubbabel thou shalt become a plain: and he shall bring forth the headstone thereof with shoutings, crying, Grace, grace unto it," the minister said, "One critical thing in the scripture is shouting, "grace, grace," as according to him, when in a difficulty and you shout "grace, grace" with understanding as a Christian, you get the problem which has defied solutions solved.
Pastor Jaiyebo said: "When you shout, you make a sudden loud sound. Shouting is significant. We need to understand why we do what we do in church so we get what we are expected to get.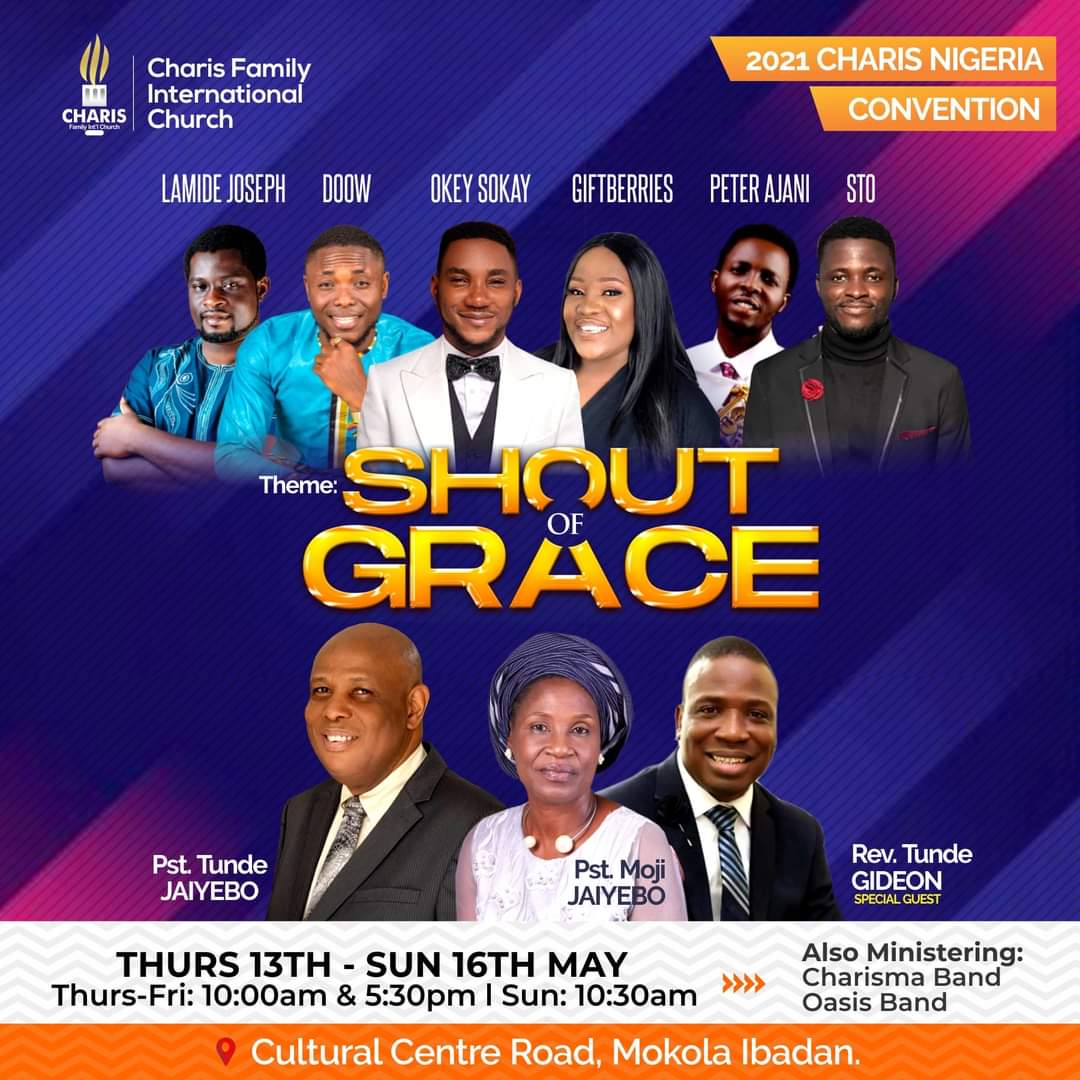 "Shouting always attracts attention. When you shout, people are attracted to the source of the sound. When there is a shout, it creates an enquiry – why is he shouting? You want to find out what is responsible for the shouting.
"Shouting is a dominating force. When you shout, it overshadows every other voice. A shout may mean different thing to different people. The content of the shout determines the response. The nature of the shout, the object the shout is directed to, and the intensity of the shout will determine how it is responded to.
ALSO READ: Rev. Ajetomobi for 2020 Charis Day Celebrations themed 'Great Grace'
"It can be a shout of victor, it can be a shout of pain, it can be a shout of celebration, it can be a shout of good news or bad news. The right shout will attract what it is directed to."
However, the minister admonished the congregation to know that, "When we are shouting, we must understand why we are shouting, while he substantiated his ministration on the "Shout of Grace, on a couple of other biblical references taken from Psalm 5:11; Proverbs 11:10; Isaiah 12:6 and Joshua 6:20.
Narrating the Jewish Isrealites' experience in the earlier quoted scriptures in the Book of Zechariah 4:6–10, Pastor Jaiyebo informed that, their shout was a call out for grace to come out, to manifest.
"When something happens that you are helpless, what you need is the shout of grace. Shout is a call for divine donation to make a difficulty easy," Pastor Jayebo said.
The cleric said, it was their victory they were celebrating that made them sing the song as written in Psalm 137:1–7.
He said: "The excitement here was strong after their victory and they returned home to build a temple after 70 years in exile. They are happy to be back home and start again."
But even at that, he said a victory may also be occasioned with another challenge, which he said Zerabbabel encountered on their return home, as issues arose over the land they were to use to build a temple for God, and for 15 years, he said they could not build.
Pastor Jaiyebo said: "Zerubbabel had to abandon the building of the temple for 15 years, and as such, today, many people have also abandoned the projects they started because of one difficulty or the other.
"Many people are going about with disappointments in their minds. People are in marriages where they are only tolerating each other. Don't tolerate untoward things and a delay you have caused because you abandoned your dream and now say God's time is the best."
However, the cleric said, God can turn situations around if you call Him into it with the shout of grace, as he cited the instance of Zerubbabel, saying, "God sent a prophet, Zachariah, to Zerubbabel on how to go about achieving the plans – that, it is not by his wisdom but by the spirit – the might of God."
"What you have abandoned or suspended," Pastor Jaiyebo said, "will take a military action of God to sort it out. Something great has to overpower what you have abandoned. It will take a divine donation to make easy what is naturally difficult."