• As 2022 Charis Day Celebrations kick-off
'Graces and gifts are tools of greatness deposited in you. You must know how to harness them for God to be glorified'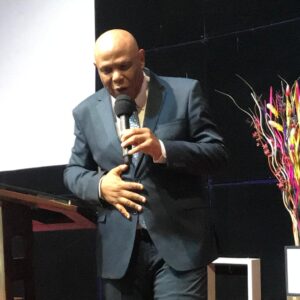 Every child of God is not an ordinary person but someone who is characterised by the greatest which is inside of you, Pastor Tunde Jaiyebo has said.
The Senior Pastor of Charis Family International Church said this on Thursday, December 8, 2022, as he declared open the four-day 2022 Charis Day Celebrations with the theme: Grace, Gift, Greatness.
In his opening ministration at the Charis Church headquarters auditorium along Cultural Centre road, Mokola, Ibadan, Pastor Jaiyebo, taking his scriptural texts from Mathew 5:14-16 and 1 Peter 4:10, admonished believers to see themselves as great humans which God created them to be.
Defining the theme of the programme: "Grace, Gift, Greatness," the cleric said, "Charisma (a Greek word), means grace-given gifts, positing that every child of God has been given specific gifts with commensurable grace to launch out into greatness.
"You are not just another human being walking on the streets, there is greatness inside of you. Every child of God is not an ordinary person, but one who is characterised by greatness," Pastor Jaiyebo said.
According to him, "When you are great, your life is worthy of attention. Greatness means significance, God wants you to be notable, distinguished, prominent and stand above the rest. You are eminent and exceedingly great."
Quoting from Psalm 71:21, to substantiate his assertion, the preacher said, assured the congregation of God's desire to restore greatness in those who have missed out on opportunities.
"God want to restore greatness in us, to be first class and remarkable. You are not just another human being walking on the streets, there is greatness inside of you," he said.
The minister said the enviable status which God has divinely endowed His children with is what opens them to a chapter of influence in pursuing their life endeavours.
"Greatness should be a manifestation that points to your level of influence. God wants attention through what people see in you. We are the light of the world and God wants whatever we do to prosper," Pastor Jaiyebo said.
He charged the congregation that there are different stages of greatness as divinely ordained, which he said have already been granted to all believers.
He admonished, "Don't hide your light. Most times, people hide their level of influence, you are influential, and you don't determine your identity.
ALSO READ: How to plug into God's ceaseless flow of resources, by Pastor Jaiyebo
The minister said people should make themselves visible, prominent and consistent. "Some people are not consistent, grow your influence, greatness is the ultimate. But we must understand its components," the minister said.
Among its components, as he said are "commendable works," charging that, "Your work should be exemplary, exceptional, and commendable.
"Live in a way that people cannot do without you. You can't do what others are doing. If there is no gap in your absence, that thing you are doing is not daily deposited by God.
"Graces and gifts are tools of greatness that have been deposited in you. You must know how to harness them for God to be glorified.
"God has wired greatness into your DNA. Your life has to be remarkable, worthy of attention, you are distinguished, you are eminently good, you are first class.
The ultimate is that your greatness will allow men to see the greatness of God in you. Your greatness will produce affluence, material things and influence, and that is what God needs, " Pastor Jaiyebo said.
Speaking on different components of greatness, the cleric said, "The first component of greatness is you have influence, according to Mathew 5:14, you are the light of the world. You are an influential person."
The second he called "visibility and prominence," saying, "God wants your business to be visible and prominent, to be among the top 10.
The third is "Commendable works. Let your life so shine that your commendable work will be seen. Ephesians 2:10 says you are created to do commendable works.
"The fourth component is, your greatness brings glory to God. The ultimate is that men shall glorify God in what you are doing. Until men begin to see the glory of God in what you do, you have not started.
"This is what our goal should be that when people see your marriage, your business, your academic results, they will say no wonder, and while acknowledging your outstanding performance, they give glory to God for your achievement," Pastor Jaiyebo said.
Referring to Psalm 18:32 (b), he asserted that, "God has come down to make you great," saying "the two tools He released unto us to become great are graces and gifts. Men are not working in greatness because they are not working in the graces and gifts God gave them."
"Your being remarkable is a function of how much you operate with the tools of grace and gifts that God gave you and in it, God is glorified.
"To get greatness, you must combine the usage of the tools God has given unto you. Proverbs 11:9 says true wisdom the righteous will be delivered," Pastor Jaiyebo said.
He exhorted the congregation that whatever they go through now does not define them. "What you are going through doesn't define you. The fact that you have failed does not mean you are a failure, and that you have passed does not make you a success. It is what God says that defines you."
He said, "Your greatness is how you combine graces and gifts" noting that, "There is a specific tool for a specific function. In the same way, there is a specific grace for a specific function."
"When you get the right grace for a specific function, there will be ease, speed and outstanding results. There is a particular grace for what God has called you to do. You must get the right grace to get the job done. You are as good as your tools.
"You can have grace in marketing, but not in management. You must know what grace you carry and partner with someone who has graces in other areas. Master your tools to maximise their use. Greatness is the road to God getting the glory.
"A master craftsman protects his tools. You need to protect your grace. For instance, there is a difference between a Christian musician and a worship leader. A worship leader is bound to the pulpit, while a Christian musician can go out for social ceremonial engagements. A worship leader who does that is not protecting his grace.
"People don't work in greatness because they don't operate under their graces and gifts. You need to have a sense of seriousness in what God has deposited in you. Knowledge is important so you don't destroy your grace," Pastor Jaiyebo said.