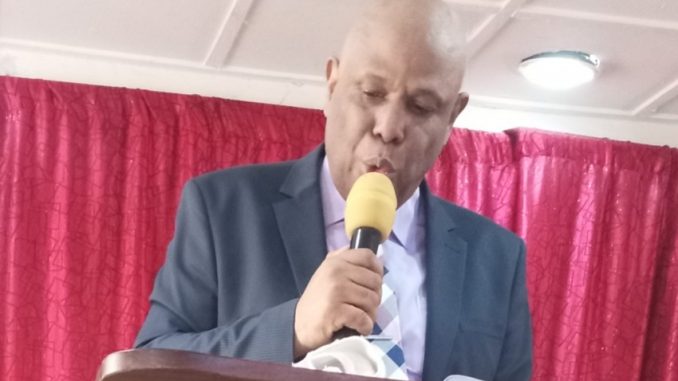 Nigerians and people in the world generally, especially Christians, have been charged not to give up yet, despite the hardship which the coronavirus pandemic has foisted on humanity, as it was said there would still be a dramatic turnaround.

Pastor Tunde Jaiyebo, the senior pastor of Charis Family International Church, headquartered at Mokola, Ibadan, gave the charge on Sunday, while ministering during a special programme with the theme: "Unshakably Audacious," held at the Ring Road, Ibadan, branch of the church.
Quoting from the scriptures in the Book of Psalms 34:19, which states, "Many are the afflictions of the righteous: but the Lord delivereth him out of them all," Pastor Jaiyebo said, the devastation many had suffered consequent upon the coronavirus pandemic had the tendency of discouraging them from forging ahead.
According to him, many started the year well, executing their plans, looking forward to a successful year. But suddenly, coronavirus came, and initially, many had thought it won't get to Nigeria, but the rest, he said, "is history."
"Timelines have been scattered, goals have been shattered. Some people are already saying let's forget this year, let's make plans for the next year. But is it really over? It is not only in Nigeria, it is a pandemic all over the world. It is a global affliction. It is not over yet," the cleric said.
In his ministration, he noted that, virtually, all over, every sector of the economy is affected, adding that, the affliction comes with agony and pains, financial and emotional pains, which he said had "caused a lot of distress for many who are also left with mental anguish."
ALSO READ: Connect to church for divine benefits, Pastor Jaiyebo implores Christians
The minister said: "Afflictions usually come with disorder and disorientation. Many lives are now in the state of disorder. The school calendar is disrupted. NYSC (National Youths Service Corps) is suspended. Goals have been disoriented.
"Also, afflictions come with misfortune, that is, hardness, disaster, tragedy. Many businesses have been hit hard by coronavirus. Family lines, academic plans, and generally, the young and elderly people have been affected. We have been affected by this affliction, and Christians are not exempted. Everyone is affected."
But, despite the devastation, Pastor Jaiyebo, assured that there would be a way out, reassuring the congregation with the words of God, which according to him, had already been foretold, that, "many are the afflictions of the righteous," but which He saved them from it all.
"There is an assurance of a way out because it is not over yet. God says many are the afflictions of the righteous, but He delivers them from them all. Maybe you are in pain, because you have been psychologically and emotionally affected. If your dream has the risk of not being fulfilled, because you saw it shattered, don't be discouraged.
"The Bible says many are the afflictions of the righteous, which means, coronavirus has added to many afflictions Christians need to suffer. But it is not time to give up yet, because the Lord delivers them from them all. He will deliver you from them all.
"The end is not to shame you. No matter what has been shattered, God says there is deliverance for you. You are delivered from shame, anguish, pains and disappointments.
"Let's not throw in the towel, there are still more to do in the next three, four months before the year ends. The end of the story is that you will be delivered. Don't be discouraged if depressed," Pastor Jaiyebo said.
He, however, admonished the congregation to power up their "audacity," as he said God knew people needed to face all these before He gave the church the theme for the year, "audacity."
"Power up your audacity. God knew we needed to face all these before He gave us the theme for the year, 'audacious.' You have to be dauntless, courageous, and be audacious. Don't begin to doubt the plans of God for you. There is hope for you, in your business, career and family, " Pastor Jaiyebo said.
Also quoting from the Book of Job 14:7-9, he further admonished people not to give up on what God had told you them to do.
From the scriptural explanation in the Book of Job referenced, the cleric said, "When you talk about a scent of water you are talking of aroma, odour. Let's say you are hungry, you have not eaten anything for three days and your favorite food is being cooked and you smell the aroma, what comes to your mind? Joy, excitement!
"That is what God is telling us, that is, to smell victory that is being cooked on your behalf. There is a smell of promotion. The smell of your dream coming to pass. There is hope, don't give up. God is cooking something on your behalf," the minister said.
"If you can't explain your joy at times, it is because your spirit is smelling something. What you cannot do in five months can be done in five weeks. Audacity is getting the job done no matter what," Pastor Jaiyebo said.
Also reading from Ecclesiastes 9:4, he said, "as long as you have breath in your nose, everything is possible. That dream can happen, that admission can happen. There is hope for your dream. Don't give up on your dreams, God can get the job done in four months.
"God can restore, and it is not by duplication, but by multiplication. The fear in your heart will not come to pass. The greatness inside you shall be exhibited."