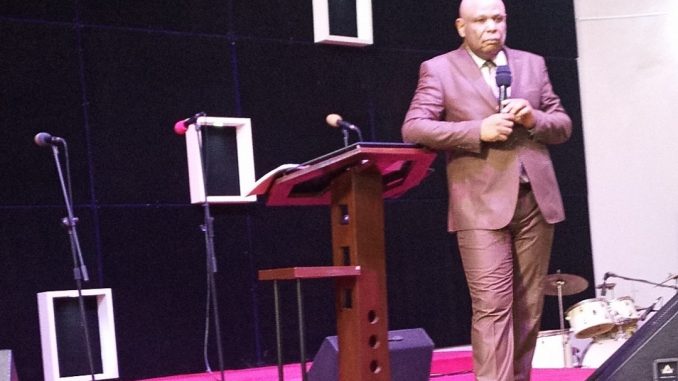 As the COVID-19 lockdown is being eased across the nation, Christians have been told to ensure they are connected to a local church, so as to enjoy divine benefits, amid the current challenging situation.

The Senior Pastor of Charis Family International Church, Pastor Tunde Jaiyebo, gave the charge, while ministering on Sunday at the church's first Sunday physical service after the Oyo State government eased the COVID-19 lockdown in the state.
Pastor Jaiyebo, teaching on the topic: "The Power of Correct Church Membership," with the scriptural text taken from the Bible in the Book of Ephesians 3:10, described the church as a dynamic spiritual organism instituted by Jesus Christ as the overall Shepherd of the universal church, with a mandate that every church member who are His sheep should benefit from His divine provision.
So that the sheep can be well fed and divinely taken care of, the reason, Pastor Jaiyebo said, Jesus Christ made provisions in calling and ordaining certain people as pastors, who are His representative, and placed them as heads of local churches spread across the universe.
The cleric said, those who identified with these churches as born again Christians have the right to be provided for and to be taken care of in their local churches.
Hence, he implored Christians to be active members in their churches, and encouraged the passive ones to get themselves introduced to their pastors and develop godly relationships with other members and not only remain nominal attendees, so, together, every member can partake in divine benefits.
According to the minister, a church is primarily a dynamic living organism, empowered by God to grow as a living being, and not necessarily an organisation or association of people which it could ordinarily be taken to be.
Also quoting from the Book of Mathew 16;18: "And I say also unto thee, That thou art Peter, and upon this rock I will build my church; and the gates of hell shall not prevail against it," this, the cleric said signalled the birth of the church as he said that was the first time the church was mentioned in the Bible, referring to Jesus Christ as its founder, who, he said had given the church powers to prevail over every organisation in the world.
ALSO READ: Online video teaching series in 'Leadership Moment with Tunde Jaiyebo' debuts
He, however, added that, though Jesus Christ said, "I will build my church; and the gates of hell shall not prevail against it," yet, the minister informed that, "where you have a church, the gate of hell wants to dominate over and overcome the church. It doesn't mean they will not try, but they won't prevail, " the minister said.
Pastor Jaiyebo said: "The church is people, a dynamic spiritual organism consisting of born again believers. An organism, a living being that operates through interdependent parts. It keeps growing. Once you are a born again Christian, you become a fully immersed member of the universal church, located in a local church. Jesus Christ is the founder, He appoints human representatives as pastors to preside over the local churches."
He said Christians' understanding of what a church is will among others, determine four things, "Their attitude to church;" "Approach to church;" "Response to church;" and "Church benefits."
The cleric also enlightened on what he called "Wrong Reasons to Join a Church," which he highlighted to be, "Because a friend attends the church;" "Because it is a family church;" "Because of good music;" "Because of the ambience;" "Because of convenience," that is, nearness to home, and "Because of the likeness for the pastor of the church."
To him, all the listed are wrong reasons to attend a particular church, as he said, they are not spiritual criteria to be attached to a church as a dynamic living organism that connects Christians to God.
Rather, Pastor Jaiyebo said, the "Right Reasons to Join a Church" include, "Having a divine pull;" "Receiving a divine instruction;" and "You have a rest in your spirit when you go to the church."
Without complying with a divine leading that should guide every Christian to knowing which church to attend, "you can't get the benefits if you are not connected to a local church," Pastor Jaiyebo said.
However, having located a church, he warned that: "As a Christian, be careful that the devil doesn't manipulate you to leave a church that God said you should attend," as according to him, "demonic manipulations" such as "anger, conflict, bitterness, misunderstanding, are ways the devil manipulates people to leave a church."
With these demonic manipulations, Pastor Jaiyebo said, a Christian can be disconnected from a church in two ways: "The devil will make you to leave;" and "the devil will make you to become aloof in the right church. He ensures you are not vitally and spiritually connected."
But to "Overcome the Plans of the Devil Orchestrating Demonic Manipulations," the minister highlighted "Five Areas of Importance for Church Connectivity," so someone don't only remain a nominal member of the church.
Pastor Jaiyebo said: "You must be born again;" "Be physically connected, that is, you attend physical church meetings;" "Be mentally connected, that is, you have to agree with the culture of the house;" "Be socially connected, develop relationships with others, at least, introduce yourself to the pastor. Don't go to a church where you don't trust the pastor;" and Be financially connected, pay your tithes and offerings."
ALSO READ: Baby boom will follow lockdown worldwide — Pastor Adeboye
He advised every church member to comply with divine instruction through their pastors already placed by God as His representative, without which he said, there can't be a divine connection for divine benefits.
Taking inferences from the Bible, the cleric said, church members according to the Book of Acts 20:28-29, are described as "sheep," who are to be led and taken care of by a shepherd, who is their pastor, likewise  he quoted from Psalm 100:3, which he said refers to Christians as "God's people and the sheep of His pasture."
He also informed that church members can also be seen as a flock, that is, a congregation guided by a pastor, according to the Book of 1 Peter 5:2-3.
Also making reference to Psalm 23:1-3, the minister said, God is the Shepherd who supplies the needs of the sheep. But with His empowerment, as Christians in their churches, the pastors as God's representatives are the shepherd, and the supply of the sheep is due from the shepherd."
"So, be careful the church you go to so your pastor can supply what you want. You need a pastor who can influence and empower you. You must be under a pastor who can talk to you and you listen. He must be someone who can lead you beside still the waters. Why some don't thrive is because they are not connected right to the church. The sheep scatter where there is no shepherd," Pastor Jaiyebo said.