Fidelity Bank Plc, Nigeria's leading commercial bank has joined the global celebration of year 2023 International Women's Day with the theme "Embrace Equity."

It also introduced the "Empowering Her" scheme in celebration of Nigerian women.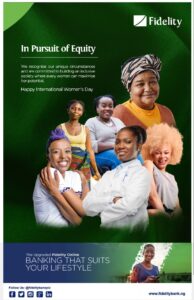 The bank said for Fidelity Bank, the idea of "Empowering Her" goes beyond providing a workplace that equips women to thrive to building a world where the rights of women are respected.
Speaking on this year's International Women's Day (IWD) theme #EmbraceEquity, and how it reflects the bank's objective, Fidelity Bank MD/CEO, Nneka Onyeali-Ikpe, stated, "Gender equality is linked to the realization of human rights for all. On our Board, female to male ratio is 45%. We do not consider gender, tribe, or religion when we make employment decisions".
We hope her words resonate with you as we celebrate every woman all over the world, and we hope you join us in our journey towards ensuring gender equity for all.
Here is a specially curated message from the bank on this year's IWD:  https://youtu.be/nLGQih6om2I .