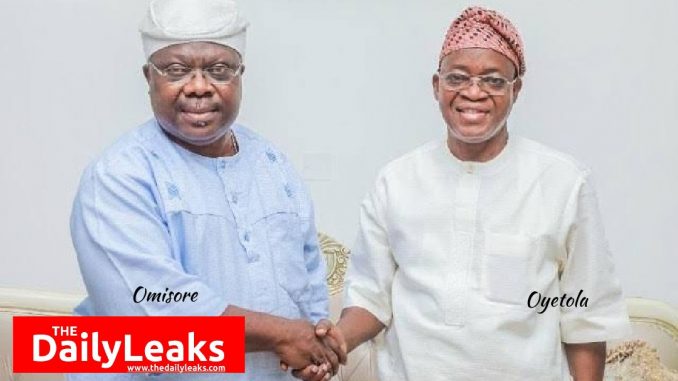 Former deputy governor of Osun State, Senator Iyiola Omisore, has condemned Saturday's attack on the Osun State Governor Gboyega Oyetola while addressing #EndSARS protesters in Osogbo.

People believed to be political thugs had attacked the convoy of Governor Oyetola at Olaiya junction, in Osogbo, which resulted in the death of two people.
Speaking to newsmen on Sunday, Oyetola confirmed that the attack on his life was carried out by political thug.
He also informed that his government would investigate the matter with a view of bringing the perpetrators of the heinous act to book.
ALSO READ: In 5 hours: #EndSARS protesters raise N4.1m for Jane to buy prosthetic leg
"As the Chief Security Officer of the state, we shall ensure that lives and properties of our people shall be protected and anybody found culpable of causing unrest shall be made to face the wrath of the law," Oyetola said.
But in a statement personally signed by Omisore, a former Senator representing the people of Osun East at the Senate from 2003 to 2009, he described the attack on Oyetola as a barbaric act which must not be condoned.
Omisore, also a former Social Democratic Party (SDP) governorship candidate in Osun State, said inasmuch as he commended the youth for rising up to ask for the reform of the Nigeria Police Force with the #EndSARS protests, he charged that they should not allow politicians to hijack the campaign to attack their perceived political enemies.
He condemned the assault on Governor Oyetola, saying it was capable of causing chaos in the state if not for the matured way the incident was brought under control.
While he commiserated with the families of the innocent Nigerian youths who have lost their lives either in the past through police brutality or in the current protest due to the repressive and aggressive nature of the police, he called on the protesters to ensure that hoodlums do not hide in their midst to perpetrate evil.
"I condemn the attack on Governor Gboyega Oyetola in its totality, as such should not have occurred in Osun State, especially among the peace loving youths of the state.
"What this is telling us is that the #EndSARS movement has been infiltrated by suspected hoodlums who are likely to have been sponsored to unleash terror on certain politicians in the state.
"There is need for the youths to exercise caution so that the protest won't be hijacked by political thugs to cause trouble in the state," Omisore said, while he admonished them to remain committed to their drive for a better Nigeria and not allow themselves to be used by politicians to cause trouble either in Osun State or the country at large.