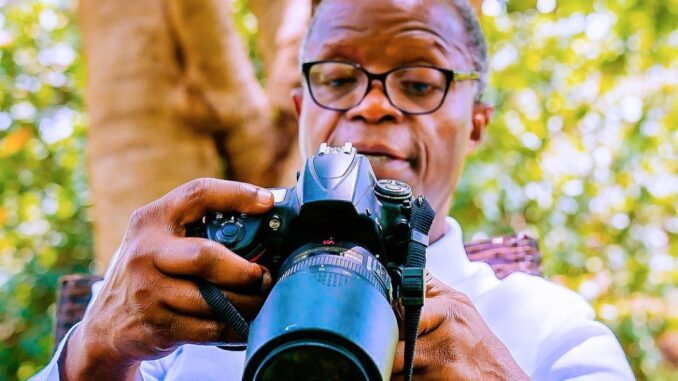 By Seyi Gesinde

Maybe you have come across some comments that the Vice President, Prof Yemi Osinbajo, SAN, has the best media team, or goes around with an engaging visual team of photographers and videographers, there is more to that.
At times, some people can get carried away and begin to either misconstrue or deliberately twist the essence of the media publicity done for government officials, forgetting it is needful as a global standard practice to carry the general public along in their day-to-day activities.
For Osinbajo, most especially, perhaps for the finesses he has added to public relations, he has attracted a lot of admirers, among whom are those who love to drag him on social media like this Twitter user, who via her handle @Nkemchor_, though applauded Osinbajo's social media pictures as being "really clear," the commenter, however, slammed him, saying, "his photographer really did more work than him and his principal combined."
Osinbajo's social media pictures are really clear. His photographer really did more work than him and his principal combined 🌚

— NK£M #PeterObi2023 (@Nkemchor_) April 27, 2022
Same for one Saliu Teslim tweeting via @tesloyaa, saying: "Be like say nah Netflix give Osinbajo him media team.. Cos!!!"
Be like say nah Netflix give Osinbajo him media team.. Cos!!!

— Salu Teslim (@tesloyaa) October 6, 2022
Or what can one say to this Twitter user? One A. Onafuye, who said in his post: "I feel like Yemi Osinbajo and his photographer do rehearsals. He always knows exactly how to pose without posing and where to stand."
I feel like Yemi Osinbajo and his photographer do rehearsals. He always knows exactly how to pose without posing and where to stand.

— A. Onafuye (@FunkeOnafuye) June 7, 2022
There are other soft comments like such tweets by @ManLikeIcey, saying: "Osinbajo has the best media team ever among government officials."
Osinbajo has the best media team ever among government officials.

— OTUNBA 🇨🇦 (@ManLikeIcey) October 1, 2022
Or a similar comment from another user identified as Femi Adebimpe, who way back in 2019 tweeted via @femiadebimpe, submitting that: "Professor Yemi Osinbajo has acquired a crack team for his media. I am really impressed with the choices of professionals brought on board." It was another applause for the media team.
Professor Yemi Osinbajo has acquired a crack team for his media. I am really impressed with the choices of professionals brought on board.

— Olufemi Adebimpe (@femiadebimpe) August 22, 2019
Even, a Facebook user, Ugo Egbujo, recently published a piece on his wall, where he applauded Osinbajo's team, contending that the VP had taken things to a new level.
He said: "I think Osinbajo should lend his campaign team to Asiwaju. He took things to a new level. And I believe that even in small things country should pursue finesse. The Osinbajo team had class. Their expertise shouldn't go redundant."
That is the extent to which some throw punches or banters at VP Osinbajo, only for seeing the good photos and videos of his activities often promptly released by his efficient media team. Even, some critics have reacted by calling Osinbajo "best consoler in chief" and all such sorts, on occasions he goes out visiting troubled Nigerians.
There are similar comments made via Instagram too, and other web communities.
Yet, no one has ever either given a substantial reason the learned Professor's media team shouldn't churn out VP Osinbajo's best photos, or mentioned why they shouldn't showcase his activities and popularise his verifiable achievements in office, which is a normal thing to do for a public servant of his calibre all over the world.
Nevertheless, I think it is reasonable to say that the erudite Professor has a Grade A media team and all that. But that is because of what he represents in real terms.
It also appears that those attempts to reduce his place by focusing on the beautiful art of the photos or the efficiency of his publicists cannot stand nor withstand any serious inquiry into what the VP represents to Nigeria and Nigerians, because the VP's contributions are far too impactful.
ALSO READ: Amusan's feat: Osinbajo has fired up Nigerian youths for excellence
For instance, it is worthy of note to emphasise that Prof Osinbajo has redefined the Office of the Vice President such that people will no longer accept the excuse that a VP is only a spare, and while there are still fundamentals limitations to what a great VP can do, Osinbajo has shown that a VP can do better than warm the seats at the Presidential Villa.
Evidently, in Nigeria of today, Osinbajo's profundity has proven defenders of mediocrity wrong as he has shown that leadership is all about taking up the initiative with the intellectual ability to penetrate deeply into ideas and to use the platform given for the general good of the populace. These, exactly, are what Osinbajo has done in government, turning his enterprise into creating a welfare state under the leadership of President Muhammadu Buhari.
It was for this sincerity of purpose and level-headedness, that Osinbajo quickly earned the respect of his boss, President Buhari, who at a time described him as "a reliable and dedicated deputy who is not only admirably competent but also exudes confidence and passion in the performance of his job; a cool-headed gentleman who puts the interest of Nigeria above other narrow considerations."
Buhari went further to say that "Vice President Osinbajo is an incredibly patient politician who demonstrates remarkable intellectual and mental energy in the discharge of his duties. I'm proud to have selected him as my running mate, and he has given a good account of himself since our journey began in 2015.
The President showing great confidence in his deputy proudly applauded his "remarkable and mental energy" whose brain power has led to several achievements under the Buhari-led administration. He is a good team player. Let's also salute Buhari who created a platform for his industrious VP to shine. This, on its own defined Buhari as a superman, since the stylemark of good leadership is when a leader is happy to raise a partner "greater than" him.
It is now not a surprise that Osinbajo is more relevant as a Vice President, that on three occasions, his boss was pleased to hand over power to him as the Acting President, a position which none of his predecessors in this 23-year-old democracy has ever occupied.
Every Nigerian VP is the head of the National Economic Council (NEC) as established by the provisions of the Constitution of the Federal Republic of Nigeria, 1999, as amended; Section 153(1) and Paragraphs 18 & 19 of Part I of the Third Schedule, and in this delegated one too, he did very well. Let's see.
How he combined this role with being an Acting President is still memorable to Nigerians who still refer to his three-month reign in power as the Acting President as part of their best days under the Buhari-led administration to date.
At that time, one significant thing he did presiding over a particular NEC meeting was to issue a directive to the CBN to review its foreign exchange policy that weakened the national currency, after which $500 million was released to the banks forcing dollars to crash, 24 hours after, stabilising the exchange rate at N450 from N525.
It was during this period that Osinbajo declared open the Agenda for Consultative Forum on Economic Recovery and Growth Plan, where he told the forum that the nation was in a very serious economic situation, but assured that the government remained committed to putting the economy on the path to sustainable growth, which was done.
Similarly, it was his love and passion for the poor and interest in giving them a better life that prompted him as the VP to initiate what is known today to be the largest social investment programme in Africa, the Economic Sustainability Programme (ESP) that cater to the need of the generality of Nigerians ravaged by the scourge of Covid-19 between 2019 and 2020.
With the ESP project, coordinating a Council comprising 36 state governors, the governor of the Central Bank of Nigeria (CBN), and other co-opted government officials, Osinbajo reshaped Nigeria's economy in a way that, within a short period after the country's economy entered into recession consequent upon the Covid-19 lockdown, among others reasons, it speedily came out of it in 2020. Besides, the MDAs report indicated that over two million jobs were either saved or created so far with the ESP.
So, beyond the paparazzi's shows, his critics often refer to as if he likes to be in the news, he just can't stay off because his works are showcasing him. No wonder, a former Zamfara State Governor and immediate Past Chairman of the Nigeria Governors Forum (NGF), Dr Abdulaziz Yari, in his recent applause for Osinbajo's leadership said: "In the past, we know how NEC was handled, but the VP handled it professionally and not partisan, all governors were given equal rights. We thank you for that leadership."
We also need to commend the VP's A-list media handlers, led by a former newsman and world-class editor, who is cerebral as his principal. We can't see less of what the VP does as a public servant having someone like that as his media manager.
This twosome is a winner any day, any time. So, it is a matter of naysaying or mere cyberbullying of a gentleman in power, relegating his works, when, even the sitting Vice President of the United States heard of his achievements as he recently had an audience with her in the White House, told Osinbajo: "You have been so terrific. Your seriousness, purpose and your knowledge, and you have really been trying to pull people together which is great and I admire that.
Truly, Osinbajo has been so terrific!
But come to think of it, fine photographs and videos refresh the soul, feel good looking at them, they are like therapeutic diets which can only do one good. Osinbajo is a cheerleader of every do-gooder, you too can be a social reformer, that is one message those artistic works portray.
Be positive in appreciating excellence, Osinbajo's contributions to nation-building are crystal clear, let no one be misled about the place and person of our Star Boy so far. He is a good and great leader.
• Gesinde, an award-winning journalist, is a political scientist and public affairs analyst.