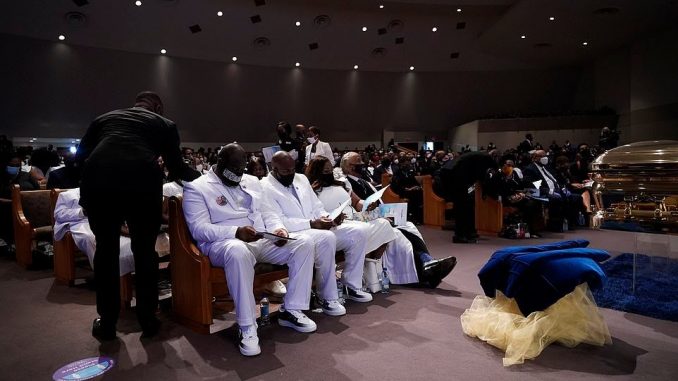 The remains of George Floyd, who died May 25, 2020 were committed to mother earth on Tuesday amid tears in a funeral soaked in emotional, passionate and political tributes.

Floyd was lovingly remembered as Big Floyd, a "gentle giant," a father and brother, athlete and mentor, and now a force for change, at a funeral for the Black man whose death has sparked a global reckoning over police brutality and racial prejudice.
"George Floyd was not expendable. This is why we're here," Democratic Rep. Al Green of Texas told the crowd at the Fountain of Praise Church in Houston. "His crime was that he was born Black. That was his only crime. George Floyd deserved the dignity and respect that we accord all people just because they are children of a common God."
CBC News reported that the 46-year-old cried out for his mother and pleaded he couldn't breathe as a white Minneapolis police officer pressed a knee on his neck May 25. Video of the encounter ignited protests and scattered violence in cities across the U.S. and around the world.
While the service was private, at least 50 people gathered outside the church to pay their respects.
"There's a real big change going on and everybody, especially Black, right now should be a part of that," said Kersey Biagase, who travelled more than three hours from Port Barre, La., with his girlfriend, Brandi Pickney.
Family members speak
Floyd's family gave tearful tributes and made impassioned demands for justice at his funeral. They gathered around the chruch podium and stepped up one at a time to talk about about their lost loved one.
His aunt, Kathleen McGee, laughed as she remembered the child her family knew as Perry Jr., calling him a "pesky little rascal, but we loved him."
His sister, LaTonya Floyd, was almost too overwhelmed to talk, wiping away tears and lowering her face mask to say "I'm going to miss my brother a whole lot and I love you. And I thank God for giving me my own personal Superman."
Brooke Williams, a niece, called for change to what she called "a corrupt and broken system."
When has America ever been great, asks George Floyd's niece
George Floyd's niece, Brooke Williams, says the death of her uncle is not just murder but a hate crime. 3:30
One of several pastors who spoke said Floyd, a man from humble beginnings, has changed the world. "Out of his death has come a movement, a worldwide movement," said Rev. Bill Lawson, who once marched with the Rev. Martin Luther King Jr. "But that movement is not going to stop after two weeks, three weeks, a month. That movement is going to change the world."
In a video eulogy played at the service, former vice-president Joe Biden, the Democratic presidential candidate, said: "No child should have to ask questions that too many Black children have had to ask for generations: Why?" He continued, "Now is the time for racial justice. That is the answer we must give to our children when they ask why."
Houston Mayor Sylvester Turner brought the crowd to its feet when he announced he will sign an executive order banning police chokeholds in the city.
George Floyd's impact goes beyond changes to policing, Houston mayor says
People all over the world are doing things they might not have done because of George Floyd, says Houston Mayor Sylvester Turner. 3:07
Following the funeral, Floyd's body was to be taken by horse-drawn carriage to a cemetery in suburban Pearland, Texas, where he was to be laid to rest next to his mother.
Several police officers from Texas Southern University stood guard at the sanctuary entrance, wearing face masks also printed with Floyd's dying words. The historically Black school is next to the Houston housing project where Floyd grew up.
'So much for social distancing'
Mourners also included rapper Trae tha Truth, Rep. Sheila Jackson Lee from the Houston area, and the city's police chief, Art Acevedo. Nearly all the pews were full, with relatively little space between people.
"So much for social distancing today," the Rev. Remus Wright told mourners, gently but firmly instructing those attending to don face masks because of the pandemic.
Many people fanned themselves with paper fans bearing an image of Floyd.
Floyd "often spoke about being world famous one day, and he has managed to make that happen in his death," the funeral program said.
The hours-long service came one day after about 6,000 people attended a public memorial Monday in Houston, waiting for hours under baking sun to pay their respects to Floyd, whose body lay in an open gold-coloured casket.
Over the past six days, memorials for Floyd were also held in Minneapolis, where he lived in recent years, and Raeford, North Carolina, near where he was born.
Four Minneapolis officers were charged in connection with Floyd's death, which was captured on video by bystanders.
Floyd's death sparked international protests and drew new attention to the treatment of African Americans in the U.S. by police and the criminal justice system. In the past two weeks, sweeping and previously unthinkable things have taken place: Confederate statues have been toppled, police departments around America have rethought the way they patrol minority neighbourhoods, legislatures have debated use-of-force policies, and white, black and brown people have had uncomfortable, sometimes heated, discussions about race in a nation that is supposed to ensure equal opportunity for all.
'We will get justice'
Calls for police reform have cropped up in many communities, and people around the world have taken to the streets in solidarity, saying that reforms and dialogue must not stop with Floyd's funeral.
The memorials have drawn the families of black victims in other high-profile killings whose names have become seared into America's conversations on race — among them Eric Garner, Michael Brown, Ahmaud Arbery and Trayvon Martin.
"It just hurts," said Philonise Floyd, George Floyd's brother, sobbing as he ticked off some of their names outside The Fountain of Praise church. "We will get justice. We will get it. We will not let this door close."
On the weekend, a majority of the Minneapolis city council declared their intention to disband the city's police force. The move comes in response to the killing of George Floyd by Derek Chauvin — a member of that force — and to other local instances of police brutality. Today on Front Burner, we talk about the growing "defund police" movement that says scaling down police budgets and spending the money on social services could be a way to protect civilian lives.