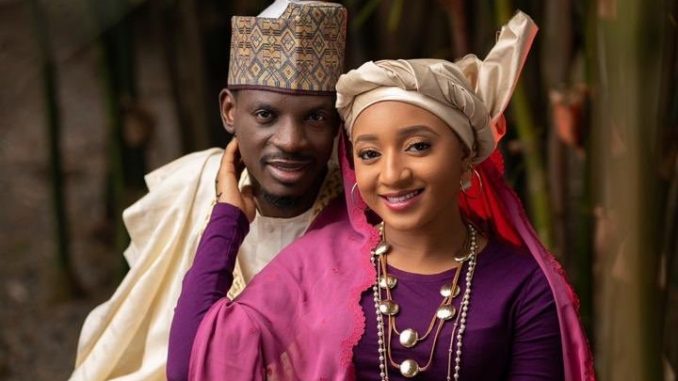 President Muhammadu Buhari's personal assistant on new media, Bashir Ahmad, on Friday, tied the knot with his lover, Naeemah Junaid Bindawa, in Katsina State.

The wedding Fatiha, which took place at the GRA Juma'at Mosque, had in attendance the couple's family members, friends, Islamic clerics, political figures and other well-wishers.
Ahmad, had, six days ago, announced their wedding plans on Twitter, in a post retweeted by his newly wedded wife, where he said: "The long-awaited day is here! @Naeeemah_x and I are delighted to invite you to our Wedding Fatiha on Sept. 25, 2020, at GRA Juma'at Mosque, Katsina. Time: 2 PM.
"If you are unable to attend due to any personal circumstance, kindly include us in your prayers. Thank you. #NB2020."
In a follow-up post on Friday around 1:00 p.m., Ahmad gave an update informing on the duration of the wedding event, as he wrote: "All set, it will be done in a matter of an hour or so. All the expected people are here in Katsina for #NB2020."
Ahmad and Naeemah celebrated their wedding only days after Hanan Buhari, President Buhari's daughter, got married to Mohammed Turad, a special adviser to the Minister of Works and Housing, Babatunde Fashola, at the Presidential Villa in Abuja.
Meanwhile, Nigerians felicitated the couple after their wedding in a series of tweets posted on Twitter to express their best wishes.
ALSO READ: Obaseki, wife, deputy in thank you visit to Osinbajo in Aso Rock
The elated Ahmad, responding tweeted: "Really not a surprising thing to see 'Bashir' trending on all social media platforms, especially Twitter. Best wishes flooding from all angles. Not taking it for granted, nothing more to say but Alhamdulillah."
Really not a surprise thing to see 'Bashir' trending on all social media platforms, especially Twitter. Best wishes flooding from all angles. Not taking it for granted, nothing more to say but Alhamdulillah.

— Bashir Ahmad (@BashirAhmaad) September 25, 2020
Dear my wife @naeeemah_x, as our beautiful life together begins today, I want you to know that I will love you as a sister, a best friend and most importantly a wife, for the rest of my life. pic.twitter.com/F3fA02URwx

— Bashir Ahmad (@BashirAhmaad) September 25, 2020
Some of the tweets from Nigerians felicitating the couple are listed below:
Congratulations to my brother @bashirahmaad and his new bride @naeeemah_x on the new chapter of their life. God bless your marriage 🙏 pic.twitter.com/j4ZeW6L24c

— Mohammed Jammal (@whitenigerian) September 25, 2020
Congratulations to the newly wed @BashirAhmaad x @naeeemah_x May the glow of love & happiness from your marriage day be with your for the rest of your lives. pic.twitter.com/WJKOe5GUiv

— Bashir Zuntu (@BashirSZuntu) September 25, 2020
Congrats Bashir, May Allah Almighty bless your home. 🙏🏽 https://t.co/HLTeB2QYV0

— Sulai Odus (@SulaiOdus) September 25, 2020
Congratulations to Bashir and Na'eemah
May Allah bless this beautiful union with his rahama pic.twitter.com/HjQJe8EpR1

— 💡haidar. (@adi_aliyuh) September 25, 2020
Bashir Ahmad is a successful young man. There's no amount of hate or envy from irrelevant twitter handles that would change that. Pray to be as successful or even more successful than him rather than hating.

— Sarki. (@Waspapping_) September 25, 2020
I pray we marry the person we love and loves us back. This bashir marriage dey tempt me😪🥰❤

— BOSSMAN (@Capt_Aliyu) September 25, 2020
This is that Special day when my son, @BashirAhmaad, takes a gorgeous damsel for a wife.
Many Congratulations to both of you. Look after each other. pic.twitter.com/MF1oig1pZ9

— Lauretta Onochie (@Laurestar) September 25, 2020
HML @BashirAhmaad and @naeeemah_x May Almighty Allah bless your union. May Almighty Allah bless your home with righteousness offsprings. pic.twitter.com/PrHKRtWAOS

— MUSTAPHA (@angry_ustaaz) September 25, 2020
I wish you a happy married life, Bashir. https://t.co/DRuKzOeLQp

— Olúyẹmí Fásípè 🇳🇬 (@YemieFASH) September 25, 2020
Today is world Bashir's day , we celebrate this young man and his beautiful wife, we pray that Allah enrich their union with his abundant blessings. @BashirAhmaad pic.twitter.com/nDsSXvbbHP

— Engr Yasir Arafat Jubril🏗🏢🌉🛤🛣 (@oil_shaeikh) September 25, 2020
On behalf of the #Kwankwasiyya family, we wish you happy married life, Mr. and Mrs. Bashir. May Allah SWT blessed your new home. pic.twitter.com/8DJo9bmfF1

— Kwankwason Tuwita🔴 (@baba__________) September 25, 2020
Happy married life my brother/friend, @BashirAhmaad. May this new beginning be more happier and prosperous for you and your wife, @naeeemah_x.#NB2020 pic.twitter.com/sGCqUnfrbD

— Mubarak Umar (@Mubarack_Umar) September 25, 2020
@whitenigerian @BashirSZuntu @SulaiOdus @adi_aliyuh @Waspapping_ @Capt_Aliyu @Laurestar @angry_ustaaz @YemieFASH @BashirAhmaad @oil_shaeikh @baba__________ @Mubarack_Umar