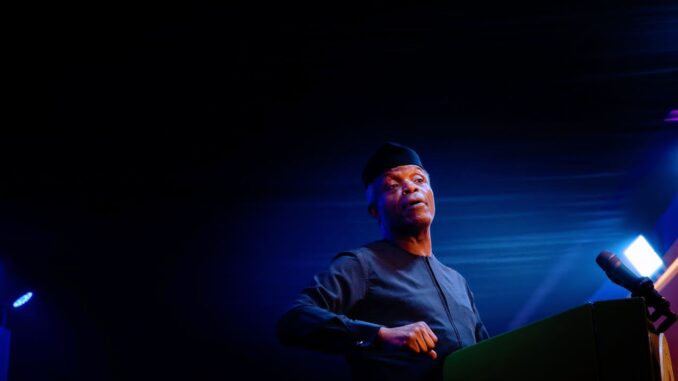 By Oluwafemi Popoola

Much to the amazement of the audience, the Vice President of Nigeria, Prof Yemi Osinbajo, SAN, sang the popular Kizz Daniel song, 'Buga won' at a Lagos event, leaving everyone in glorious happiness.
The programme was the Global Conference for Promotion and Linking Together of Tourism and Creative Industries, held at the National Theatre, in Lagos, where Vice President Osinbajo had gone to represent President Muhammadu Buhari as a Special Guest of Honour, on Tuesday, November 15 2022.
At the event, Prof Osinbajo had earlier received the Secretary-General of the UN World Tourism Organisation (UNWTO), Zurab Pololikashvilli, who arrived in Nigeria on Monday, for the opening of an expert workshop of the UNWTO Tourism Summit preparatory for Tuesday's event.
The event, which was attended by participants from UNWTO member countries, featured discussions with the students on tourism and its importance to development.
At the three-day conference which began on Monday at the historical National Arts Theatre in Lagos, Prof Osinbajo while delivering his speech on the second day of the event spoke about the widespread acceptability of Nigerian culture and music especially.
ALSO READ: Osinbajo represents Buhari at first World Tourism Summit in Lagos
Making a particular reference to Kizz Daniel's viral song that has caused a frenzy on the internet and the music world at large, the VP thrilled the Nigerian youths and the general global audience at the event, as he melodiously soloed the lyrics to the enlivened audience and they all sang along with him.
"Music is indeed a global, very global language. Let me just test our brains. How many people know this song, ko ni baje o, ko ni ba je o, let me see you go low low, buga won," he chorused.
TRILLING THE AUDIENCE 🎙
VP Yemi Osinbajo, SAN, mimes 'Buga' by Kizz Daniel, as he officially declares open the maidens edition of @UNWTO #GlobalTourismSummit in Lagos, with UNWTO Sec-Gen Zurab PololikashvilliZurab, in attendance… #TourismSummit 2022 🇳🇬 pic.twitter.com/Pq4cUvRxWu

— The Daily Leaks (@TheDailyLeaks) November 15, 2022
Speaking further, the VP said: "Today, Nigerian music, rendered in Nigerian languages is played all over the world. So, people all over the world are dancing to Kizz Daniel's Buga. The phrase "Buga Won" is a Yoruba expression, it means flaunt your hard-won success. "Collect your money", means take the fruits of your work.
"Many all over the world are squaring up their shoulders, saying it doesn't matter how hard it may seem, let me see you dance and show off your success no matter how small it may seem to others, Buga Won! And he (Kizz Daniel) will be performing the song at the Qatar World Cup in a few days.
"Take opportunities of all your successes, show off your successes. Don't sit down there thinking my successes are too small. Many people all over the world are squaring up their shoulders and saying it doesn't matter how hard it is, how hard it looks, I must show off my own success no matter how little it may seem to others. It may seem to you that it is small but I am going to "Buga won" anyway.
Also speaking on another raving Nigerian singer, Burna Boy, Prof Osinbajo said, "I am sure many of us know Burna Boy, a Nigerian Afrobeat star who performed in front of 70,000 people in Finland, at Finland's Flow Festival 2022. Singing songs like "Last Last, he don cast, na everybody go chop breakfast" in pidgin English to a cheering Scandinavian audience is the power of music. The song is also the first Afrobeat song to have sold over 500 thousand units in less than 17 weeks after its release in the United States of America.
"How many people know that song? I just want to know how old you are. All you old folks, there is no way you are going to know that song." he said to the warm embrace of the audience as everyone laughed.