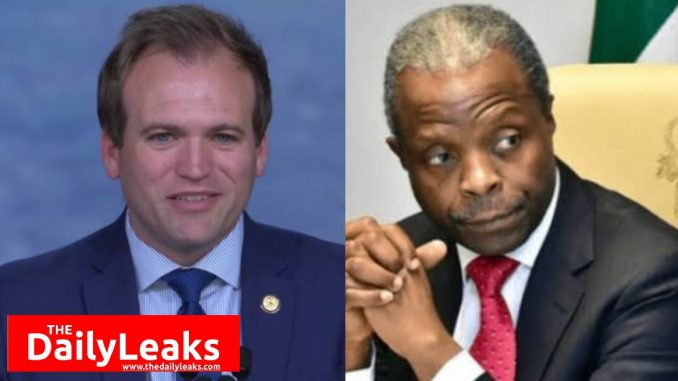 Vice President Yemi Osinbajo has been commended for his brilliance and leadership commitment to Nigeria, by an an American clergy and business owner, Rev. Johnnie Moore.

The American evangelical leader, spoke on Wednesday, after Prof Osinbajo, SAN, delivered his speech at a virtual conference organised by Liberty University.
He said, "I am always encouraged when I hear Pastor Osinbajo, the honorable Vice President of Nigeria, speak brilliantly about his country and the continent."
Rev. Moore, the founder and CEO of The KAIROS Company and President of The Congress of Christian Leaders, lauding Osinbajo's brilliance, after delivering his speech at the virtual conference, said, I'm "pleased he took the time to conduct a live Zoom conversation with the organizers of the "Equity for Africa" conference."
ALSO READ: Osinbajo unveils FG's Solar Power scheme for 5 million households in Jigawa
Prof Osinbajo, SAN, had spoken on the theme of the conference, "Equity for Africa: Transforming the World through Judeo-Christian Values," after he had earlier chaired the Federal Executive Council meeting at the State House, Abuja, holding brief for President Muhammadu Buhari, who is on medical vacation in London.
At the virtual conference, the Vice President spoke about the potentials that abound in Nigeria, pitching his country to American business leaders, showcasing opportunities to investing in Nigeria and Africa.
Liberty University is a private evangelical Christian university in Lynchburg, Virginia, the United States, founded by Jerry Falwell Sr. and Elmer L. Towns in 1971.
About Rev. Johnnie Moore
Johnnie Moore is founder and CEO of The KAIROS Company and President of The Congress of Christian Leaders. He is a reverend and best known for his work at the intersection of faith and foreign policy and is a Presidential appointee as a Commissioner for the United States Commission on International Religious Freedom. He began his career at Liberty University, where he served as the school's Senior Vice President for Communications and Chaplain. He then served as Chief of Staff and Vice President of Faith Content for the United Artists Media Group in Hollywood.
Moore has advocated relentlessly for religious freedom in the Middle East, meeting on multiple occasions with regional leaders including most heads of state across the Arab world and, in 2017, he participated in the drafting of the landmark Bahrain Declaration on Religious Freedom and Peaceful Coexistence in the Middle East. He is a recipient of the prestigious Medal of Valor from the Simon Wiesenthal Center.
He has spoken at many institutions including Georgetown University, Union Theological Seminary, Liberty University, USC's Annenberg School and he is a fellow at Concordia University in Irvine, California. He is a member of the Board of Trustees of the Anti-Defamation League in Los Angeles and the National Association of Evangelicals.
He has been named one of America's twenty five most influential evangelicals. Rev. Moore has authored several books and appeared on numerous television, radio, print, and online outlets to provide analysis and commentary on various topics. His work has appeared in The Washington Post, Fox News, and CNN