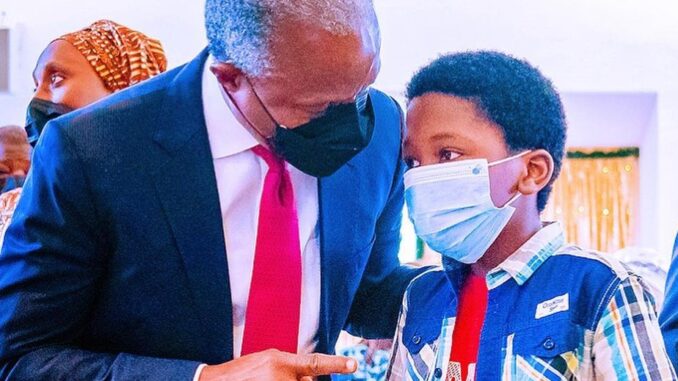 The story of Vice President Yemi Osinbajo imparting on the youth is an inspiring one, a great empowerment brightening their dreams of a bigger future. As a role model, reinforcing new hopes in the body politic, millions of Nigerian young people collectively have applauded the VP's credibility and reliability as a leader, and much more, his example has shown that having productive leaders in power, Nigeria won't only be good for it, there will be value added in successive leadership, writes OLUWAFEMI POPOOLA, submitting that Nigeria is now witnessing a new dawn VP Osinbajo's resourcefulness has caused to be born.
Following the viral photo of the Vice President Yemi Osinbajo, with the Villa Chapel boy, Bethel, which has caused a burning sensation on various social media channels, many Nigerians have reacted and commended the inspiring gesture while comparing the VP's show of love to the similar encounter of the former U.S, President John F. Kennedy and young Bill Clinton in 1963, where the then U.S. President was captured shaking hands with Clinton as a teenager.
Vice President Osinbajo, had met with the young Bethuel on Sunday following the boy's imitation of his mannerism which took place at the Aso Rock chapel.
How it began, Tolani Alli, the personal photographer of the Vice President on July 11, had captured that moment VP Osinbajo engaged Bethuel, and posted the photographs on her Instagram page accompanied with some words.
According to Alli, the photographer storyteller, she wrote: "You see, I had noticed over time, that Bethuel the young man adjacent to the VP in both pictures had developed some learned attributes that were similar to the VP's mannerisms. The most amusing fact of the matter is that the VP himself is not even aware of this development. Subsequently, I decided to document two pictures to prove that there was some form of consistency. And, naturally, there was.
"The truth is, there are always eyes on you, whether you are aware or not. And some of those eyes look to you for direction. While you might have people that are under your constant, conscious tutelage, I believe that it is also noble to serve as a model for the ones you might not be aware of. It's like an unconscious form of mentorship that is beneficial to both yourself and them. Your consistency helps you improve on the habits you invest in, it also serves as a beacon for those watching you.
"I believe that it is the same way that Bethuel looks to the VP that we all look to other people and other people look to us, consciously or unconsciously. Therefore, for all our sakes, let us embrace habits that are worth imprinting on others and be consistent with them."
Ostensibly, for its inspiring nature, while reacting to the viral photograph where the Vice President was seen with the young boy, Bethuel, which was also on the Instagram page of the Spokesman to the Vice President, Laolu Akande, Nigerians praised the Vice President for being a source of inspiration, not only to the young boy but many other young people with his exemplary character and humility.
"If your actions inspire others to dream more, learn more, do more and become more, you're a leader. VP Osinbajo inspires me to do more," a responder wrote.
"You can see the face of the boy smiles softly and VP Osinbajo smiles too showing approval of a true leader and father with so much love for the youth," one Wilson Egwu wrote.
Another user with the name Chimakuzoh wrote: "Our exemplary ways will always make us stand out and often times be a source of inspiration to others."
"A simple contact with Osinbajo means a lot. I wish I can get such opportunity," one Sam wrote.
ALSO READ: Osinbajo's integrity and the rest of them
Another user commenting via @ayotundeolaoye remarked on the fatherly role the Vice President played for the young boy. He wrote: "Professor Yemi Osinbajo is more than a mentor, he is a father and a man of the people."
In a different twist to it followed with a publication with the title "Like JFK, Like PYO: Osinbajo, a Beacon of Hope for Nigerian Youths," by a publicist and public affairs commentator, Seyi Gesinde.
The writer in a brief article extolled the virtues of the Vice President in a glowing manner, while comparing the the Vice President's encounter with the boy to that of the former U.S. President J.F. Kennedy's meeting with young Bill Clinton when he was a student.
He wrote: "As Vice President Yemi Osinbajo made a warm touch with this young lad, Bethuel, so was young Bill Clinton then, as a student, just 16 years old, was able to meet with former U.S. President John F. Kennedy, on July 24, 1963.
"It was that brief interaction between JFK and Bill Clinton that inspired him as a teenager to a life of public service, and helped lead him to a fruitful lifestyle, willing to be useful for his country. And on that 1963 encounter with JKF, he rode on, until he, Bill Clinton, won his own election, and was sworn in as the US President 30 years later, on January 20, 1993.
"This is how leaders can create hope and inspire excellence in the young ones. Leadership is all about influence."
Furthermore, Gesinde described the vice president as someone who has a reassuring personality that gives hope to young Nigerians.
According to him: "Now, Vice President Yemi Osinbajo is a beacon of hope for the Nigerian youth — against the battered past as a nation, he has this reassuring ambience in his carriage and how he identifies with the youth is soothing, with assuasive touch, that their tomorrow is full of today's dreams fulfilled! It depicts a Nigeria that will be sought after by nationals across the globe.
"With his profound leadership style, Prof Yemi Osinbajo (PYO), a Senior Advocate of Nigeria (SAN), has created a hope realisable for the Nigerian youth!"
That comparison with Clinton tells a story of hope now reverberating — booming to the youth, it is now cutting across the social media fabrics, and Nigerian youths are identifying with it — seeing a future in Nigeria — with Osinbajo not just a VP but a mentor, an advisor and a trusted guide. With his soft spot alone, VP Osinbajo has awoken the unresponsiveness in dreamy and lethargic youths!
ALSO READ: Like JFK, Like PYO: Osinbajo, a Beacon of Hope for Nigerian Youths
Also, the reactions found its way and extended to Facebook, another social media channel where a user commenting via Chiamaka Uzoma, laid side by side the pictures of both the Nigeria's Vice President Osinbajo holding young Bethuel and the US president J. F. Kennedy shaking hands with young Bill Clinton with a captivating caption: "Great minds think and act alike, isn't it? Like JFK, Like PYO truly."
Likewise on Twitter, though temporary banned in Nigeria but a few Nigerian Twitter users who must have been tweeting, maybe outside the country as the ban is effective in the Nigerian territory alone or via other means, made the issue top the subject of their conversations as it went viral.
"I Wish I could fast forward 30 years into the future with a "time machine" so as to confirm if there will be a reproduction of the upshot of that "JFK – Bill" meeting in this PYO – Bethuel" case." one Bola Daunsi tweeted, while also placing the two pictures abreast each other.
In the same vein, Another user commenting via @AdewunmiCollins tweeted; also placing the viral photograph of the VP and Bethuel alongside the JFK and Clinton pictures quoting from Seyi Gesinde's narration thus: "This is how leaders can create hope and inspire excellence in the young ones. Leadership is all about influence."
The story is such an inspiring one, a great empowerment for the youth that their future is bright. Not only that, it has surely reinforced a new hope in the Nigerian youth, home and abroad that, with credible, reliable and much more, productive leaders in power, the country won't only be good for it, there is now a channel opened for youths to take positions of authorities as it began in those days, but which had since created nostalgic vibe. But, here is a new dawn the VP Osinbajo's resourcefulness caused to be born!