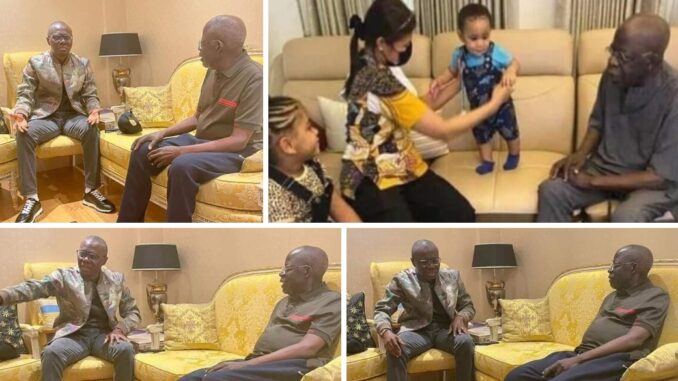 Lagos State Governor, Babajide Sanwo-Olu, has visited the national leader of the ruling All Progressives Congress (APC), Asiwaju Bola Tinubu, in London, where
Tinubu, a former Lagos State governor between 1999 and 2007, who holds the popular chieftaincy titles of the Asiwaju of Lagos and the Jagaban of Borgu kingdom in Niger State, has been in the spotlight over his yet to be confirmed ambition to succeed President Muhammadu Buhari in 2023.
Sanwo-Olu, had, on Tuesday, August 3, 2021 flown to London, and met with Tinubu, a development believed to have been necessitate over his rumoured ill health and death stories.
Tinubu has been in the news in recent times, and controversial reports in the social media have claimed he was either bedridden over prolonged ill health, or dead.
The rumours became more pronounced over Tinubu's frequent travels out of the country, and this had forced his media aide, Tunde Rahman, to, on different occasions debunk the claim, saying his principal was hale and hearty.
Rahman, had in a statement said Tinubu was "hale and hearty."
He wrote: "His Excellency Asiwaju Bola Tinubu is fine. He is hale and hearty. He is not in any hospital. He has no medical problem that would require hospitalisation.
ALSO READ: Buni: Osinbajo, APC governors, ministers develop safe option for APC
"Yes, he is out of the country at the moment. He will be back shortly.
"Anytime he travels out of the country, the next thing some mischievous people would say is he is sick, hospitalised or has died.
"It is shameful that perpetrators of this evil are not deterred by the fact that each time this fake news has been propagated, they have been proven wrong.
"Who really is afraid of Asiwaju Tinubu? Those wishing Asiwaju Tinubu evil or dead should be careful. They should know the matter of life and death is in the hand of only God Almighty."
Also, before Sanwo-Olu's visit, the latest in the high profile move to douse tension was with the circulation of photographs showing him having a meeting with his predecessor in a relaxed mood.
Afterwards, political allies and supported of Tinubu have assured the interested parties that all was well with Tinubu.
However, to finally put the speculations surrounding his health status at rest, a source had hinted that Tinubu would return to Nigeria soon.