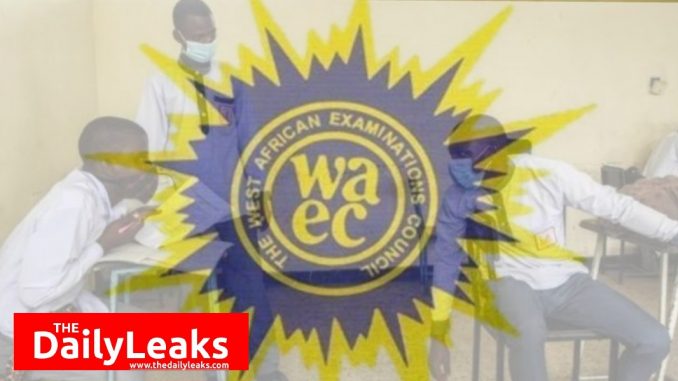 Ghanaian government and the West African Examination Council (WAEC) have concluded arrangements for students in the country to begin writing their West African Secondary School Certificate Examination (WASSCE) on Monday, July 20.

The Director-General of the Ghana Education Office, Prof. Opoku Amankwah, who disclosed this, said, enough preparations have been put in place to ensure the safety of students as they commence their WASSCE exams.
Amankwah, who said the exams will commence with practicals on Monday, admonished education administrators to ensure that students are adequately protected as they write their exams.
"Second batch of the Gold track students are in school to catch up with their fellow students. So the various Teacher Unions have agreed that we use this exercise as a pilot one," the DG said.
While speaking on Okay FM's 'Ade Akye Abia' programme, Amankwah, also informed that government has made adequate provision to ensure the safety of students in all the Senior High Schools where the examinations will be written.
According to him, disinfection exercises have begun in the schools to curb the COVID-19 spread, while he also denied reports saying schools would be closed with a surge in the coronavirus cases.
Meanwhile, the Ghana Education Service (GES) has assured parents and guardians of final-year Senior High School (SHS) students in the country that it will do everything humanly possible to protect their children against COVID-19.
Giving this assurance, the Greater Accra Regional Director of GES, Monica Ankrah, said school authorities have also been charged with the task of ensuring that the students together with the teaching and non-teaching staff members strictly observe the COVID-19 safety protocols.
She spoke on the sideline of a mass disinfection exercise at the Accra Girls' Senior High School, and others being carried out in the country, which she said was a collaboration between the Ministry of Education (MoE), and Zoomlion Ghana Limited (ZGL).
She said the disinfection exercise carried out in several schools was done on Friday, and lasted for about five hours.
The lives of the students are of priority, the Greater Accra Regional GES Director, said, as she encouraged parents to have confidence in the GES and school authorities to "take a very good care of their children," while assuring the teaching and non-teaching staff that the GES will continue to implement measures that will protect them from the virus.
"In the wake of reported COVID-19 cases in some of the schools, the best thing to do which we are doing is isolating and treating those infected by the virus, instead of sending them home where there is the high risk of them exposing their families and others to the virus.
ALSO READ: WASSCE: Nigerian schools to reopen soon as FG, WAEC shift exam date to Sept 5
"Isolation centres have been provided in the schools to facilitate treatment of students who would contract COVID-19," Ankrah said.
She advised parents who want their infected children home that the best option was for them to allow the infected students to be isolated and treated on campus.
Earlier, WAEC had released the timetable for the August 2020 West African Senior School Certificate Examination (WASSCE), already submitted to the Ministry of Education, indicating that its examinations begin on Monday, July 20, 2020 with Project Work for Visual Arts candidates.
The theory papers, it said will start from August 3, 2020 until September 5, 2020, when the five-week long examination will be brought to an end with Principles of Cost Accounting and Technical Drawing.
The Head of the Ghana National Office of WAEC, Mrs Wendy Enyonam Addy-Lamptey, explaining modalities said the dateline for the WASSCE had already been agreed on with the Ghana Education Service and so the timetable was to guide the students in their preparations.
She said in all, 60 subjects, made up of four core and 56 elective subjects, have been made available to the candidates.
According to her, the subjects cover the seven programmes offered at Senior High School (SHS), namely, General Arts, General Science, Business, Agricultural Science, Visual Arts, Home Economics and Technical.
She said parents and students should ignore information already circulated ahead of WAEC's release of timetable, by rogue website operators who were circulating false information including fake timetables, fake examination question papers and other examination-related information.
Addy-Lamptey also cautioned the public, particularly candidates preparing for the WASSCE, to be wary of operators of such rogue websites.
She said ever since the President Nana Akufo-Addo announced guidelines for the gradual reopening of schools for final-year students, such websites which had initially disappeared had been resurfacing.
"We are well aware that some of those websites have posted fake timetables for WASSCE and BECE candidates and that is why we are putting out this caution," Addy-Lamptey explained.
She explained that as many as 21 of such rogue websites had sprung up with interesting and attractive names to lure unsuspecting candidates, but stressed that they were all rogue websites and fake and cautioned students not to fall prey to them.
Addy-Lamptey said there was no reason for them to fear the examination if they had prepared very well, adding that it was because of that that the government had offered them the opportunity to be in school with their teachers to prepare for their final examination.
Some of the rogue websites, as identified by WAEC, include "WAEC Exams Room," "WAEC – Seekers Exams Leaks," "WAEC Pass Examination," "WASSCE Results Upgrade WAEC for 2020," "West Africa Exams Links" and "WAEC Secret Room."
Others are "WAEC Spark WAEC", "Ghana Education News", "WAEC Update", "WAEC 2020", "WAEC Authentic Hub", "WAEC Ghana" and "WAEC Union".
Threat to credible exams Mrs Addy-Lamptey described those websites and their activities as the greatest threat to the credibility of the certificates issued by WAEC and, therefore, advised candidates to "desist from dealing with such websites and feel free to contact WAEC offices or contact the WAEC website: www.waecgh.org, for any assistance."
The Head of the Ghana National Office of the WAEC asked for the collective support of parents, invigilators, supervisors and all those who had a role to play in the writing of the WASSCE to help ensure that "we have a credible examination."