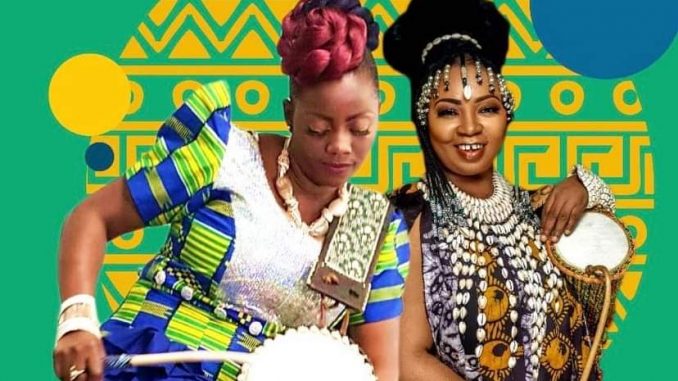 Two top Nigerian female talking drummers, Olakanye Olayemi Oluwatosin and Aralola Olamuyiwa, popularly known as "Ayanbinrin" and "Ara" respectively are collaborating to thrill Nigerians in a three-day arts and music festival holding December 2020.

The event being hosted by Mother-Drum Healing Arts Foundation in collaboration with Ara Entertainment Productions will be the maiden edition of the Mother-Drum Healing Arts Festival (MODHAFEST 2020), scheduled for December 4 to 6, 2020.
According to the organisers, the festival with the theme: "Healing, Hope and Recovery Through Arts," will be held virtually this year.
The organisers said: "MODHAFEST 2020 will be a three days most exciting virtual gathering of arts enthusiasts, healthcare professionals, counselors, artists, caregivers, musicians, choreographers, poets, drummers, arts promoters, culture activists, the arts writers and journalist.
ALSO READ: US imposes visa ban on riggers of Nigeria's Kogi, Bayelsa elections
"Others include photographers, media personnel, story tellers, actors, crafts makers, art collectors and the general populace of different cultural background within the age bracket (toddlers to grandparents) to transform health and the healthcare experience as well as to enjoy the arts.
"We would also be having a monthly round-table discussion tagged "Break the Silence, Break the Stigma" via Zoom. Every last Sunday of the month at 12 noon EST (11:00 am Central).
"For the programme proper, prominent personnel in the arts and healthcare system around the globe would be invited to have discussions about the societal benefits of early prevention of mental and substance use disorders, the available treatments, the integration of arts to support healing, and also to spread the message of hope that recovery in all its forms is possible."
On the aims and objectives of the group, the programme organisers said, "Mother-Drum Healing Arts Foundation Inc. is a non-profit Organisation dedicated to utilising the therapeutic, innovative and recreational process of arts to raise awareness and educate the general public about addiction and mental health challenges (both which feed off each other).
This, it said, "will in turn reduce/eliminate the stigma associated with the conditions as well as to enhance healing, offer and inspire hope to individuals struggling with and/or families affected by these conditions (mostly women and the girl child).
According to Ayanbinrin, "the platforms will be used to accomplish the above set goals: festivals, exhibitions, trainings, round-table discussions, researches, pageantry, lectures, symposia, workshops, conferences and sundry."