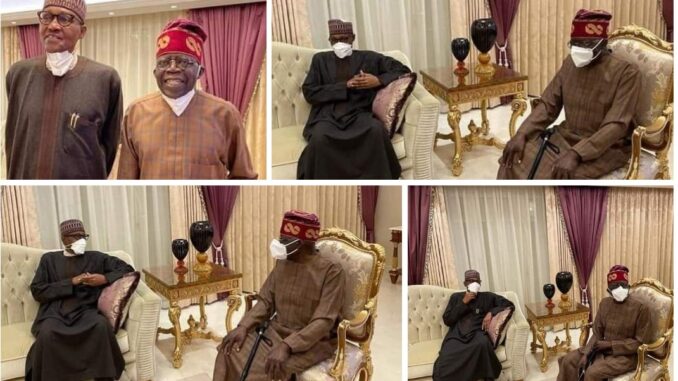 President Muhammadu Buhari has visited the national leader of the ruling All Progressives Congress (APC), Asiwaju Bola Tinubu, in London, United Kingdom (UK).

The President paid the unannounced visit to Tinubu in his London home, on Thursday, and the public appearance of the APC chieftain has further doused the tension over his rumoured ill health.
Tinubu who has been rumoured to be suffering from undisclosed ailment and possibly taken medication in the UK, appeared in photographs with President Buhari holding a walking stick he was not accustomed to while in Nigeria.
Tinubu, who is a former governor of Lagos, has been out of Nigeria for over a month, and his prolonged absence from the country, had sparked off series of information tilting towards unconfirmed sickness, and was said to be receiving medical treatment in London.
ALSO READ: Osinbajo: With focus, sense of urgency, we can overcome tough socio-economic conditions
Consequent upon this, Lagos State Governor Babajide Sanwo-Olu, had recently visited Tinubu in London, after which he informed the public that the APC chieftain is "hale and hearty."
"I went to see things for myself. It is just to put the minds and hearts of people to rest that there is nothing for us to worry about."
"A man has discretion as to decide when to go out of the country and when to return. It is his call," Sanwo-Olu had said.
President Buhari, had earlier travelled to London for the Global Education Summit on Financing Global Partnership for Education (GPE 2021-2025), which held on July 29.
Prior to his travelling to London, presidential spokesperson, Femi Adesina, had, in a statement, said Buhari was scheduled for a medical appointment after the summit, and expected back in the country in the second week of August.