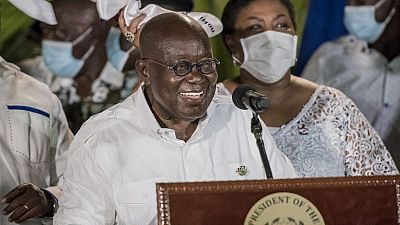 Ghana's incumbent president Nana Addo Akufo-Addo has been declared winner of the country's presidential election.
In an announcement on Wednesday, the country's election commission said Akufo Ado had polled 51.59 per cent as against main opposition candidate John Mahama's 47.36 per cent of votes.
"At the end of the polls, Nana Addo Dankwa Akufo-Addo of the New Patriotic Party, obtained 6,730,413 votes, being 51.595% of the total valid votes cast."
Africanews said Jean Mensa, Chairperson of the electoral commission announced before an audience made up of observersm political party officials and journalists.
ALSO READ: Deborah Birx: Trump coronavirus coordinator seeks role in Biden government
Last week both leading candidates had signed a solemn undertaking  to resolve any electoral disputes through legal channels and called on their supporters to refrain from violence.
Earlier on Wednesday the police said five people had been killed from electoral violence since Monday. The Ghanaian Police Service said it recorded over 60 incidents.
"Twenty-one of the incidents are true cases of electoral violence, six of which involve gunshots resulting in the death of five," it said.
On Tuesday, opposition leader John Mahama warned President Nana Akufo-Addo against any attempt to steal this week's election, as both sides claimed they were winning ahead of official results of the vote.
The elections have largely been deemed free and fair by observers but the strong statement by John Mahama raised tensions after Monday's presidential and parliamentary polls in a country known for stability.