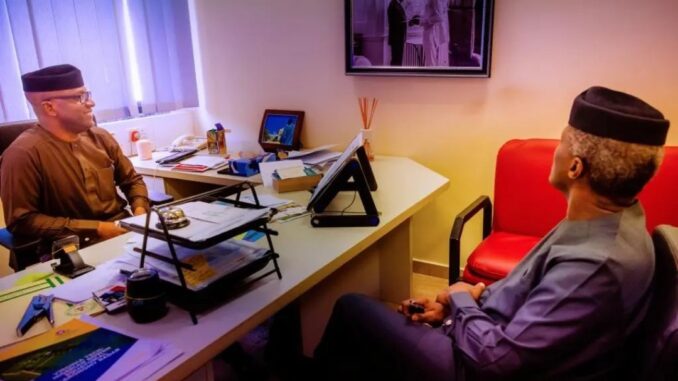 By Emmanuel Babafemi

The spokesperson to Nigeria's Vice President, Laolu Akande, has described his principal as a rare personality who came to this world to inspire individuals, groups and nations to attain goals and objectives that advance their causes and lead irrevocably to greatness.
Akande expressed his views on Wednesday, March 8, 2023, in a birthday message for the 66th anniversary of Prof. Yemi Osinbajo, SAN.
Speaking on his principal, Akande said, "What I have come to know about the VP is that he is an inspirer, and watching him do things is in itself an inspiration. People like that exist to inspire individuals, groups and nations to attain goals and objectives that advance their causes and lead irrevocably to greatness.
"He provokes something in people such that conduces towards excellence, endurance and empathy, attributes that he himself exemplify.
"Excellence; so that people can reach into themselves to discover hidden capacities. Endurance which enables people to sustain the pursuit of vision by imbuing patience and humility that creates perseverance. And finally, empathy that reinforces a common bond of humanity by which individuals become an example of selflessness, rendering service and value on private and public levels."
According to him, the place of inspiration and imagination in the pursuit of personal or national fulfilment is not only pivotal but also irreplaceable and this is why people who can inspire must remain in front.
ALSO READ: Osinbajo at 66: Nigeria's most consequential VP, best symbol of good governance
Continuing, Akande said, "let me give just a few illustrations, it is the empathy that took him to Maiduguri in the early months of this administration where he led a charitable effort that produced the Learning Centre where orphans coming out of the insurgency have in the last six years now been receiving some of the best types of education available anywhere in the world.
"It is the endurance that kept him in place when all kinds of malevolent forces were bent on diminishing the effective delivery of public goods directly to the people of this nation on an unprecedented scale such as the Social Investment Programme of the Buhari Administration when some entrusted with leadership responsibilities wanted to privatise the process by sharing slots among the elites in a scheme meant to secure some social safety nets in a country fiercely battling poverty.
"Finally, it is the excellence for instance that makes him interrogate his aides and people pushing laudable ideas in and out of government by demanding for scaling up the numbers. After all, he would wonder 'what's the use of a government programme that reaches only a few thousands in a population of over 200m?'
ALSO READ: Osinbajo the archetype of excellent leadership at 66 
"For him, Excellence says think, not just out of the box, but think big. Do the hard part, apply yourself, be relentless, and work tirelessly at goals. I can disclose that in the past eight years, the average close time in the Vice President's office is 8:00 pm or 9:00 pm. Several times we have been at work past midnight. Excellence spares no effort after all.
"So today as the Vice President turns 66, I wish him a happy birthday and many happy returns of the day. My dear boss, and Nigeria's number 2 citizen, we pray that as your days so shall your strength, wisdom and favour be with God and man!"