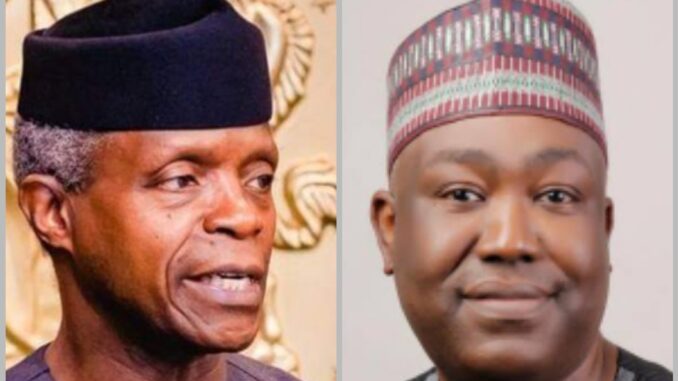 • Re: THISDAY 2023 Shortlist and the Unwarranted Attack from PYO Supporters

By Aina Adetola
In the wake of August 25, 2021, I got a whiff of an opinion piece published on THISDAY by former presidential candidate and businessman, Gbenga Olawepo-Hashim.
In the said piece, he decried what he expressed as a harsh criticism against his person, the comments of some unidentified social media users he tagged "Supporters of Vice President Yemi Osinbajo."
Driven by curiousity, I sought to get the real issue behind Olawepo's outcry, afterall there is a popular saying that "The power to question is the basis of all human progress." More so, I am ideally enthusiastic about any issue that has got the name of Nigeria's current Vice President in it, Prof Yemi Osinbajo.
Mentioning the Vice President, we are talking about a presidential figure who has done well to distinguish himself in a role many had tagged 'ceremonial' for decades in our polity and governance structure.
My findings
• Olawepo didn't make the cut on THISDAY shortlist
In the second paragraph of Gbenga Olawepo-Hashim's published piece, he mentioned a 'link' introduced by his team to the THISDAY review on seven persons considered to fit the description of Ibrahim Babangida (GCFR), of a President Nigeria should consider for 2023 Presidential election. It is good to note that the original shortlist published by Obinna Chima of THISDAY wasn't seven (7) but thirty-one (31) and Olawepo Hashim wasn't among those shortlisted.
• No attack on any platform
I earnestly searched for every social platform where a link talked about by Olawepo-Hashim could have been published. I could only find on a website, www.naija247news.com with the title: "2023: Who's Head Fits The Cap Of Nigeria's Ideal President?" published on the 19th of August, 2021. It is also worthy of note that the website didn't record any comment from any reader who could have come across the piece.
Also, Mr Olawepo-Hashim didn't publish the said link on any of his social media handles, rather, he had dropped a post on the 18th of August with a heading, "Looking at 2023 Through IBB's Lens!" This post garnered 11k Likes, 189 comments and 33 Shares on his verified Facebook handle.
I went through the comments on the post as of the morning of Wednesday, August 25, 2021, which was after he had already made the insinuating, and couldn't find any form of organised attack against his person or ambition amongst those who engaged the post!
• Comments were assorted
Amongst those who engaged Mr Olawepo's post on social media could be found "ethnicists" (in the sense that they expressed their ethnic bias positively) as they are people who felt the president should come from their own 'marginalised' region. There were also those who could be called "separatists" (as this set of people have always made their stand known for a divided Nigeria), and a few of them voiced their opinion that there wouldn't be an election come 2023 except the country divides along ethnic lines.
ALSO READ: Osinbajo's integrity and the rest of them
Some few others expressed support for their favourite public figures but then, Olawepo-Hashim had his supporters and praise singers dominating the comments, backing it up with thousands of "Likes."
From the above, I am left with more questions than the due answers I sought for, albeit on the outcry of Mr Olawepo-Hashim of an attack from some so-called "PYO Supporters" and the integrity of his person as a public figure.
Could Mr Olawepo be crying foul? Is this another political gimmick to raise smoke where there is no fire, thereby cashing in on the goodwill and popularity of the country's Vice President, Prof Yemi Osinbajo SAN? Why couldn't the crier outline names and comments of the unruly "PYO Supporters" he accused of attack if they really existed?
At this juncture, I can only conclude that Mr Olawepo-Hashim need not fret or be encumbered by random comments from the ever-active Nigeria social media users. He should only prepare harder for the 2023 race if he truly means it as he has been suggesting at every given opportunity, because Nigerians would only demand for the most efficient, battle-tested, capable and reliable leader, not the most active on social media.
The current Vice President has spoken out already that he hasn't declared any intention yet to run for the 2023 presidential elections. Osinbajo should be the least of Olawepo-Hashim's worries for now.
• Adetola is a political watcher, analyst and social commentator.