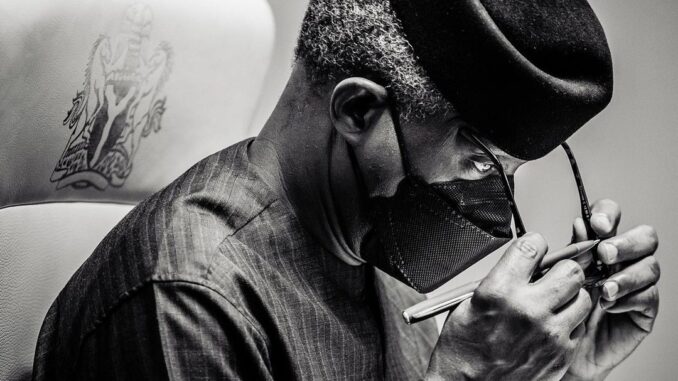 Osinbajo Support Movement (OSM), a solidarity group advocating for the interest of Nigeria's Vice President, Prof Yemi Osinbajo, SAN, in the Nigeria's political arena has noted that the Leadership Newspaper's recognition of him as The Person of the Year is worthy and very deserving.

In a statement made available in Abuja on Tuesday, January 4, 2022, the National Convener/Coordinator of the group, Mr Liberty Badmus, noted that, "with the conferment of The Person of the Year by Leadership Newspaper, they have just acknowledged our existential resolves, realities and contention about the VP."
The group known for its vocal defence of Prof Yemi Osinbajo expressed that the Nigeria's Vice President is indeed a capable man, "a Personality of all time".
Mr Liberty's statement on behalf of OSM read in full:" Virtually all Nigerians woke up some 48 hours ago to the news of His Excellency, Vice President, Prof Yemi Osinbajo being conferred as the Person of the Year by the Leadership Newspaper.
"While we want to thank the Board of Management of Leadership Newspaper for their kind thoughtfulness and wit for that recognition, we wish to state that this award of recognition is a testament to the aged established virtues, work ethics and character of the Vice President that has been of public observation and gained consistent commentary for years.
"It is of the knowledge of the general public, particularly Nigerians that the Vice President is truly deserving of this award and all other commendations coming his way. Here is a man whose official conducts and assignments has gained wide acceptability and credit.
"A man whose spiritual commitments maintained firmness and deposited for the good of the nation. A man whose ethical conducts remained at topnotch."
"Leadership Newspaper could not have acknowledged someone else. Prof Yemi Osinbajo's shadow reflects in every corner of the presidency and the nation. As the head of the Economic Team overseeing and managing the economic affairs of the country, policies and determining her prospects, he has kept the paddle firm in his hands reflecting with steady growths and developments.
ALSO READ: 2023: Nigerians beg Osinbajo to contest, mount billboard in Abuja
"This is true of all other affairs and activities of the government under his watch or that he is consciously and unconsciously involved in.
"We often receive statements and comments on the person of the VP. Nigerians marvel at his strength and creativity in attending to all official and political businesses before him. They say he is a workaholic, it is correct of him.
"Nigerians say he is too brilliant, OSM would acknowledge it affirmatively. Nigerians who read the Vice President's official and daily activities questions where a man in his 60s gets his energy to travel, have multiple meetings daily, shows up in the least expected places, and so on."
"The truth is, Prof Yemi Osinbajo does all he is being lauded for from his comfort zone. His brilliance, intelligence, strength, work ethics, sound managerial skills, healthy interpersonal relationships, loyalty, et al, are characteristics embedded in him for decades.
"He is a trained and proficient lawyer with history of countless victories in court. Some had made revelations that he is kind and appreciate out-of-court settlements on matters he believes can thread that line.
"A professor with established path in the academia, and thousands of successful students (who are now SANs, Professors and accomplished professionals) doing well all around the world.
"There is no better time than now to give that credit. Prof Yemi Osinbajo is indeed the personality of the year and personality of all time. We send congratulations to His Excellency on the deserved recognition and award.
"It means a lot to millions of his lovers, believers and progressives. Especially, those rooting for him to contest the Office of the President of the Federal Republic of Nigeria."
OSM concludes that, "The Vice President shall continue to be inspired by the love and support he gained daily from Nigerians. We look forward to more of his best this year and beyond."