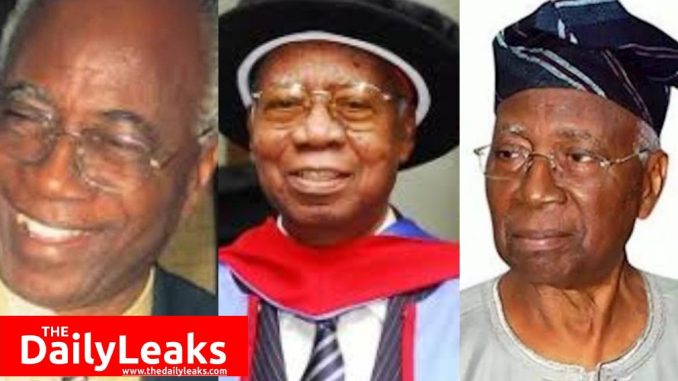 A foremost Nigeria's medical expert, Emeritus Prof Oladipupo Olujimi Akinkugbe, has breathed his last, after practising medicine for 60 years.

Born July 17, 1933, in Ondo, Akinkugbe, aged 86, died at his residence on Monday.
The renowned nephrologist, Akinkugbe had practiced medicine for 60 years before he hanged the stethoscope.
During these meritorious years of service, he pioneered the establishment of two critical clinics, one in hypertension and the other in renal disorders at the University College Hospital (UCH), Ibadan, both clinics being firsts in Africa.
Also, after retirement, Akinkugbe established his own clinic, the Ibadan Hypertension Clinic, which he managed for 20 years.
Mourning the deceased, the UCH authorities have described the death of a pioneer nephrologist in Nigeria, Emeritus Prof Akinkugbe, as a colossal and irreparable loss for the nation.
The UCH Chief Medical Director (CMD), Prof Jesse Otegbayo, said this on Monday, while confirming the death of the renowned medical practitioner and academic.
Otegbayo said that Akinkugbe, died in his residence after a protracted illness.
"It is true that he (Akinkugbe) is dead. We have indeed suffered the loss of a giant and medical icon.
"He will be remembered for his extraordinary services. He was known for his landmark services and research in kidney diseases and also in treatment of hypertension.
"It was his lifetime commitment to improve the management and care of kidney diseases in the country.
"Filling the gap brought about by his death will be difficult for a long time to come.
"As a former Chairman, Governing Council of UCH, he played significant roles in bringing about the progress and advancement of the hospital.
"Upon my inception as the CMD of UCH, he had been my mentor and counsellor, " Otegbayo said.
Born July 17, 1933, Akinkugbe, was one of Nigeria's most respected and distinguished academics and physicians.
Akinkugbe had outstanding achievements in the field of nephrology and hypertension.
The late nephrologist was conferred with the International Society of Nephrology Pioneer Award in 2019 for his extraordinary efforts to advance nephrology in Nigeria.
The deceased also received several other awards, including the Boehringer Ingelheim Award of the International Society of Hypertension.
He was a member of the World Health Organisation (WHO) Technical Advisory Committee on Health Research and Secretary of the WHO Technical Discussions on University and Health for All.
In July 1, 2004, Akinkugbe was conferred with the Hallmarks of Labour Role Model Award, by the Hallmarks of Labour Foundation, a non-profit organisation that recognizes Africans who have achieved success through hard work, honesty, integrity, and justice in every field of human endeavour.
PROFILE
Since independence, Nigerians have made tremendous progress in various fields of study, in many cases becoming world renowned authorities in their areas of specialization.  Such is the case of Professor Oladipo Olujimi Akinkugbe, CON, MD, NNOM, who on promotion to a chair of medicine at the University of Ibadan at the age of 35years becomes the first Professor of medicine that has ever been appointed by any African University.  On the international plane, professor Akinkugbe has made an enviable impact.  He was Rockefeller visiting fellow John Hopkins, Yale and Washington, Seattle Medical School (1966), member university Grants commission, Uganda government (1973), visiting professor of medicine, Havard University and Senior Associate in Medicine, Peter Bent Brigham Hospital, Boston Massachusetts, USA (1974-75), visiting Professor of Cardiovascular Medicine, and fellow of Balliol college, university  of oxford (1981 – 1982), Secretary to the WHO Technical Discussions on Universities and Health for All, Geneva (1983 – 84), member WHO Advisory Committee on Health for Research (1990 – 1994) and visiting Professor of Medicine University of Cape Town (1996).
ALSO READ: PROFILE: Death tales told about Olu Jacob is fake news
Professor Akinkugbe was born in Ondo capital of Ondo State in South Western Nigeria on 17th July, 1933.  His father who was a chemist and druggist belong to an impressive family tree in Ondo traceable and connected in some distant past to the marble rich clan of Igbeti in Oyo State.
Professor Akinkugbe grew up in a Christian home, his father being a people's warder at St. Stephen's church and a synod delegate for several years. The regular routine of school, choir practice, Sunday's Devotional Worship, Sunday school, evening service and other such engagements, left him with little time for frivolities after school.  However whenever the opportunity presented itself, young Oladipo never failed to enjoy his juvenile frisk and frolic, sometimes with disastrous consequences.
Professor Akinkugbe entered Ondo Boys High School in 1944. However science subjects were not counted among the strong point of OBHS, and inspired by the notes he saw in physics, chemistry, biology and mathematics, belonging to a boy who was attending another school outside of Ondo, young Oladipo decide to take entrance examination into Government College, Ibadan.  He made it to the interview stage, where he missed admission by one place.  His dreams seemed shattered, but providence came promptly to his aid as one of the admitted fee-paying students could not take up his own offer.  He was then called up from the waiting list.
Professor Akinkugbe had a smooth sail through GCI, where he established himself as an undisputed leader in the science subjects, conceding English and literature to Wole Soyinka and Christopher Kolade.  After a brilliant secondary school career, he took entrance examination and gained admission into the University College Ibadan in 1951, to begin his study of medicine.
Here he proved himself, once again as a serious student, balancing academics with social and extra curricular activities.  After passing his 2nd MB examination in 1955, he was posted to University of  London [the Royal London Hospital] for his clinical studies, where in 1958, he obtained his MBBS of London without any skirmishes.  After completing a six months internship at the London Hospital, Professor Akinkugbe then embarked on numerous short programmes in different institutions, expanding his knowledge and experience, and obtaining a diploma in Tropical Medicine and Hygiene from the University of Liverpool in 1960.
Being a western region government scholar, Professor Akinkugbe came back to Nigeria in 1961 and took appointment with Government Specialist Hospital, Adeoyo, Ibadan.  But later that year he went back to England to do his Dphil. programme in Oxford.  On successful completion, he returned to Nigeria to take up lectureship at the Department of Medicine University of Ibadan in January 1965.
Thus began Professor Akinkugbe's brilliant academic career during which he became Professor of Medicine in 1968, Dean Medicine 1970 – 74 and Head of Medicine 1972.  Taking special interest in Hypertension and Kidney diseases, he has made tremendous contributions in these areas.  He has attended over one hundred National and international Professional, scientific, educational and health conferences, in the past forty years, in all the continents of the globe.  He has made presentations in many of these conferences.  Published many authoritative works, and received numerous awards. He is a member and fellow of over twenty international organizations, societies and institutions.
He is a recipient of the National Honour of Cote De Voire.  Within Nigeria, Professor Akinkugbe was Foundation Chairman Joint Admission and Matriculation Board [JAMB]; Principal and Foundation Vice Chancellor, University of Ilorin; Vice Chancellor, Ahmadu Bello University Zaria; Chairman Planning Committee, Ondo State University; Chairman Planning Committee, University of Abuja; Pro-Chancellor and Chairman of Council, University of Port Harcourt.   To each appointment he has brought a very high degree of knowledge, skill, thoroughness, dedication and above all integrity and transparency.  He is married with two sons.
Professor Oladipo Akinkugbe, ME, BS, MD NNOM, CON, NLR, An outstanding professional and scholastic role model.