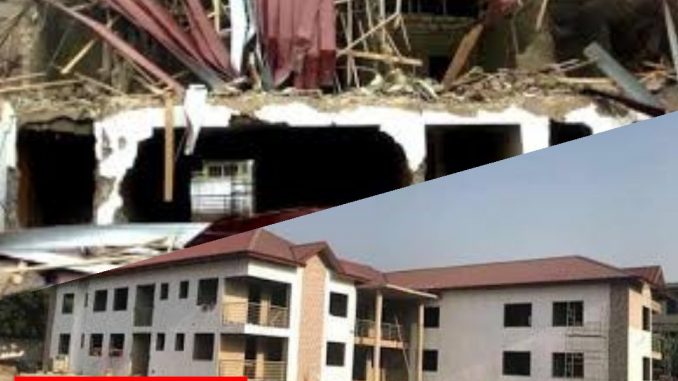 Nigeria's diplomatic territory in Accra, Ghana, has been invaded by yet-to-be-identified armed thugs said to be acting on the orders of a businessman.

The hoodlums, said to have been led by the businessman to the Nigeria's high commission building in Accra, on Friday, after their operation, demolished some diplomatic building under construction being constructed to house staff and visitors.
The Ghanaian businessman, it was said, had accused the Nigerian high commission of encroaching on his land, after he visited the property penultimate week to present evidence that he was the real owner of the land.
ALSO READ: Tears, emotions as Nigerians bid Ibidunni Ighodalo farewell in solemn funeral
The Nigerian government is yet to respond to his allegations and the incident that followed.
However, a government source had confirmed that the businessman had made an earlier claim that the Nigerian High Commission's staff quarters was being built on his land.
Thereafter, apparently where he probably was not communicated back to, he made another appearance at the high commission premises last week with some documents as evidence to support his claim, after which he began to knock down the fence surrounding the building.
However, the government source disclosed that the Ghanian authorities did not resist the businessman's action when the Nigerian High Commission petitioned the Ghanaian Government about it, adding that there was no response from local authorities in Ghana.
It was days after the government had been petitioned, it was said the businessman returned to the Nigerian high commission premises with a bulldozer and armed men who pulled down the building.
The Ghanian police it was said had been alerted to stop the businessman only appeared on the scene after the building had been demolished.
.