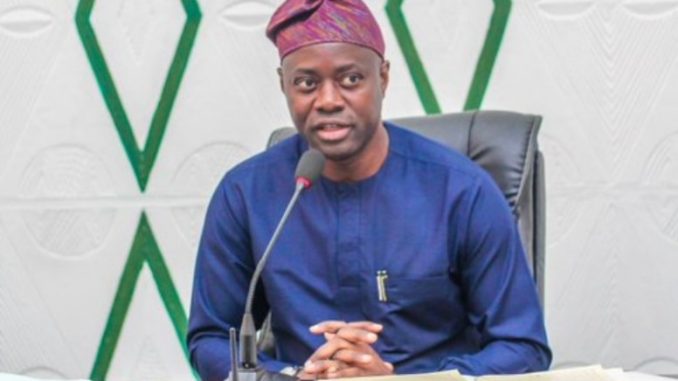 • Says South West govs didn't support Social Media clampdown
The Governor of Oyo State, Engineer Seyi Makinde, on Tuesday, inaugurated an 11-man Judicial Panel of Inquiry to investigate allegations of extrajudicial killings and brutality by security agents against residents of the State.
Governor Makinde, who declared the readiness of the state to take appropriate actions against indicted persons or agencies, said that all affected persons should feel free to come forward with their complaints.

A statement by the Chief Press Secretary to Governor Makinde, Mr. Taiwo Adisa, indicated that the governor made the declaration while inaugurating the panel of inquiry at the Executive Council Chamber, of the State's Secretariat, Agodi, Ibadan.
The statement added that Governor Makinde also said that the state government through the platforms it earlier set up to collate cases of rights infringements has received close to 50 complaints of alleged police brutality and human rights violations.
He said: "As a government, we are doing our part and setting up this panel of inquiry, some people have said it will not yield any result.
Well, the only way it can produce results is if people present their cases and bring evidence to support them so that the panel can make their recommendations which will then be adopted and implemented.
ALSO READ: Sam Adeyemi, Davido, Tuface, Kanu, Falz, Yesufu, 46 others sued over #EndSARS protests
"Something will happen if people are able to come forward and present their cases before the panel."
According to him, the Federal Government had on October 16 directed all state governors to set up judicial panels of inquiry to listen to petitions of the members of the public and recommend actions against police brutality, violation of rights of citizens, and unlawful killings.
He also told the gathering that the State government had signed a Memorandum of Understanding with the University of Ibadan on the training of security agents serving in the state on criminal justice and human rights enforcement.
"As stated, only state governors can, by law, set up judicial inquiries in their states. People have been asking why we didn't proceed to set up this panel in Oyo State immediately. Well, we decided here to first get some clarity into the types of cases that this panel of inquiry will be looking into. So, in selecting members of the panel, we have people who are of sound mind and intellect and the people who have the requisite knowledge and expertise to make objective appraisals of these petitions."
He said that the panel is made up of eleven members drawn from the legal, community, National Human Rights Commission, the Department of Public Prosecution, National Youths Council of Nigeria, Youths representatives of #EndSARS protesters, and the community.
"They are men and women of high repute who have shown themselves up to this task. At least, I can see some of you that we were face to face during the protest."
The governor also added that the late Isiaka Jimoh, Ganiyu Moshood, and Adeoye Taiwo who were killed during the #EndSARS protest as well as police officers who were brutally murdered would be thoroughly investigated, while their killers would be brought to book.
"Let me reiterate that those who are responsible for the death of Isiaka Jimoh, Ganiyu Moshood Alabi, and Adeoye Taiwo will be brought to book. We all want a society where the rights of the people are respected. Also, we will look into the issue of the policemen that were brutally murdered and roasted."
Speaking further, the governor denied media reports which indicated that South West Governors had at a recent meeting held in Lagos voted in favour of a clampdown on social media.
He stated that the existing cyber-crime act should be able to deal with issues that might arise from the use of cyberspace adding that efforts must be made to rebuild the trust deficit that currently exists between the government and the citizens.
He further stated: "And I said in various fora that we are fully aware of the trust-deficit in the system right now between the government, leaders and the ordinary citizens. There is a lot of anger in the land. There is a lot of hunger as well. And we all have that responsibility to calm things down and to reduce that trust-deficit."
He decried what he called the prevalence of fake news adding that those who want to play politics with other people's emotions should note that "what usually goes around usually would come around."
He explained that the state had signed an MOU with the University of Ibadan to enhance human rights administration in the state.
"Just yesterday, we signed a Memorandum of Understanding with the University of Ibadan to collaborate with the Oyo State government in the training of police officers and officers of other security agencies in criminal justice and human rights enforcement.
This is with a view to eliminating incidents of police brutality, unlawful killings, extortion, and violation of human rights, amongst other vices. We have gone that step further because, again, we noticed that we do have a serious gap between the knowledge that the police have about their rights and how to treat ordinary people on the street. We need to be aware of how the system works. Change takes time," he said.
While speaking earlier, the Attorney General of the state and Commissioner for Justice, Prof Oyelowo Oyewo, assured that with the
caliber of people on the panel, he was certain it would discharge the functions of making quality recommendations, meritoriously
Members of the panel chaired by former Chief of Judge of the State, Justice Badejoko  Adeniji include Mrs. O. O Ogundele (Secretary); Prof. J. O Akintayo; Hon. Babatunde Oduyoye;  Mrs. W. F Odutayo; N. O. Sulaiman; Ms. M. Y Kolawole; Mrs. M. Badmus; Ms. O Akintayo Falowo
Saheed; and Mrs. Agbeja Adebobola.