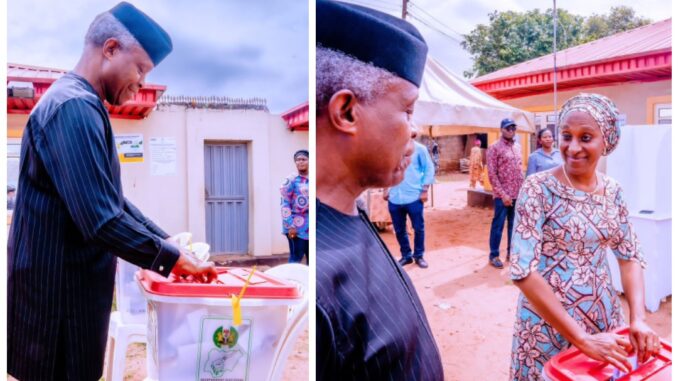 • VP, wife cast their ballots in Ogun gov, assembly polls at Egunrege Polling Unit 14, Ward 1 in Ikenne LGA

Vice President Yemi Osinbajo, SAN and his wife, Mrs Dolapo Osinbajo have voted at the Egunrege Polling Unit 14, Ward 1 in Ikenne Local Government Area of Ogun State, expressing satisfaction with the conduct of the election.
Prof. Osinbajo and his wife arrived the polling unit, got accredited and proceeded to cast their votes at exactly 10:34 am.
ALSO READ: Nigerians vote in governorship, assembly elections across states
Speaking afterwards with journalists, Prof. Osinbajo said "from here at my own polling unit, it is excellent. The whole process has been conducted very well and I just hope and pray that this is how it is being carried out across the nation.
"It has been a very pleasant experience. I am glad that I am able to cast my votes and so many others who want to cast their votes have been able to do so," he added.