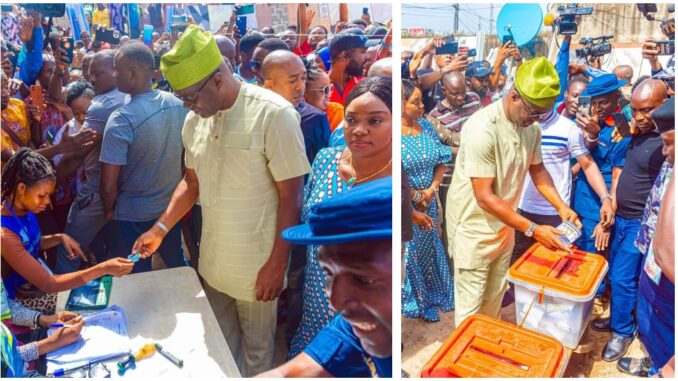 Governor Seyi Makinde of Oyo State casts his ballot at his polling unit, PU 11, Ward 1, Abayomi, Iwo Road, Ibadan at around 11:00 am, on Saturday, March 18, 2023.

Makinde who was accompanied by his wife, Tamunoominini, has urged voters in the state to come out and exercise their franchise in the governorship and state assembly elections.
As he addressed journalists, Makinde reiterated the government's commitment to the maintenance in Oyo State.
ALSO READ: Nigerians vote in governorship, assembly elections across states
He said the security agencies would ensure the safety of voters and a peaceful atmosphere as the people perform their civic responsibility.
"This is not just an election, it is a democracy. It is an entrenchment of the government by the people and for the people.
"Until this morning, we are engaging with the security agencies. The security in place is holding up. I encourage people to come out and exercise their franchise," Governor Makinde said.