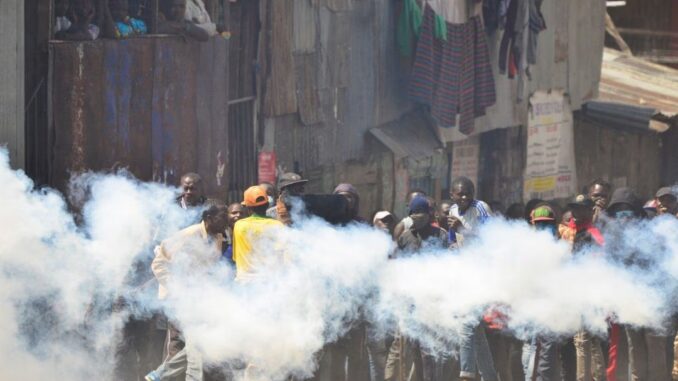 Kenyan opposition leader Raila Odinga said on Sunday, April 2, 2023, he was suspending anti-government protests and was ready for talks after an appeal from President William Ruto, though he warned that demonstrations could restart in days.

Thousands have joined three marches over the past two weeks against high living costs and alleged fraud in last year's vote. All have been marred by violence and a fourth rally was scheduled for Monday.
Earlier on Sunday, Ruto asked Odinga to call off the protests that he said had resulted in three deaths and injured more than 400 people, including at least 60 security officers.
Ruto defended his administration's record and said there could be bipartisan reform to the election commission – one of the opposition's central demands.
Odinga said he saw Ruto's statement as an olive branch and a "positive development".
"We stand down our demonstrations for Monday – that is tomorrow, April 3, 2023," Odinga told a press conference.
The opposition has been pushing for reforms to the electoral commission, including stronger assurances that the president can't pack the body with supporters.
"We agree that a balanced parliamentary process co-chaired by both sides and backed by experts from outside should proceed," Odinga said.
ALSO READ: William Ruto wins Kenyan presidential election defeats Raila Odinga, other rivals
If there was "no meaningful engagement or response" from Ruto, the protests would begin again in one week, Odinga said.
Odinga also said that the opposition would engage the government on the high cost of living, which had galvanized many protesters.
"At times like this, we should go back to subsidies … so that the cost of living can come down," Odinga said.
Ruto's government has scrapped subsidies on fuel, maize, and electricity, Reuters said.
There have been more than 20 attacks and violations against journalists since the start of the protests, according to the Kenya Media Sector Working Group. State actors were behind a "significant proportion" of the attacks, the Group said.
Ruto said he did not believe journalists were targeted but that some had been caught in the fray.